**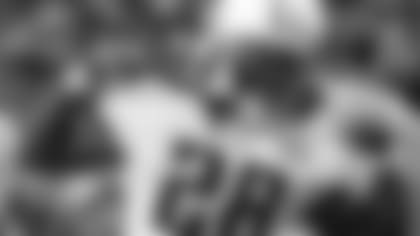 The Titans resumed off-season workouts, while their 2,000-yard rusher Chris Johnson continued to train in Orlando.
NASHVILLE, Tenn. —** Another week of Tennessee minicamps, and still no Chris Johnson. Not that his teammates are upset with the running back staying away from the team's offseason program. They understand it's the business side of football with Johnson trying to capitalize on his record-setting season.
"With CJ, he's the best back in the league," fullback Ahmard Hall said.
"He had a great season last year. He rushed for 2,006 yards, and he set a record. I mean he feels like he should be paid more ... and that's between him and upstairs. I think he'll get it done. We definitely have his back. He's done nothing wrong. He's doing what he and his agent talked about, and they've discussed that upstairs."
Johnson has wanted a big pay hike after becoming only the sixth man in NFL history to rush for at least 2,000 yards, and he also set the NFL record for yards from scrimmage. He finished the season with 11 straight 100-yard rushing games.
That is why he's staying away from the team's offseason program, missing the Titans' two minicamp sessions this week. He has been working out on his own in Orlando.
Quarterback Kerry Collins said he doesn't blame Johnson.
"He's not a huge guy. He needs to get it while he can, and he's proven he can do it. Who knows? Running backs have maybe seven, eight, nine good years so you look at a guy like him, he's not the biggest guy in the world. He needs to make it while he can. I don't blame him one bit," Collins said.
Training camp doesn't start until late July, but that isn't stopping questions already about whether Johnson will hold out to further pressure negotiations.
Coach Jeff Fisher insisted Thursday he isn't worried about Johnson and knows the running back will show up eventually. In the meantime, the Titans have Javon Ringer and two undrafted rookies in LeGarrette Blount and Stafon Johnson to take advantage of the extra workload starting Tuesday when minicamps resume.
"These things work themselves out," Fisher said of CJ. "I'm sure that he is working. I'm sure he is not planning on sitting out the season. I'm sure he is planning on coming in here very soon. When he comes in here, we will monitor and see where he is condition-wise. If we have to hold him out like we did Kenny (Britt), we will."
SCAIFE'S HOLDOUT: Coach Jeff Fisher isn't as understanding of tight end Bo Scaife holding out of minicamps. The tight end said on Nashville radio earlier this week that he will be at the June minicamps, but he signed a one-year tender for $4.9 million earlier this year.
Scaife was tagged as the franchise player in 2009 after leading Tennessee in receptions in 2008. A sixth-round draft pick in 2005, he wound up signing a one-year tender for $4.46 million for 2009. He caught 45 passes for 440 yards and one touchdown in 2009.
But the lack of a new labor deal kept him from hitting the market as an unrestricted free agent, which prompted him to sign the Titans' one-year tender yet again.
"Bo must have reasons for it," Fisher said of the tight end staying away. "He was compensated pretty well last year. He is going to be compensated pretty well this year. I think we have treated Bo pretty well. If he did go on the record and say he will be back in June, then he will be back in June."
WAKE-UP CALL: Receiver Kenny Britt admits he got a big wake-up call when coaches held him off the practice field when the Titans started their offseason minicamps in April. Coach Jeff Fisher has said they worried Britt's conditioning might result in a pull, just like last year when the receiver pulled a hamstring early that limited him through the offseason.
Britt said he was all taped up and ready to hit the field when the coaches told him to take it easy while they checked out his status.
"I know that's something we don't want to do again where I sit out because of injuries and get all that weight, then I have to drop weight again," Britt said.
Fisher said Britt will be ready to practice in the team's minicamps next week.
DAY OFF?: The Titans spent Wednesday working for nearly six hours stripping houses of flood damage, so coach Jeff Fisher gave them a bit of a break for Thursday's minicamp — the second of the week and fourth of the offseason. Instead of practicing for more than 90 minutes, he let them play one of their offseason games called Powerball.
It's a combination of flag football and basketball with players separated by offense and defense tossing a football to each. They move up and down the field trying to score into a big trash can. Rules include no dropping the ball with possessions changing once the ball carrier is touched.
Receiver Lavelle Hawkins said he loves the game that allows for lots of fun and trash talking.
"I'm a big cheater. I'm all for it," he said with a laugh.
Vince Young said it was a nice sign from the coaching staff after the hard work on Wednesday.
"Thank God we didn't have to run no suicides or nothing like that. It was pretty fun," he said.
Coach Jeff Fisher knows the players probably think it was easier than a team practice.
"But if you watched them they ran continuously for 45 minutes and probably got more conditioning than if we had practiced," Fisher said.
EXTRA POINTS: Receiver Nate Washington watched Thursday after having three wisdom teeth removed Wednesday. He said he expects to be ready when the team hits the field again Tuesday...The rookies are allowed to join the team starting Saturday, and Fisher said they will be coming in over the weekend. The team will have a regular offseason day Monday, then the entire team will be on the field Tuesday for their first full minicamp since the NFL draft