Texans Running Back Rushed for Over 100 Yards in Both Meetings Last Season
**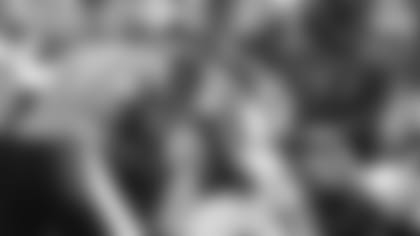 The Titans want to do a better job of wrapping up Texans running back Steve Slaton this season.
NASHVILLE, Tenn. —** Steve Slaton, consider yourself warned. The Tennessee Titans do not like allowing 100-yard rushers — ever. After watching Slaton do it against them twice in 2008, the Houston running back has a very big target on his back now.
"That wasn't good, especially as good as our defense was last year ... stopping the run," Titans defensive end Kyle Vanden Bosch said Wednesday. "We know what type of challenge we have. It is a pride thing, and I don't know how many times a guy's gone for 100 yards three times in a row. We really don't want that to happen."
Stopping the run first is the cornerstone of defense under coach Jeff Fisher, and they rank fourth in the NFL in that category since 1995 allowing an average of 99.2 yards per game since 1995. Only Pittsburgh, Baltimore and San Diego have been stingier on the ground.
Giving up 100 yards to one runner in that span is rare with only 39 such games allowed since the start of the 1995 season. This franchise is 9-30 when doing that, and they split the 2008 series with Houston. Slaton was just the 10th running back to reach 100 yards at LP Field since the stadium opened in 1999.
Fisher said Slaton's the only back he can remember putting up back-to-back 100-yard games against his defense in the same year.
"Two of the runs were Fred Taylor-like where you had him bottled up behind the line of scrimmage, and we had people stop him and he bounced out and ran for 40 yards each time. But still, five or six yards a crack is what he does best. He's a very talented runner," Fisher said.
That's what irks Tennessee the most.
The Titans ranked sixth in the NFL last season against the run, allowing only 93.9 yards per game. They did a strong job stopping Slaton behind or near the line on most of his carries. But he slipped away for a 50-yarder Sept. 21 and finished with 116 yards on 18 carries as Tennessee won 31-12.
In Houston on Dec. 14, the Titans had bottled up Slaton very well. Then just after the 2-minute mark, Slaton broke away from a couple Titans for a 34-yard run on first-and-10 — his biggest of the day and finished with 100 yards on 24 carries.
"In each of those games he broke a big run that allowed him to get over that 100-yard mark," Titans linebacker Keith Bulluck said. "We're a team that takes pride in our defense, especially our rushing defense. For him to be able to eclipse 100 yards both times last year, we definitely have to shape up."
Slaton finished 2008 setting a franchise-record with 1,282 yards and the rookie rushing title. He led the AFC with 1,659 total yards from scrimmage. But he struggled in the Texans' 24-7 opening loss to the New York Jets, getting just 17 yards on nine carries.
"Steve played good football for us last year," Texans coach Gary Kubiak said in conference call with Tennessee reporters. "We've struggled as a team throughout the preseason and week one running the football. It's been an issue for us so we've got to get a lot better, and there's no tougher place to do it than coming there to play (there)."
The Titans started off this season in strong fashion, limiting Pittsburgh to 36 yards rushing.
They understand the Texans use their zone-blocking schemes to slide big offensive linemen sideways, allowing the 5-foot-9, 215-pound Slaton to hide behind them until he sees a hole to dart through. They also know two defenders putting their hands on Slaton doesn't mean the play is over either.
"We had a couple guys had him wrapped up, and he just kept going," Vanden Bosch said. "The deceptive thing is he looks like a smaller type back. He's hard to bring down. He keeps his legs moving, and he's powerful."
NOTES: The Titans practiced inside with heavy rain in Nashville. The forecast calls for rain daily through Sunday, and Fisher said he plans one session outdoors to prepare for wet conditions. ... Tight ends Jared Cook (right ankle) and Bo Scaife (left knee) and linebacker David Thornton (knee) did not practice Wednesday. ... Defensive lineman Mitch King, who is on the practice squad, was having tests for an injury. Fisher did not share any details because King is a practice squad player and not on the roster but said the player was hurt.