**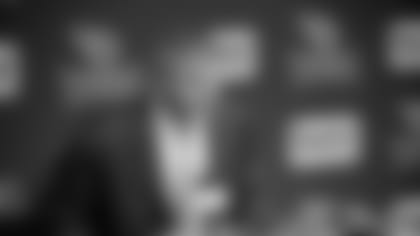 Mike Munchak addresses reporters for the first time as head coach of the Tennessee Titans.
NASHVILLE, Tenn. -** A usually conservative Mike Munchak showed off much more of his personality Monday at his first news conference as head coach of the Tennessee Titans.
He made jokes about how he expected a gold watch after 30 years with the franchise, how it will be easier for his mother to see him on the sideline now and even poked fun at his quiet manner.
"This is my excited face,'' Munchak said at one point.
The new coach also made one thing very clear: Change is coming, even though he coached under Jeff Fisher the past 14 seasons.
"I'm going to be my own man, and I'll be judged by what I do and not what was done before me. I'm not looking here to blame anybody about what was left for me,'' Munchak said. "I think it's a great opportunity here with what we have, and I think I'm the guy to pick up the pieces and hopefully get us in the right direction.''
Munchak is the franchise's 16th head coach. Neither he or the Titans would comment on his new contract. The Titans decided to promote from within to replace Fisher after a 6-10 season. Owner Bud Adams called the move a special day for the franchise as Munchak became the first former player to coach the team.
"He has been a hard worker, and he has only known success and how to achieve success,'' Adams said by telephone from his Houston office. "He made it into the Pro Football Hall of Fame. He has the respect of people he played with and those who have played for him. He is a smart football man and leader who will guide us again into the playoffs.''
Munchak was the first man interviewed to replace Fisher and had been considered the top candidate for the job.
This is the first head coaching job for Munchak, who turns 51 in March, with the only franchise the offensive line coach and Hall of Fame lineman has ever played or worked for since being selected eighth overall by the then-Houston Oilers in 1982.
General manager Mike Reinfeldt and senior executive vice president Steve Underwood also interviewed offensive coordinator Mike Heimerdinger and wrapped up interviews Friday by talking to Atlanta offensive coordinator Mike Mularkey and New York Giants defensive coordinator Perry Fewell in the same day. Saints defensive coordinator Gregg Williams declined to interview.
But Munchak is well respected in the franchise.
Reinfeldt, a former teammate, called Munchak a smart football man who commands respect and accountability.
"He is a leader,'' Reinfeldt said. "I think he has a vision, and he has great passion for it. I think it's good. He has an understanding of our people, what we've done here, and I think he has a vision of how he'd take it to the next level.''
Munchak will have flexibility to fill his staff as he wants, even though 13 current assistants are under contract. That includes Heimerdinger, who said by text to the AP that he is happy for Munchak and expects him to do a good job.
He isn't committing to anyone just yet.
"I feel like we're starting fresh. It's not same old, same old. We come in, sit down and figure out what's best for the Titans going forward with what we have ... Anything's possible,'' Munchak said.
Munchak has to fill at least five positions left open by his promotion, the firing of defensive coordinator Chuck Cecil and departures of assistants coaching defensive line, running backs, wide receivers. His best friend and former teammate Bruce Matthews is considered a possibility to replace him on the line, but he is offensive assistant coach with Houston.
Munchak's promotion is being praised by those who know him with Penn State coach Joe Paterno calling him a hard worker. Detroit coach Jim Schwartz said he didn't realize how respected Munchak is throughout the NFL until he left Tennessee.
"I am known as someone who burns the midnight oil, and consistently Mike Munchak's car was the only one left in the parking lot when I left. Titans fans can sleep well knowing Munch is at the helm. I know I did,'' Schwartz said in a statement.
Coming out of Penn State, the left guard blocked for fellow Hall of Famers Earl Campbell in a pounding run game to the run-and-shoot offense with Warren Moon. He played 159 regular season games with the Oilers before retiring in 1994, and he became the fifth player from the franchise inducted into the Hall of Fame - the first to spend his entire career with Adams' team.
Munchak also had the club record with nine Pro Bowl berths during his career. Adams retired Munchak's No. 63 in 1996, joining Campbell, Jim Norton and Elvin Bethea in rare company with that honor.
He started at the entry-level position as quality control assistant with the offensive staff through 1996. Fisher promoted Munchak to offensive line coach in 1997, a job he held the past 14 seasons. Munchak thanked Fisher for the opportunity.
Munchak has only had the same starting five offensive linemen from one season to the next twice during his 14 seasons. But he has had four players earn 10 total Pro Bowl invitations while blocking for five different running backs in 11 1,000-yard seasons ranging from Eddie George to Chris Johnson.
With Munchak coaching the offensive line, the Titans allowed the second fewest sacks in the NFL with 28.3 sacks per season and ranked seventh in the league in that time averaging 124.5 yards rushing per game.
Left tackle Michael Roos was a second-round pick in 2005 and has started every game since being drafted. Munchak's right tackle is David Stewart, a fourth-round pick in 2005, while center Eugene Amano was a seventh-round pick in 2004.
"He is an intense guy, but he is not a screamer or a yeller,'' Roos said. "He just gets the most out of his players because you want to do well for him.''