**
NASHVILLE, Tenn. -** The Tennessee Titans named Tracy Rocker as defensive line coach.
Rocker joins the Titans after spending two seasons at Auburn as the defensive line coach. He brings a combination of success as a player and coach to the Titans defensive staff. As a coach, he helped develop Auburn DT Nick Fairley into a Lombardi Award winner and AP All-American as a part of last season's national title winning team. As a player, Rocker earned induction into the College Football Hall of Fame after a spectacular college career at Auburn.
"I really like the way Tracy has worked his way up the coaching ladder after being such a successful player," said Titans head coach Mike Munchak. "He has shown the ability to develop players at all of his stops, which is a testament to him being a great teacher. He is a rare combination of a great player who becomes a great teacher. He has a passion for the game and has shown the ability to relate to his players."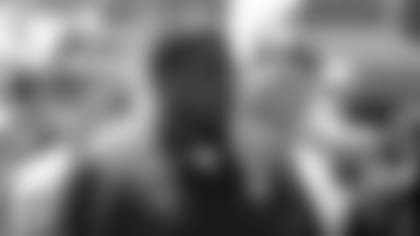 A 17-year veteran in the college coaching ranks, Rocker spent the last two seasons as Auburn's defensive line coach.
A 17-year veteran of college coaching, Rocker spent time with five programs and has helped a number of players reach All-American honors. Before his two years coaching at Auburn, Rocker spent one year at Ole Miss (2008) and mentored DE Greg Hardy (8.5 sacks) and DT Peria Jerry. Rocker worked five seasons (2003-07) at Arkansas and saw DE Jamaal Anderson earn a first-round selection in the 2007 NFL Draft after a 14-sack season as a senior. The 2005 Razorback unit ranked second in the SEC in sacks with 29 and was fourth in rushing defense. Rocker spent one season with the University of Cincinnati in 2002 and helped them capture the Conference USA title. In 1997, he took over the defensive line at Troy, where he would spend five seasons. In his time working with the Trojans, DE Demarcus Ware and DE Osi Umenyiora were under his coaching and Al Lucas earned the 1999 Buck Buchanan Award as the top defensive player in I-AA. Rocker broke into the college coaching ranks at West Alabama from 1994-96.
"This is something that I dreamed about, reaching the top of the line in the football world," said Rocker. "Growing up you dream about playing in the NFL and once I made the transition to the coaching world, this was the ultimate goal. Now it is up to me to prove myself at this level. I realize I have big shoes to fill and have a lot of respect for Coach Washburn and what he got from his players. There is nothing that says you can't follow up a great coach with another great coach and that is what I will work to achieve."
As a player, Rocker was a two-time All American at Auburn and the 1988 Outland and Lombardi Trophy winner. He was a third-round pick by the Washington Redskins in the 1989 NFL Draft and played two seasons before suffering a knee injury. He concluded his career by playing one year for the Orlando Thunder of the World Football League. As a coach, Rocker spent two summers working with NFL teams (Indianapolis, 2001; Tampa Bay, 2006) as a part of the NFL's Minority Internship Program.
A native of Atlanta, Ga., Rocker and his wife Lalitha have a son, Kumar.
Rocker replaces Jim Washburn, who left to take over the defensive line at Philadelphia.