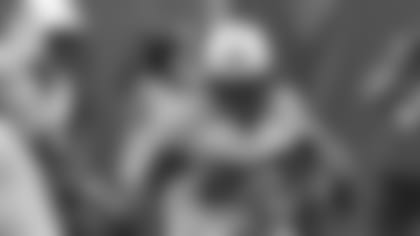 Titans running back Chris Johnson has been placed on the reserve/did not report list.
NASHVILLE, Tenn. -The Tennessee Titans have placed running back Chris Johnson on the reserve/did not report list in a move that frees up an extra roster spot for the final preseason game.
The administrative move has no impact on contract talks with Johnson, who met with the Titans last week but remains a holdout. Johnson's agent, Joel Segal, did not immediately return a message left by The Associated Press, and coach Mike Munchak said he hadn't heard of any changes in the talks.
The clock is ticking with final roster cuts due Saturday before the season opener Sept. 11.
"Then I think you have to make a lot of decisions,'' Munchak said. "Not only that one but we'll have a lot of big decisions at every spot.''
Johnson, who has rushed for more yards in the NFL over the past three seasons than anyone else, has refused to report until he gets a new contract. The Titans want to make him the highest-paid running back in NFL history, but both remain far apart so far.
Tennessee currently has Javon Ringer, who has 59 career carries in his two NFL seasons, and rookie Jamie Harper along with Herb Donaldson and Stafon Johnson at running back. If a deal isn't reached soon, Munchak has said they likely would need to add a veteran at the position.
The Titans, who open at Jacksonville, trimmed their roster Monday a day before the NFL deadline. But they have to wrap up the preseason first Thursday night at New Orleans, and Munchak said they needed to make sure they had as many players available as possible before the final roster cut to 53 on Saturday.
"You don't want to have to put someone back in in the fourth quarter because of an injury, so we were trying to maintain every spot we could,'' Munchak said.
Tennessee also cut defensive tackle Jovan Haye, who started 15 games for Tennessee in 2009. The six-year veteran had gained weight during the offseason after hearing the Titans wanted to get bigger on defense. But Sen'Derrick Marks returned recently from shoulder surgery, and the Titans also like rookie tackles Jurrell Casey, Karl Klug and Zach Clayton.
Tennessee also waived linebacker Jonathan Cornell, punter Chad Cunningham, fullback Patrick Hills, linebacker Kevin Malast, quarterback Brett Ratliff, safety Nick Schommer, receiver Owen Spencer and long snapper John Stokes.
NOTES: DE Derrick Morgan (left knee) visited with Dr. James Andrews in Alabama on Monday. The first-round pick in 2010 out of Georgia Tech tore his ACL four games into his career. He had been cleared before the start of camp, but Morgan felt something in the knee Aug. 20 in a game at St. Louis. Munchak said he's not optimistic Morgan will be available for the opener. ... S Chris Hope (arm) and DB Pete Ittersagen (hamstring) did not practice.