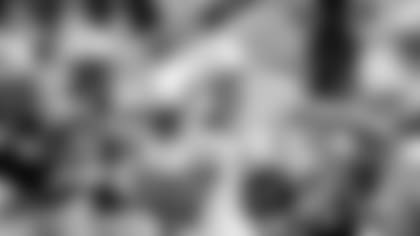 Chris Johnson is looking to build on Sunday's 130-yard rushing performance at Carolina.
NASHVILLE, Tenn. — Mike Munchak said Tennessee's 35-carry rushing performance last week against Carolina offered coaches a better opportunity to assess the effectiveness of the run game.
The Titans, backed by a substantial early lead, rushed 22 times for 135 yards and threw 13 passes in the second half against the Panthers. Chris Johnson took the ball on 17 of those rushes and gained 104 yards to finish with 130 yards on 27 carries.
"I think every game we've been going in talking about this – that we want to get to where we get him 20 to 25 carries so we can really see where the running game is at," Munchak said. "It's hard to judge when he's getting less than 15 carries exactly how good we can be. The fact that we got the lead in this game and the defense kept giving us the ball back gave us the opportunity … to be able to establish what we did."
Both were season highs for Johnson, who logged the second 100-yard game of the season, and carried the ball one fewer time than he had in Tennessee's previous two games.
"It feels good, just basically hoping it can bring momentum to the next week and the whole season," Johnson said. "Just keep pushing forward."
Johnson's previous rush totals this season were: nine carries for 24 yards (at Jacksonville), 24 for 53 (against Baltimore), 13 for 21 (against Denver), 23 for 101 (at Cleveland), 14 for 51 (at Pittsburgh), 10 for 18 (against Houston), 14 for 34 (against Indianapolis), 14 for 64 (against Cincinnati).
Munchak said he's seen elements in film study and practice that showed the Titans running game was close to hitting its stride.
"I feel it's been better than advertised," Munchak said. "You watch in practice, you watch some of the games, even though the numbers were not there I felt we were still doing things a lot better over the past four or five weeks, even though it (wouldn't show up) on the stat line."
Munchak, a former offensive lineman, and guard Jake Scott said the offensive line and Johnson were able to develop a rhythm and improve their technique as the game proceeded. 
"We got the carries we needed to really get going," Scott said. "Even this week, there were some lulls and some periods where we didn't have great plays but we were able to stay on the field and convert and make first downs and keep drives going anyway, and that gave us the opportunity to run the ball more. When you can get 20 or 30 plays, you can start repeating stuff and that actually helps."
The next step, the Titans say, is proving they can run the ball on a consistent basis, regardless of opponent. Carolina ranks 28th out of 32 teams at defending the run (137.6 yards per game).
This week's opponent has been much stingier with rushing yardage. Atlanta's defense is giving up 90.3 yards on the ground per game, which is tied for third in the league with Baltimore.
Johnson's performance Sunday was the 26th time he has rushed for more than 100 yards in his 56-game career. He also became the third player in franchise history to rush for more than 5,000 yards, joining Eddie George (10,009) and Earl Campbell (8,574) and tied Steve McNair with 36 career rushing touchdowns, which ranks third all-time.
Johnson also has two games left in November, which has been the most productive month on average, during his four-year career. Since 2008, Johnson has the most rushing yards (1,578) in the NFL in the month of November. Falcons running back Michael Turner ranks second with 1,568 yards during Novembers since 2008.
Johnson said he's aware of the challenge the Falcons' defense will present.
"They're very disciplined and they run to the ball sideline to sideline," Johnson said. "It's going to be a team where they're not going to give you a lot of opportunities to break a long one so when they give you that chance, you've got to execute on that chance."