Each week this season, Titans Online is taking a look back at a game in franchise history against the upcoming opponent.
Dec. 22, 2002: Titans 28, Jaguars 10
This flashback highlights a strong defensive performance from the Titans, who did not allow the Jaguars to convert any of the 11 third downs they faced and held Jacksonville to 214 net yards in its own stadium in Week 16 of the 2002 season.
Titans linebacker Peter Sirmon intercepted Mark Brunell and returned the ball 32 yards for a touchdown that put Tennessee up 21-3 with 2:08 left in the third quarter. Sirmon also led the Titans with nine tackles and broke up two passes.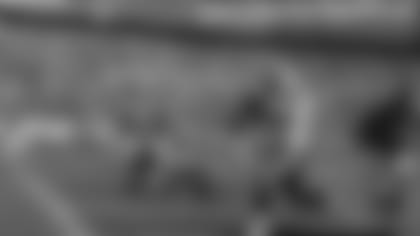 The Titans kept the Jaguars out of the end zone until eight seconds remained in the game when reserve QB David Garrard completed a 4-yard TD pass to Jimmy Smith.
Jevon Kearse recorded two of the Titans' four sacks on the day. Kevin Carter recorded one, and rookies Albert Haynesworth and Carlos Hall split the other sack.
Tennessee possessed the ball for 35 minutes, 39 seconds and put together three touchdown-scoring drives of at least eight plays and 65 yards.
Eddie George scored the game's first touchdown with a 4-yard run that capped a 12-play, 66-yard drive with 3:53 left in the first quarter.
George added another TD from 1 yard with 8:29 left in the second quarter to end a 10-play, 70-yard drive. He finished with 89 yards on 21 carries.
Steve McNair hurt the Jaguars with his arm and legs. McNair rushed eight times for 58 yards as Tennessee finished with 175 rushing yards on 40 carries and was 13-for-21 for 115 yards passing. McNair completed a 5-yard pass to Derrick Mason to put the Titans up 28-3 with 11:26 left in the game.
The victory continued the Titans' robust end to the 2002 campaign in which they won their final five games of the regular season and 10 of 11 after a 1-4 start. Tennessee rode that surge all the way to the AFC Championship game.