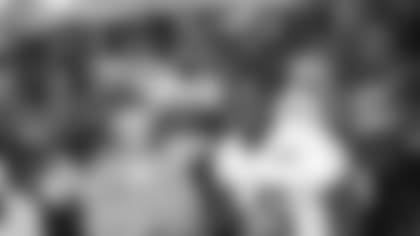 Titans FB Ahmard Hall and his teammates present a football to National Guard Spc. Kristopher Post, who was injured in combat.
NASHVILLE, Tenn. — The Titans extended a heroes' welcome and expressed deep appreciation Thursday to 250 members of the military that visited Baptist Sports Park.
The football team hosted the first "Screaming Eagles Day," inviting soldiers from nearby Fort Campbell's 101st Airborne Division. Representatives from Mobile USO, a travelling caravan of the United Service Organization, joined the "Screaming Eagles" during the visit.
The Titans, who have had a great relationship with Fort Campbell since the team moved to Tennessee, annually take players up to the Army post for visits. On Thursday, however, the team enjoyed the opportunity to host the soldiers for a practice and a meet-and-greet autograph and photo session. The team also distributed pairs of tickets to the upcoming Bears-Titans preseason game to each attendee. The Titans worked in conjunction with their sponsors to give away the tickets.
Sports Illustrated senior writer Peter King, who is joining Mobile USO for a 21-city NFL training camp tour, greeted the soldiers before practice started. King, a nationally respected NFL writer and TV analyst, shared experiences from this tour and answered questions that the soldiers had about the upcoming season.
New Titans coach Mike Munchak greeted the soldiers as practice was beginning and joked that the Titans still had a few roster spots if anyone was interested.
"Thank you for your dedication to our country," said Munchak, who along with other Titans coaches was wearing a 101st Airborne T-shirt and hat. "It's great to have you as guests."
The practice started outside but moved indoors because of severe weather in the area. The soldiers were invited inside the Titans' practice bubble, which is normally reserved for team personnel and some media access, for the rest of the practice.
When practice concluded with a final huddle, Titans fullback Ahmard Hall, a veteran of the Marine Corps, began walking slowly toward the soldiers who were lined up in the end zone in silence. Hall stopped and spoke with National Guard Spc. Kristopher Post, who was injured in combat. Hall and Post spoke quietly, then Hall directed Post to call all of the soldiers to attention.
Post, a Michigan native, called that moment "pretty spectacular."
"I wanted to make sure it was done right," Hall said. "I wanted Spc. Post to get his moment. He's been to war, paying the ultimate price for us. You've got to show him the ultimate respect."
Hall completed missions in Kosovo and Afghanistan before attending the University of Texas on the G.I. Bill. He still has a great appreciation for his time in the service and those who are serving.
"One of the things the military taught me is never to take anything for granted, and I know what these guys are doing on a daily basis, putting their lives on the line so we can enjoy this simple game of football," Hall said. "You always want to give back. I'm able to do what I do, live my childhood dream."
Thursday was the first professional sport experience for many of the soldiers, who said they were excited by the energy level at practice and appreciative of the opportunity.
"It's pretty cool that they're doing this for us," Sgt. Aaron Sanchez said. "It's awesome. I'm probably going to go to more games than usual."
Sanchez, who is originally from New Orleans, has served two tours in Iraq and one tour in Afghanistan. He said he is hoping for a Saints-Titans Super Bowl.
Spc. Edwin Pierce, became a Titans fan in 2006, when he attended a Titans game during his first weekend at Fort Campbell. The New Jersey native is tasked with helping improve soldiers' quality of life and building morale.
"Words can't really describe it," Pierce said. "(The Titans) are one of the biggest supporters of Fort Campbell."
Munchak said it was a great day for everyone.
"I know the players really enjoyed it," Munchak said. "We can't even fathom the sacrifices they make for their country … I think it makes you appreciate that much more what you do and what opportunities we have and how blessed we are. I'm thankful for the people like them that are defending us."
Titans safety Michael Griffin, who teamed with Hall at Texas, said his teammates enjoyed hosting the troops.
"I think it's more special for us because I don't think they know how much we appreciate them," Griffin said. "They think that they're bothering us by asking us for autographs, but we should be asking them for their autographs because we get praise for making a catch or an interception, but how often do we praise them for protecting this country and protecting us every day?"