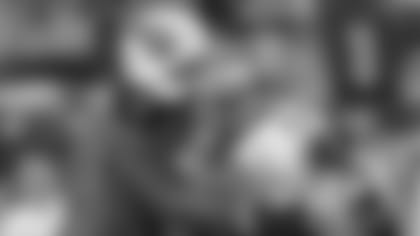 Defensive tackle Jason Jones sacks Saints QB Patrick Ramsey for a seven-yard loss in the second quarter.
RINGER'S LONG RUN:Late in the first quarter,Javon Ringer** gained 47 yards on a running play, leading to a Titans touchdown three plays later and a 7-0 lead.  It was Ringer's longest run of the preseason, topping his 46-yarder at Seattle on Aug. 14.  Ringer finished the preseason with 25 carries for 165 yards, an average of 6.6 yards per carry.

YOUNG CAPS PRESEASON WITH TD PASS: The Titans took a 7-0 lead when Vince Young completed his first touchdown pass of the preseason, a seven-yard strike to tight end Bo Scaife. It was Young's final pass of the night.  He finished with seven attempts, four completions and 24 yards for a 103.6 passer rating.

JONES SACK: Defensive tackle Jason Jones continued his impressive preseason, accounting for a seven-yard sack of Patrick Ramsey in the second quarter.

GADO TAKES OFF: In the second quarter, back-up running back Samkon Gado gained 31 yards on a rushing play, setting up a 30-yard field goal by Rob Bironas.

TWO-MINUTE DRIVE: With Kerry Collins at quarterback, the Titans executed a two-minute drive with success at the end of the first half.  Armed with two timeouts, they took possession on their own 29-yard line.  Ten plays and 63 yards later, Rob Bironas booted a 26-yard field goal as time expired in the half to give the Titans a 13-10 lead.

DEFENSE CONTINUES STREAK: With the Titans defensive starters playing much of the first half, the unit continued its preseason streak of not allowing a touchdown.  The Saints scored three points on offense in the first half (seven after a blocked punt), giving the Titans four consecutive preseason games without the starters allowing a touchdown to an opposing offense.