**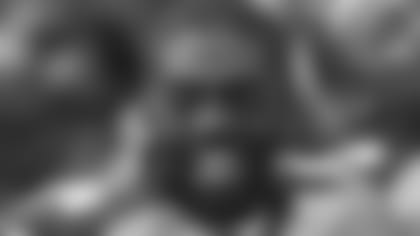 Veteran WR Randy Moss will not likely be back with the Titans, GM Mike Reinfeldt said.
NASHVILLE, Tenn. --** It looks like Randy Moss will be on the move again.
So says Tennessee Titans general manager Mike Reinfeldt, who signaled Friday that the well-traveled wide receiver likely won't return next season.
"I honestly don't think we'll try to re-sign him," Reinfeldt told season-ticket holders in a conference call, according to the Tennessean. "We've got some young guys we like, and I think at this point in his career, he will probably go elsewhere."
The Titans claimed Moss, 34, off waivers from the Minnesota Vikings in November after the four-time All-Pro and seven-time Pro Bowl receiver, acquired in a trade with the New England Patriots about a month earlier, went on a postgame rant following a Halloween loss to his former team.
Moss played eight games for the Titans, starting four, but caught just six passes for 80 yards. He told KFAN-AM in Minneapolis last month that he'd love to return to the Patriots.
"I would entertain coming back to Minnesota," Moss said, "but if you're asking me where my heart is, I think just the success as a wide receiver and everything the New England Patriots stand for -- I'm a big fan of Bill Belichick, I really am. Not just on the field. I'm a fan of his off the field, because the little grouchy man that you see on camera is not what you see off camera. ...
"If you're asking me where my heart and where I'm happy is, I love playing with Tom Brady. I love being coached by Bill Belichick. And people say, 'Well Moss, you got traded to Minnesota from New England.' Well, I just told you all this is a business, and people have to understand the nature of the business."
Without Moss in the mix, the Titans' receiving corps is headed by Kenny Britt, 22, who last season led the team with 42 receptions for 775 yards and nine touchdowns while limited by injury to 12 games and seven starts. He has averaged 17.6 yards on 84 catches in his first two NFL seasons.
Veterans Nate Washington and Justin Gage are the veteran receivers. Second-year pros Marc Mariani and Damian Williams, along with little-used Lavelle Hawkins are also in the Titans' plans at receiver.
"We're excited about Hawkins," said Titans coach Mike Munchak, who also was on Friday's conference call. "We think he's got a great opportunity to provide a lot of competition at that position. ... When you have new coaches and a new system, he'll get a nice fresh look this year. I know (offensive coordinator) Chris Palmer is pretty excited about him, so I think he may have the opportunity this year to really get on the field a little bit more."
Munchak said Mariani, who likely will have less opportunity to return kicks under new NFL rules, will get a look at slot receiver and that Palmer "is really excited about him and the way he may help us in that way, kind of the way (Derrick) Mason did back early in his career when he was our main returner and worked in the receiver area."
Other conference-call highlights, according to the Tennessean:
» The Titans want to bring back middle linebacker Stephen Tulloch, who led the team in tackles the past two seasons, and have tendered him a contract offer in case he's a restricted free agent when the NFL labor dispute is settled and new rules are in place. "We drafted him. We kind of trained him up," Reinfeldt said. "He fits in well. He's a good player. We'd welcome him back...Stephen Tulloch is a good football player, and we want him back."
» Reinfeldt on adding a veteran quarterback to the roster: "It might be a guy we might like for two or three years. Because of the free agency, I can't mention those guys by name, but Kerry Collins would be in that mix, and there's probably either three or four other guys that are worth talking about, either through trade or free agency."
» Reinfeldt on second-year quarterback Rusty Smith: "He's still got all the tools. I think he's a young man that has a chance to play in the league for a number of years. He might not be a starter, but he could be a pretty darn good backup for a while. He's got all the things you look for: the strong arm, the good size, and he's got a good touch, a quick release."
» Reinfeldt on running back Javon Ringer: "Every time we called on him, he stepped in and did a pretty good job. He's got to become a little bit better special-teams player. It's hard to have a backup running back that doesn't play special teams. I think in a perfect world, we'd like to have that second back carry six to eight times a game, and that would either be (Ringer)" or fourth-round draft pick Jamie Harper from Clemson.