**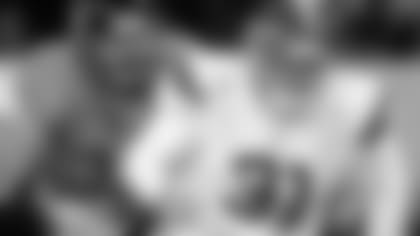 The Titans added defensive tackle Jurrell Casey of Southern California (pictured) in the third round, defensive lineman Karl Klug of Iowa in the fifth and defensive tackle Zach Clayton of Auburn in the seventh.
NASHVILLE, Tenn. -** The Tennessee Titans want more size on a defense that has plenty of room for improvement, and they are giving new coordinator Jerry Gray just that in the NFL draft.
The Titans finished 2010 with a defense ranked 26th in total yards allowed and 29th against the pass, and they used six of nine draft picks on defense for new coach Mike Munchak.
"We got quite a bit of help the past three days in that regard,'' Munchak said Saturday night of his first draft as head coach.
Munchak said they will stick with a 4-3 front, but Gray wants the option of being flexible enough with his personnel to show a 3-4 front from a franchise that has used the 4-3 alignment for years.
"What we are doing is kind of putting the puzzle together. We knew what we had, and we know now where we're drafting. When you get those guys in, hopefully we can eventually get them in and we start working,'' Gray said.
"You look at teams like New England, those guys play 3-4 and 4-3 every week so it really doesn't matter. They go through their roster and say, `Hey, do we want to play 3-4 this week? Do we want to play 4-3?'' And they get the best out of it, so to me it depends on what hand you're dealt and that's what you play.''
The Titans started Saturday grabbing Miami linebacker Colin McCarthy in the fourth round. McCarthy is a 6-foot-1 and 235-pound linebacker who can compete with or replace middle linebacker Stephen Tulloch depending on what the NFL's labor situation brings to restricted free agency.
He will play alongside fellow rookie linebacker Akeem Ayers out of UCLA, the Titans' second-round pick who could start this year. The Titans also added tackle Jurrell Casey of Southern California in the third, defensive lineman Karl Klug of Iowa in the fifth round and defensive tackle Zach Clayton of Auburn in the seventh.
They wrapped up the draft taking a chance on Tommie Campbell, a 6-3, 205-pound cornerback timed at 4.33-seconds in the 40 at the Cactus Bowl. Campbell started his career at Pittsburgh but wrapped up at Division II California (Pa.) after problems with grades and a stint working full-time as a janitor at the Pittsburgh airport.
"Corners with that kind of size and speed, they're hard to find,'' said Ruston Webster, vice president of player personnel.
The Titans added a pounding running back with Clemson's Jamie Harper with their second pick in the fourth round, offensive line depth with tackle Byron Stingily of Louisville in the sixth round. Stingily was among the 30 players who visited the Titans before the draft and worked with former Titans left tackle Brad Hopkins.
With the NFL labor lockout, the Titans may have been hurt more than other teams by the inability to fill roster holes or improve by signing free agents. The Titans aren't even sure if players like Tulloch and defensive ends Jacob Ford and Dave Ball will be free agents just yet. Pro Bowl end Jason Babin was only here on a one-year deal.
That made finding defensive linemen and linebackers crucial in the draft.
"No matter what the situation, we feel like we have guys that can play or will have some great competition,'' Munchak said. "We'll have some good decisions to make at the end.''
The Titans got plenty of tackles out of Tulloch, the team leader with 169. But he had only one sack and one interception. Outside linebacker Will Witherspoon had 99 tackles with three sacks and two interceptions in his first season in a three-year contract, while Gerald McRath had 60 tackles with 1 1/2 sacks in 12 games.
With the Titans picking linebackers with two of their first four picks, Ayers knows much will be expected.
"Definitely coaches have something in mind bringing two young linebackers in. You know we'll get a chance to work side by side, chance to compete with each other and just make each other better,'' he said.
McCarthy played both outside and in the middle at Miami. He played in the middle his senior year and finished his career with 302 career tackles, including 34 1/2 for loss. He said the Titans obviously have needs at linebacker and sees a great opportunity ahead depending on how he works when he arrives.
He also is familiar with Tulloch, whose agent also is Drew Rosenhaus and works out in the offseason in Miami.
"I'm just going in there to compete, I think that is the biggest thing. At the end of the day, whatever happens, happens. I'm just excited right now,'' McCarthy said. "I'm kind of speechless.''
Now the Titans must wait and see if the NFL has free agency with the lockout imposed again so quickly that reporters talked to Campbell a couple minutes after he was drafted to squeeze in a conversation before the draft ended.
The shopping list will start with adding a veteran quarterback, maybe a veteran defensive tackle, a safety and tight end. General manager Mike Reinfeldt said they will meet next week to start putting together a list of needs.
But the usual day after draft signing of undrafted free agents won't happen.
"When the draft ended, all contact with college players ended,'' Reinfeldt said.