**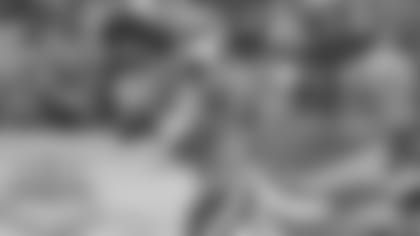 Vince Young completed 15-of-18 passes for 125 yards and a touchdown, while rushing for 30 yards in his first start of the season.
NASHVILLE, Tenn. --** Tennessee owner Bud Adams isn't taking credit for the decision to start Vince Young and bench Kerry Collins, even if the move helped snap the Titans' winless skid.
The owner is giving Young a high grade for his first start since the 2008 season opener.
"He looked all right out there," Adams said. "I think he's coming around a lot. I think there's some things that happened to him early in his career that didn't let him concentrate on football. I think he realized he needed to work at it hard. And he has shown that."
Young threw for a touchdown, Chris Johnson set a franchise record by rushing for 228 yards, and the Titans won their first game of the season by routing the Jacksonville Jaguars 30-13 Sunday.
The NFL said it was the only game in league history with four touchdowns rushing of 50 yards or longer.
Johnson scored on runs of 52 and 89 yards and Jacksonville's Maurice Jones-Drew scored from 80 and 79 yards out.
The Titans (1-6) had been the only winless team left in the NFL along with Tampa Bay, which had an off week, and Tennessee's skid of eight straight went back to the end of last season.
"It's just one week at a time now we got the first win," Fisher said. "Unfortunately, it took us a little bit too long. Now we're going to take it and just move on."
That skid is why Adams wanted Young to start, especially since Tennessee needs to see if he'll be worth keeping around with a $4.25 million roster bonus due in March.
Johnson helped Young with the highest rushing total in the NFL since Adrian Peterson had 296 against San Diego in November 2007. The Titans also eased Young in with lots of short throws and runs to work off any rust. It worked as Young was 15 of 18 for 125 yards, and ran 10 times for 32 yards not counting two final kneel downs.
"The year off has helped me a whole lot," said Young, who got a big hug from offensive coordinator Mike Heimerdinger as the final seconds ticked off.
Jacksonville (3-4) now has lost two of three. Jones-Drew provided the only highlights, running for 177 yards and taking the NFL lead with 10 touchdowns rushing. But the Jaguars only gave him eight carries.
David Garrard shredded Tennessee for 323 yards when the Jaguars routed the Titans 37-17 on Oct. 4. They never let him get started this time, sacking him four times, intercepting him twice and hitting him repeatedly. The Titans held the ball for more than 39 minutes and outgained the Jaguars 430-330.
Jaguars coach Jack Del Rio took the blame. Garrard disagreed.
"We appreciate Jack saying that, but we have to do better as players executing the game plan. Everybody has to get better, period," Garrard said.
Tennessee couldn't have opened the game with a much better script.
The change to Young was made to try sparking an offense that had been outscored 127-26 over the past three games and hadn't scored a touchdown since that visit to Jacksonville.
All eyes were on Young, the No. 3 overall pick in 2006 and that season's Offensive Rookie of the Year.
He got a bit lucky when Jaguars cornerback Derek Cox dropped a would-be interception in the end zone on the opening drive. But he made plenty of nice throws, including his 6-yarder to Nate Washington at 9:19 of the second quarter that ended Tennessee's TD drought at nine quarters.
He also kept the go-ahead TD drive alive when he backpedaled away from pressure, then found Kenny Britt on the sideline with a good pass for a 7-yard completion on third-and-6.
"That throw ... was classic Vince," Fisher said. "I said all along he stayed focused. He's been preparing himself. This game, He had fun tonight, and it was good to see.
With Jones-Drew ripping off runs, it looked as if the Jaguars could keep pace with Tennessee as the Titans settled for three field goals from Rob Bironas. Jones-Drew's second TD run tied it at 13 just 23 seconds into the third quarter, but Michael Griffin blocked Josh Scobee's extra point attempt to keep Jacksonville from taking the lead.
Johnson answered by capping a seven-play drive with a 52-yard TD run to put the Titans ahead to stay at 20-13, and his 89-yard TD run at the start of the fourth pushed it to 30-13. That gave him 220 yards rushing and the franchise record, topping 216 yards by both Eddie George and Billy Cannon.
NOTES: The Titans now are 13-8 after a bye. ... The Jaguars missed at their chance to be 3-1 in the AFC South for the first time under Del Rio. ... The Jaguars now are 18-5 when rushing for at least 150 yards since 2006. ... Jones-Drew came in needing 5 yards to reach 3,000 yards rushing for his career. ... Young needed 21 yards rushing to reach 1,000 for his career. He now is 19-11 as a starter with wins in six of his last seven starts.