**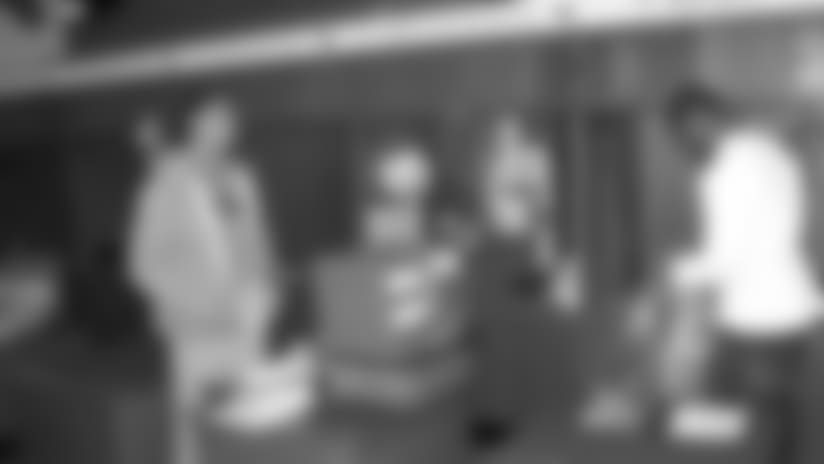 Cornerbacks Cortland Finnegan and Rod Hood clear out their lockers at Baptist Sports Park.
NASHVILLE, Tenn. —** Cornerback Cortland Finnegan sums up how the Tennessee Titans will be remembering 2009.
Just call it the season of CJ2k.
That's shorthand for Chris Johnson making NFL history as only the sixth running back to run for 2,000 yards in a single season. Other Titans are focusing on their rebound from the 0-6 start by becoming the first NFL team to finish at 8-8 after Sunday's 17-13 win at Seattle rather than the Super Bowl-or-bust goal this franchise started camp with last July.
 "We're disappointed in the fact we didn't make the playoffs, but we're happy with the run that we made," Finnegan said Monday as he cleaned out his locker.
Coach Jeff Fisher said he didn't meet his expectation to improve off the 13-3 finish of 2008. Despite speculation over his future with two years left on his own contract, Fisher said Nashville is stuck with him for a couple more years — at least.
"We spent the whole offseason wondering what would have happened had C.J. not gotten hurt in the second quarter against Baltimore last year, and unfortunately we didn't get to answer that question because we started slow," Fisher said.
Now Fisher and the Titans face a challenging offseason with six starters among seven veterans hitting free agency, and that doesn't include two more starters among five who will be restricted free agents depending on the labor situation.
"The entire NFL's moving into an offseason of uncertainty," Fisher said of the team's uncertain plans.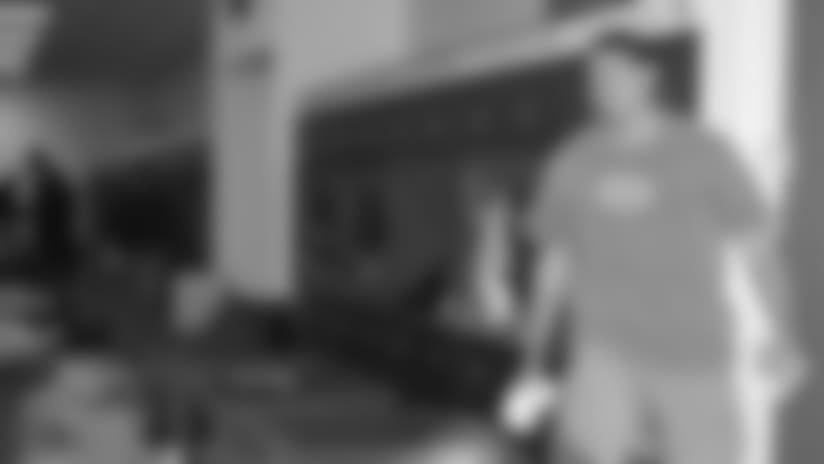 Long snapper Ken Amato gets ready to haul off a bag containing contents from his locker on the final day of the season for Titans players.
One move that's certain? Vince Young will be the Titans' starter for 2010 even with his current contract calling for a $4.25 million bonus in March and $7.5 million salary. Fisher said he wouldn't go into contract terms but he sees room for Young to keep improving at quarterback. Young finished the season 8-2 in returning as starter after the 0-6 start.
"What we were able to see over the last 10 weeks was very important. He's got a lot of room for improvement too. We all know that, all of our players do. He stands to improve, and he's committed to improve," Fisher said. "That's an important thing."
Still, Fisher insisted one more time that the 0-6 start was not Kerry Collins' fault. The key? Losing the first three games by a combined 13 points.
"We did everything we possibly could," Fisher said. "The first three games...call here or there, an incorrect call being eliminated, and we win all three of those games. If the starts are different, then we're still playing. I think we made the best out of the opportunity that we had once we came back from the bye week."
Fisher wants to bring back the offense intact, and the key player there is center Kevin Mawae. The 16-year veteran isn't ready to retire and wants to return to Tennessee after helping the Titans finish with the NFL's second-best rushing game and third in sacks allowed per pass play.
"I'd love to be here, but it's not up to me," Mawae said.
The Titans must figure out how to hold onto the ball better after finishing with 14 more turnovers than 2008.
Defense is where the biggest questions lie after slumping from seventh in 2008 to 28th in yards allowed. The Titans never replaced tackle Albert Haynesworth after losing him to Washington in free agency and finished with 12 fewer sacks. Injuries early in the secondary and late in the linebacking corps exposed the Titans' youth movement for depth.
It was a tough debut for coordinator Chuck Cecil's first season on the job, and three starters will be unrestricted free agents. Cornerback Nick Harper isn't expected back, but end Kyle Vanden Bosch and linebacker Keith Bulluck are key leaders.
Middle linebacker Stephen Tulloch, a restricted free agent himself with no new labor deal, lobbied for a new deal for Bulluck, who missed the final two games after tearing his left anterior cruciate ligament. Bulluck is busy recovering from surgery, determined to be ready wherever he plays next.
He would like to be back in Tennessee too
"Next year the slate is clean. We start all over again. We started off 0-6 this year. I can't see it happening two years in a row," Bulluck said.