**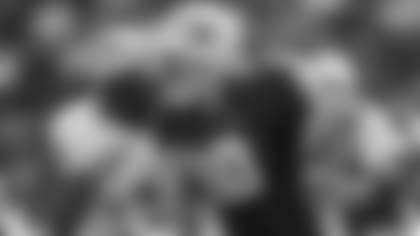 Jake Locker's mobility will make him a dangerous offensive weapon for the Titans.
NASHVILLE, Tenn. -** The Tennessee Titans believe they filled the biggest hole on their roster Thursday night with their first pick in the NFL Draft, taking quarterback Jake Locker of Washington at No. 8 overall.
And Locker's biggest asset might be how different he is from Vince Young - the player he's replacing.
"I think we have a new culture here at the quarterback spot, a guy that's going to be the first one in here, the last one out,'' new offensive coordinator Chris Palmer said.
The Titans convinced owner Bud Adams a couple days after the 2010 season ended the time had come to either trade or release Young, the No. 3 overall pick in the 2006 draft. Young was 30-18 counting his one playoff game, but his meltdown after a season-ending injury was the last straw for the franchise.
Young is still on the roster, but general manager Mike Reinfeldt said Thursday night they will release Young at some point once they learn more from the NFL on when the new league year starts. The Titans must either trade or release Young before the 10th day or be forced to pay a $4.25 million roster bonus.
The Titans had their choice of quarterback with only Cam Newton off the board when they went on the clock at No. 8. The Titans quickly made their pick after having scouted Locker at the Senior Bowl, the NFL Combine, his pro day at Washington followed by a private workout and bringing the quarterback to Nashville for another meeting.
New coach Mike Munchak said he was convinced when he saw Locker in person during his workout in Washington and how Locker worked with Palmer. Munchak sees Locker as being a great fit in the locker room and loves his intensity.
"I just pictured myself in the huddle with this guy, and thought, 'Man, these guys will love playing for this guy,''' Munchak said. "I think he has got something special like that that he'll bring out the best in other players. I think they'll want to play hard for him. ... He's one of those guys who's going to find a way to win for us, and I think that the guys in this building will believe in him.''
Whether Locker starts immediately remains to be seen. The Titans still plan to add a veteran quarterback to the roster once free agency opens.
"We wouldn't hold it against him that he's a rookie,'' Munchak said.
The Titans selected the 6-foot-2 Locker over Missouri's Blaine Gabbert, choosing Locker and his mobility to pair with running back Chris Johnson. That will keep defenses from focusing on just Johnson.
Locker ran for 1,939 yards, averaging 4.27 yards per carry, during his four seasons at Washington. He also rushed for 29 touchdowns. As a passer, Locker was 619 of 1,148 for 7,639 yards with 53 touchdowns and 35 interceptions. The biggest question he faced was his accuracy, completing 53.92 percent of his passes in his career.
Titans quarterback coach Dowell Loggains said Locker's accuracy noticeably improved after working with former Jets quarterback Ken O'Brien in prepping for the draft.
Palmer said Eli Manning was completing 56 or 57 percent of his passes when he joined the New York Giants and helped him improve.
"We think we have some drills that we'll be able to help him with Dowell being here. I think the combination of both of us working with him, we'll see strides in his accuracy, and I think some of that was from injury,'' Palmer said. The guy's a very courageous football player and had some injuries during the course of the year that affected that.''
For Locker, he has the advantage of joining a team where Munchak and the offensive line coach, Bruce Matthews, both are Hall of Famers for their play as offensive linemen. That's reassuring for a quarterback.
"You look at what their offensive line has been able to do for them with the rushing game and protecting the quarterback there, they year in and year out are very consistent, very good at it, and something I'm looking forward to being a part of,'' Locker said in a conference call with reporters.
Locker doesn't regret sticking around Washington rather than coming out for the draft a year ago.
Locker also gets the endorsement of the last Washington Huskies quarterback who played for the former Houston Oilers franchise in Warren Moon. He said in a statement through the Titans that he has known Locker for about five years.
"I have no doubt he will be a great player and live up to the high status of former Titans/Oilers quarterbacks,'' Moon said.