**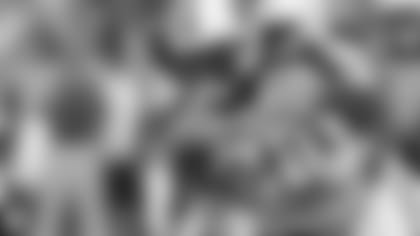 Running back Chris Johnson was held to a season-low 34 rushing yards Sunday night.
NASHVILLE, Tenn. --** Trying to matching field goals against Peyton Manning's touchdown passes never works. Now the
Indianapolis Colts
' perfect start continues.
The Tennessee Titans? Their winless misery isn't close to ending.
Manning's near-perfect start to the season continued Sunday night as he had 309 yards passing and three touchdown passes, and the Colts never trailed in beating their AFC South rivals 31-9 for their NFL-best 14th straight regular-season win.
With his performance, Manning joined Kurt Warner and Steve Young as the only NFL quarterbacks to open a season by throwing for at least 300 yards in the first five games. He will have to wait out a bye week to try and match them with a sixth such game.
Manning also reached another milestone when he threw a first-quarter TD pass, the 343rd of hiscareer. He passed Fran Tarkenton and moved into third by himself, behind only Brett Favre and Dan Marino in that category.
Indianapolis (5-0) has not lost since its last visit to Nashville and leaves now with a firm grip on the AFC South that the Colts have controlled all but the two seasons Tennessee has won the division.
The Titans (0-5) have matched their 0-5 start in 2006. It got so bad that Jeff Fisher put in backup quarterback Vince Young in the fourth quarter.
The Colts manhandled Tennessee, which started 10-0 last season, with Bob Sanders watching from the sideline along with starting cornerbacks Kelvin Hayden and Marlin Jackson.
The Titans turned in their worst offensive performance this season with 245 yards. Kerry Collins was intercepted in a ball taken away from receiver Nate Washington. Young got a standing ovation from what fans were left when he came in. The change didn't help. Young's first pass was nearly intercepted by a Colts defender, he was 0 for 3.
The game was a mismatch almost from the start with Manning, the three-time MVP, and the NFL's top passing offense against a defense tied for worst in the league against the pass.
The Titans scratched cornerback Cortland Finnegan for his tight right hamstring. When Nick Harper was sidelined in the third quarter holding his right hand, that left the Titans with rookies.
Not that it mattered with Manning going to work.
Manning needed only the first of Tennessee's two turnovers to put Indianapolis ahead to stay and notch a bit more history for himself. Antoine Bethea knocked the ball loose from Titans tight end Alge Crumpler, and Keyunta Dawson recovered in the first.
Five plays later, Manning found Reggie Wayne on a 3-yard TD toss that was the 343rd of his career.
In the second quarter, he completed each of his seven passes for 81 yards. Joseph Addai capped the drive with a 1-yard TD run.
Tennessee got two turnovers in the first quarter off a muffed punt and Keith Bulluck's interception of Manning, which he celebrated in a sign of the Titans' desperation by heaving the ball up into the stands. But the offense managed 6 and 9 yards after each turnover and settled for field goals by Rob Bironas.
The Titans responded with their best drive of the night. But Jacob Lacey, starting in place of Hayden, broke up Collins' pass to Justin Gage in the end zone, and Tennessee had to settle for Bironas' third field goal.
Manning needed just 47 seconds to give Indianapolis a 21-9 halftime lead. A 93-yard drive was helped by 30 yards of penalties. Kyle Vanden Bosch was flagged for grabbing Manning's legs after a throw, and Jacob Ford was called for a late hit on the quarterback.
Manning finished with a 39-yard TD toss to Austin Collie, and he found him in the third for a 6-yard TD.