**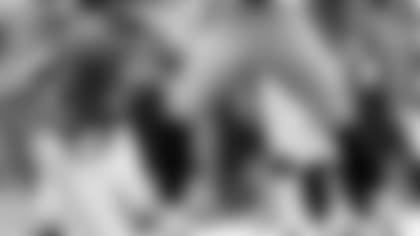 Rookie wide recever Kenny Britt set career highs with seven receptions for 105 yards.
JACKSONVILLE, Fla. --** If the
Jacksonville Jaguars
continue to play like this, they might be able to solve their ticket-sales problems.
David Garrard threw for 323 yards and three touchdowns, two to Mike Sims-Walker, and the Jaguars dismantled the Tennessee Titans 37-17 on Sunday.
Garrard shredded Tennessee's injury depleted secondary, often picking on rookie cornerback Jason McCourty, and Jacksonville's defense forced four punts and three turnovers in Tennessee's first eight possessions. The result was a 30-3 lead in the third quarter that had the Titans (0-4) searching for answers.
"Being at a loss for words is a good way to put it," linebacker Keith Bulluck said. "We're obviously not playing good football. This is the fourth week, and the last three I used up my excuses for what's going on?"
Announced attendance was 49,014 at Jacksonville Municipal Stadium, the second straight home game blacked on local television. Owner Wayne Weaver said earlier in the week he would consider playing some future games in nearby Orlando - a wake-up call to fans.
Weaver can only hope his team's performance will spark ticket sales. The Jaguars (2-2) certainly put on an offensive show for the second time in as many games. Jacksonville beat Houston 31-24 a week ago.
Garrard and Sims-Walker starred in this one.
Garrard completed 27 of 37 passes, the latest quarterback to burn the NFL's 29th-ranked pass defense. The Titans had an excuse in this one: They played without cornerback Cortland Finnegan (hamstring) and nickel back Vincent Fuller (forearm). Clearly, the Jaguars took notice.
A team built to run the ball, Jacksonville threw early and often - even without starting tackles Eugene Monroe (illness) and Eben Britton (knee). Garrard dropped back to pass 27 times in the first half, and the Jags called seven running plays.
"We knew they were going to stack the box and try to stop Maurice (Jones-Drew)," Sims-Walker said. "We just took advantage of that. It's about time. We knew we were capable of doing it. It's just time we did it."
Sims-Walker finished with seven catches for 91 yards. He had a 9-yard TD reception in the second quarter and a 15-yarder with 27 seconds remaining in the half that made it 27-3.
It could have been worse for Tennessee, too.
Kerry Collins threw an interception on the ensuing possession, and Gerald Alexander returned it to the 26-yard line - well inside Josh Scobee's field-goal range. But Garrard was sacked for an 11-yard loss, and Scobee missed a 55-yarder as time expired.
Collins completed 29 of 48 passes for 284 yards, with a touchdown and two interceptions. He hooked up with Nate Washington for a 14-yard score late in the third quarter, cutting the lead to 30-9, but it was too little, too late.
"When you're in a situation like this, every man has to take it upon himself to figure out what he needs to do," Collins said. "As a team, collectively, we need to come together and not listen to the criticism from the outside and keep believing in what we're doing."
That might be tough, even though coach Jeff Fisher surely will remind everyone about the 2002 team that started 1-4 and still made the AFC title game.
Tennessee, which has as many losses (four) as it had all of last season, looks to be headed in the wrong direction. It's quite a turnaround for a franchise that started 10-0 in 2008 and earned home-field advantage throughout the AFC playoffs.
"We can't put a finger on what's wrong and we don't want to point fingers at each other," defensive end Jevon Kearse said. "Whatever we're doing, we're doing as a team. We've been losing together, but we've been doing it as a team. There's a lot of stuff we need to do that we haven't been doing yet."
Just about everything went Jacksonville's way Sunday.
Marcedes Lewis caught four passes for 76 yards, including a 33-yard TD reception in the fourth. Rookie Mike Thomas picked up first downs running and receiving, and set up two touchdowns with long returns. His 34-yard punt return set up Jones-Drew's 9-yard TD run in the first quarter, and his 42-yard kickoff return set up Garrard's first TD pass to Sims-Walker.
Jacksonville's defense came up big, too. The unit held Chris Johnson to 83 yards on 16 carries, kept steady pressure on Collins and finished with three turnovers. The Titans have 11 turnovers in four games, the main reason they're still winless.
"This was a big step for us," Jaguars defensive tackle John Henderson said. "We grew. We trusted in each other and played good football."
Henderson also had a message for fans.
"Just believe in us," he said. "Come on out and get some tickets and just believe in us."
NOTES: Jags WR Torry Holt caught three passes for 42 yards, giving him 884 career receptions and moving him into 10th place on the NFL's all-time list. ... Collins has 38,307 yards passing for his career, placing him 12th on the NFL's all-time list. ... Jags CB Scott Starks strained a groin muscle early and didn't return.