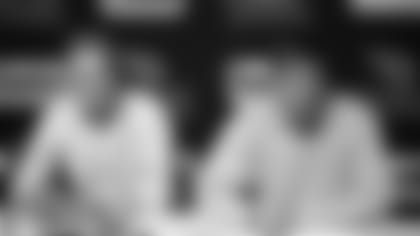 Mike Reinfeldt (left) has been elevated to Senior Executive Vice President/Chief Operating Officer, while Ruston Webster (right) moves up to the role of Executive Vice President/General Manager.
NASHVILLE, Tenn. --The Tennessee Titans promoted Mike Reinfeldt to Senior Executive Vice President/Chief Operating Officer after serving as the team's General Manager for the past five seasons, and Ruston Webster was elevated to Executive Vice President/General Manager after serving two seasons as the Titans Vice President of Player Personnel. Additionally, Lake Dawson has been promoted to Vice President of Player Personnel.

Reinfeldt will oversee all aspects of the organization - both football and non-football - in Nashville and will report to Titans owner K.S. "Bud" Adams, Jr.. Webster will assume control of all football operations for the team.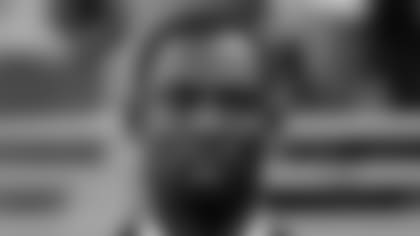 Lake Dawson has been promoted to Vice President of Player Personnel.
"Mike has done a nice job for us as our general manager, but I believe we need someone in place who oversees the entire franchise there in Nashville," said Adams. "Mike is uniquely qualified for that position with his previous experience. Our VP's have done an outstanding job over the past couple of years managing their departments, but this will streamline things to have someone on site to direct the entire organization and who will execute things the way I want them done.
"With this shuffle, we really have the best of both worlds – as you might remember our final two candidates when we were filling the general manager position five years ago were Mike (Reinfeldt) and Ruston Webster. We now have both of them working for us and Ruston will take over the General Manager role."
Head coach Mike Munchak called Webster a "great talent evaluator."
"This is a great decision by Mr. Adams to keep a group of good people together," Munchak said. "Ruston is a ready for this job. He did a great job last year with the draft – organizing things, involving all of the parties, evaluating the talent, communicating through the draft process. His greatest access is his ability to evaluate talent and I expect that to continue and look forward to working with him. Ruston also will benefit from having Mike as a resource and a sounding board."
"I want to thank Mr. Adams for naming me to this position," added Reinfeldt. "I look forward to further integrating all of our departments and believe a lot of good will stem from this move. I am really happy for Ruston, because he is ready to be a general manager and I expect he will excel in that role."
Webster has six years of experience in the Player Personnel role split between three teams – two years with the Titans, four with the Seattle Seahawks and one with the Tampa Bay Buccaneers. He also served as the interim General Manager for the Seahawks for the conclusion of the 2009 season, after Tim Ruskell's departure from the team. In addition to working in Pro Personnel, Webster has a vast depth of experience as a college scout, serving as the Director of College Scouting for Tampa Bay for four seasons (2001-04) and 10 seasons as a regional scout for the Bucs.
Dawson has spent five seasons with the Titans – his first four as Director of Pro Scouting and last season as VP/Football Operations. He originally joined the Titans in 2007 as the Director of Pro Scouting.
Reinfeldt's background:
Tennessee Titans (2007-2011), General Manager; Seattle Seahawks (1999-03, 2005-06), Sr. VP (1999-03), VP-Football Operations (2005-06); Green Bay Packers (1991-98), CFO (1991-93), VP-Administration (1994-98); University of Southern California (1988-90), Associate Athletic Director; Los Angeles Raiders (1985-87), CFO; Houston Oilers (1976-83), Safety; Oakland Raiders (1975-76), Safety.
Webster's background:
Tennessee Titans (2010-11), VP-Player Personnel; Seattle Seahawks (2006-09) VP-Player Personnel; Tampa Bay Buccaneers (1988 – 2005), Dir. of Player Personnel (2005), Dir. of College Scouting (2001-04), Dir. of Pro Personnel (1989-91), Regional Scout (1988, 1992-2000); College Coach, Tulsa (1987), Alabama (1986), Southwestern Louisiana (1985).