NASHVILLE, Tenn. — A first-round selection and a seventh-rounder picked by the Titans in the 2007 NFL Draft remain on the roster.
Tennessee drafted Michael Griffin with the 19th overall spot, and the safety is yet to miss a game. Griffin became the second first-round pick out of Texas by the Titans in consecutive years (Vince Young in 2006).
Griffin has made the Pro Bowl two times (after the 2008 season when he had a career-best seven interceptions and after the 2010 season when he had a career-high 153 tackles). He has started 89 of 96 games and recorded 21 interceptions and 47 passes defensed.
He's had three games with two interceptions: against Houston and Pittsburgh in 2008 and the New York Jets last season.
Griffin has 590 tackles (386 solos), including 10 for loss, nine forced fumbles, four fumble recoveries and three sacks. He signed a multi-year contract extension with Tennessee prior to the 2012 season and tied for the team lead with four interceptions.
Mike Otto, who was selected at the 223rd overall spot, also remains with the Titans. Otto spent the entire 2007 season on the practice squad but has made the team ever since.
Otto has been a reliable backup to Michael Roos and David Stewart at tackle and a contributor on special teams. He's made five starts in 48 games, which is not a slight on Otto but more of a reflection on the durability of Roos and Stewart.
Tennessee also selected two other players who made considerable impact for several seasons: offensive lineman Leroy Harris in the fourth round and defensive end Jacob Ford in the sixth round.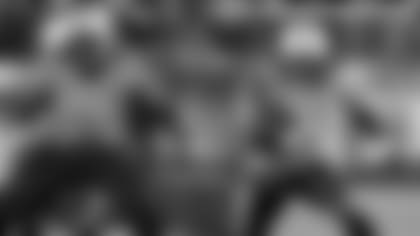 ](http://www.titansonline.com/media-center/photo-gallery/Revisiting-the-2007-NFL-Draft/6ac7c5cd-6874-4858-91e6-6a4425dfd8c1)
The Titans selected Leroy Harris, left, in the fourth round and Jacob Ford in the sixth round of the 2007 NFL Draft. Click here for a slideshow of that year's class.
Harris worked his way up the depth chart until becoming a starter in 2010. He started 39 of 40 games played the final three seasons, but his 2012 campaign ended because of an injury. Harris appeared in 75 games with 42 starts in six seasons.
Ford suffered an Achilles injury during the 2007 preseason and was placed on injured reserve. He returned in 2008, however, and recorded seven sacks that year and led the Titans with 5.5 sacks in 2009. Ford started eight of 43 games he played with Tennessee.
The second and third rounds were not as successful for the Titans. Tennessee picked running back Chris Henry at the 50th spot and receiver Paul Williams at 80.
Henry appeared in 10 games over the course of three seasons. His best year came as a rookie when he had 119 yards and two touchdowns on 31 carries and caught six passes for 53 yards. Williams was inactive each week of 2007 and played in five games in 2008.
Fifth-round pick Antonio Johnson was placed on injured reserve after suffering a knee injury early in the 2007 training camp. He returned to football with Indianapolis and has spent the past five seasons with the Colts.
The chart below shows the selections made by Tennessee in the 2007 NFL Draft:
4b-pick acquired in trade with Baltimore for Steve McNair in 2006
6b-pick acquired in trade with San Diego for Billy Volek in 2006
6c-pick acquired in trade with Indianapolis for seventh-round pick (238) in 2006. The 2006 pick was originally obtained from Indianapolis for Rocky Calmus.