NASHVILLE, Tenn. — Just months removed from Super Bowl XXXIV, the Titans had the penultimate pick in the first round of the 2000 NFL Draft, but managed to select a player that defined Tennessee's defense for the better part of a decade.
Selected at 30th overall, Keith Bulluck played in 31 games his first two seasons before moving up the depth chart at the end of 2001 and starting a whopping 127 consecutive games at linebacker until suffering a knee injury in 2009. That streak ranks sixth all-time in Titans/Oilers franchise history.
Bulluck finished his Titans career with 1,265 tackles (third most in franchise history since 1974), 18 sacks, 46 quarterback pressures, 56 tackles for loss, 19 interceptions, 14 forced fumbles, 10 fumble recoveries and six touchdowns. Bulluck led the Titans in tackles six times (2002-06, '08) during his 10 seasons with the team and scored six touchdowns. He earned All-Pro and Pro Bowl honors after the 2003 season and AFC Defensive Player of the Week honors in 2007 after making three of Tennessee's four interceptions of Saints QB Drew Brees in a 31-14 Titans victory on Monday Night Football. Always a crowd pleaser, Bulluck became known as "Mr. Monday Night."
Before Bulluck, the last time the franchise selected a linebacker in the first round was in 1990 when the Houston Oilers picked **Lamar Lathon with the 15th overall pick**. They have selected linebackers in the second round in each of the past two seasons (Akeem Ayers in 2011 and Zach Brown in 2012).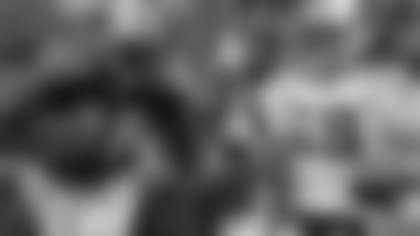 ](http://www.titansonline.com/media-center/photo-gallery/Revisiting-the-2000-NFL-Draft/eeb5f60a-5dca-4e61-91ea-b5737c1ae1ce)
The Titans selected Erron Kinney, left, in the third round and Peter Sirmon in the fourth round of the 2000 NFL Draft. Click here for a slideshow from that year's draft class.
Tight end Erron Kinney, who was one of two offensive players selected by The Titans in 2000, made 68 starts in 83 games over the course of six seasons. Kinney recorded 178 receptions for 1,750 yards and 10 touchdowns. Kinney had career highs in catches (55) and yards (543) in his final season.
The Titans received the 128th overall pick as a compensatory selection and went back to linebacker to draft Peter Sirmon, who grew into a starting role opposite of Bulluck in 2002. Sirmon made 53 starts in 81 games in his seven seasons with the Titans. Sirmon missed the entire 2004 season after tearing ligaments in his knee, but showed resolve in returning to the starting lineup in 2005.
At 6-foot-4 and 315 pounds, Robaire Smith was sure to bring size to the team that drafted him, but he also brought late-round value to the Titans. Smith played five of his 11 total seasons with Tennessee. He had 11.5 sacks in his first four years with the club, starting 17 of 50 games in that span, and returned for an additional season in 2006.
The chart below shows the selections made by the Titans in the 2000 NFL Draft.
4b-pick awarded as a compensatory selection
7a-pick acquired from Chicago in a trade for LB Lemanski Hall