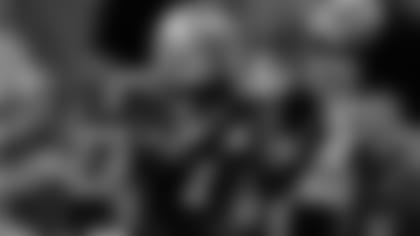 WR Kendall Wright caught 108 passes for 1,663 yards (15.4 avg.) and 14 TDs in 2011.
NASHVILLE, Tenn. --The Tennessee Titans need help on defense. They decided the best way to get it with the 20th overall pick in Thursday night's NFL draft was by taking an "electric" offensive playmaker in Baylor wide receiver Kendall Wright.
The Titans made Wright just the fourth wide receiver ever drafted by the franchise in the first round but their second in four seasons. They expect the receiver to contribute in a big way in his rookie season.
Wright may have been a surprise pick to some, but new general manager Ruston Webster said the Titans just stuck to their draft ratings.
"It really was more about Kendall and the fact he was the best player available," Webster said.
Coach Mike Munchak, trying to build off a 9-7 record in his first season, said adding a talented player like Wright will help the defense immediately because the offense should stay on the field and score more points.
"It helps both sides of the ball," Munchak said. "I mean when you're looking for guys to help you win, this is the type of guy that jumps to the top of the list. And that's what's exciting about it I think for the whole team.
"This is a guy who's going to help this team win football games."
Wright joins Haywood Jeffires in 1987, Kevin Dyson in 1998 and Kenny Britt in 2009 as the only wide receivers drafted in the first round by this team. Britt is coming off a torn right ACL and has missed games to injuries each of the past two seasons.
The Titans also looked at receiver Stephen Hill of Georgia Tech along with Michael Floyd of Notre Dame. They visited with Wright and also sent their coaches to work out the Baylor receiver.
And Wright now becomes an extra target for either Matt Hasselbeck or Jake Locker, the quarterbacks who Munchak wants competing to see which starts this season.
Offensive coordinator Chris Palmer called Wright electric and compared him to the likes of Drew Hill and Ernest Givens from this franchise's days with the run and shoot offense as the Houston Oilers.
"The fact he has the ability, with his run after catch, his hands are very, very good, and I think he's a guy that will allow us to move him around and complement our other receivers and give us a chance to be more explosive offensively," Palmer said. "And the fact he can get down the field, if you watch the film, he's throwing passes, he's made outstanding catches. I think this guy is electric and a very explosive player."
The Titans got career seasons out of receivers Nate Washington, Damian Williams and Lavelle Hawkins after Britt was sidelined last September despite no offseason to learn Palmer's scheme. Hasselbeck became the first quarterback for this franchise not named Warren Moon to throw for at least 3,500 yards, finishing with 3,571 yards passing with 18 touchdown passes and 14 interceptions.
But the Titans ranked 21st in the NFL, averaging 20.3 points per game. They also managed to stay on the field an average of 27 minutes, 54 seconds.
Britt, a first-round pick out of Rutgers in 2009, was off to the best start of his career with 289 yards receiving ranking him fifth in the NFL before his knee buckled underneath him in the second quarter of a win over Denver on Sept. 25. Munchak said Britt is running, though not cutting yet, and is expected to be able to play in preseason games.
The 5-foot-10, 196-pound Wright caught 108 passes for 1,663 yards working with Robert Griffin III at Baylor last season, and he was timed at 4.46 seconds in the 40-yard dash. Wright played four seasons at Baylor and finished his career with 302 catches for 4,004 yards with 30 touchdowns.
"We made each other as good as we were," Wright said on a conference call when asked if he helped the QB known as RGIII. "So I didn't make him, he didn't make me. We made each other."
Wright is known for being able to get in and out of his breaks on pass routes, using his speed to race by cornerbacks.
Tennessee still needs help for a pass rush ranked next to last in 2011 with a measly 28 sacks. The Titans had plenty of choices at defensive end with Whitney Mercilus of Illinois, Courtney Upshaw of Alabama, Syracuse's Chandler Jones and Nick Perry of Southern California still available.
The Titans did sign defensive end Kamerion Wimbley to a five-year deal and re-signed Dave Ball, and they also expect lots of improvement out of end Derrick Morgan with his first real offseason after being the 16th pick overall in 2010 only to tear his own ACL in his first month of his rookie season.
Webster said they would be looking at defensive players in the second round slotted to pick at No. 52 and also in the third round.
But the Titans also have worked to improve the offense going into Munchak's second season, signing five-time All Pro Steve Hutchison to play left guard in free agency.