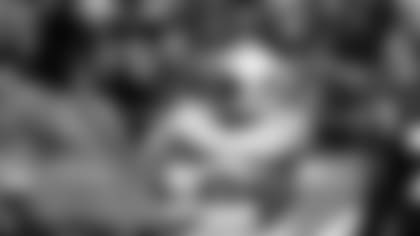 Tennessee's defense seemed to have all the answers for Cam Newton in Sunday's Victory.
CHARLOTTE, N.C. - Groomed to play quarterback from a very young age, Cam Newton has seen plenty.
He can't remember a game in which his team didn't score an offensive touchdown.
The Tennessee Titans held Newton and Carolina's high-powered offense in check in a 30-3 rout that sent the Panthers to 2-7. The Panthers came into the game ranked fifth in the league on offense but managed only a field goal - and that came after Chris Gamble's interception set the offense up at the Tennessee 19.
Newton's longest completion was 19 yards, and the Panthers failed to pick up a first down on seven of their 13 possessions. The Titans used a spy to contain Newton and confuse him at the line of scrimmage.
"This is embarrassing, man,'' an exasperated Newton said as he stood behind a podium shaking his head in disbelief. "This is as poor of a performance as a team as I've ever seen. Poor performance by myself. There's no pointing fingers without looking at yourself and asking yourself what you could have done better. I know I could have done a lot of things better. It's a reality check, that's what it is.''
The Panthers were left beaten and frustrated at the end.
As the final seconds ticked off the clock, even normally mild-mannered offensive tackle Jordan Gross was flagged for unsportsmanlike conduct after shoving a Titans lineman. Steve Smith, who afterward sarcastically dubbed himself "the local thug,'' was called for holding after he got Titans cornerback Alterraun Verner down on the ground and ripped off his helmet.
Smith's penalty was the last of 12 on the Panthers, costing them 99 yards.
"You can't have this happen anymore,'' Gross said. "Most of our losses this year have at least been where I felt like we went down fighting. We went down fighting in the end but not the kind of fighting you want to do.''
The Panthers came in averaging 415 yards and more than 23 points behind a big-play offense, but Tennessee's defense completely took away their downfield passing game - and just about everything else.
Chris Johnson, not Newton, made the big plays.
Johnson ran for a season-high 130 yards and a touchdown for Tennessee (5-4).
He had 174 yards from scrimmage and eclipsed 100 yards rushing for the first time since Oct. 2. Marc Mariani returned a punt 79 yards for a touchdown, and Matt Hasselbeck threw a 43-yard touchdown pass to Damian Williams, who finished with 107 yards receiving.
DeAngelo Williams and Jonathan Stewart were limited to 58 yards rushing as the Titans continuously put the Panthers in third-and-long situations.
Two of Carolina's first-half drives were halted by costly mistakes by tight end Greg Olsen. Olsen fumbled in the red zone early on then dropped an easy 16-yard reception late in the first half that would have made for a short field goal attempt by Olindo Mare. Instead, Mare missed the ensuing 50-yard kick on the final play of the first half, and the Titans carried a 17-0 lead into the locker room.
Johnson took over from there.
He had 104 yards rushing in the second half and scored for just the second time this season on the ground.
The Panthers were coming off a bye week and appeared stuck in their slumber on Sunday.
After Carolina went three-and-out on its first possession, Mariani returned Jason Baker's punt 79 yards for a 7-0 lead. It was the third long punt return for a touchdown allowed by the Panthers this season and the 11th against Baker, the most of any active punter in the NFL.
Tennessee made it 14-0 on its first possession when Williams turned a short pass from Hasselbeck into a 43-yard scoring play after defensive backs Sherrod Martin and Darius Butler missed tackles.
NOTES: Gamble's third-quarter interception was the 26th of his career, giving him the Panthers all-time franchise record... Carolina is 4-21 over its last 25 games. ... Newton said after the game that his shoulder did not affect this play. Newton had an MRI on his right shoulder Friday, but it revealed no damage. He was listed as probable coming into the game.