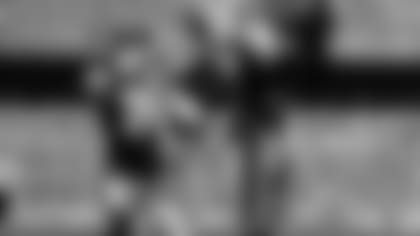 The Titans had seven snaps inside Pittsburgh's 19-yard line on their opening drive, but managed just three points.
PITTSBURGH - The Tennessee Titans had the ball, momentum and the Pittsburgh Steelers reeling.
One frustrating sequence was all it took for the Titans to see their three-game winning streak and chance to make an early-season statement come to a screeching halt in a 38-17 loss.
The Titans squandered a pair of Pittsburgh gifts on the opening drive, settling for three points and giving the Steelers enough life to roll to their most decisive win of the year.
It was a small moment in a long game, but indicative of what was to come. The Titans didn't get into the end zone until their were down by 25 points.
"We just lost rhythm,'' running back Javon Ringer said. "Things just didn't go our way this game after the first drive.''
Not with Ben Roethlisberger throwing for five touchdowns. Not with the Steelers bottling up Chris Johnson. Not with Tennessee penalties preventing any hope of a desperate comeback.
"They kicked our butts and we kicked our butts,'' Tennessee defensive lineman David Ball said.
Roethlisberger helped, shaking off a sprained left foot to tie a franchise record with five scores. The Titans came in with the league's top scoring defense, allowing 14 points a game. The Steelers had 21 by halftime.
"We just didn't play well,'' coach Mike Munchak said. "We gave up big plays in the beginning of the game and all three phases, and that's what happens when you give it up to a good team like this on the road.''
Johnson ran for a score but finished with 51 yards rushing on 14 carries before leaving with a tweaked hamstring as the Titans (3-2) cooled off heading into their bye week.
It's not the kind of performance they were looking for after a solid opening month in which they beat Baltimore at home and rode the steady play of Matt Hasselbeck to respectability.
A win over the defending AFC champions would have made a statement. They appeared to be headed that way early. Johnson ripped off a 21-yard run on the game's first play, and two Steelers defensive penalties extended a drive that allowed the Titans to take seven snaps inside the Pittsburgh 19.
Those seven snaps, however, failed to generate a touchdown. The Steelers (3-2) held Tennessee to three, and when Antonio Brown returned the ensuing kickoff to midfield, Pittsburgh had life.
"I think they came back and the fact that they scored right away, that got their defense started again,'' Munchak said. "Their defense got rejuvenated.''
The Steelers were playing without injured starters James Harrison, Casey Hampton and Aaron Smith. For an afternoon, they were not missed. Pittsburgh scored touchdowns on its first three possessions as Roethlisberger deftly picked apart the Titans.
"I told ya, I was just faking it (my injury),'' Roethlisberger said. "I'm a wimp.''
Roethlisberger completed 24 of 34 passes for 228 yards, his only hiccup coming on an interception late in the first half after some miscommunication with Antonio Brown cost the Steelers a chance at a late score.
"I commend them - they're smart,'' Munchak said. "They put us in a lot of high-pressure situations. We didn't get to lead like we wanted to, and they got the lead on us. They were able to dictate what they wanted to do.''
And ended up duping the Titans in the process.
The game was still competitive when the Steelers were faced with fourth-and-5 at midfield. Punter Dan Sepulveda pulled the ball down and hit Ryan Mundy for a 33-yard gain. Two plays later, Roethlisberger found Ward for a touchdown and the Steelers led 14-3.
"Sometimes you get the bear; sometimes the bear gets you,'' said Tennessee's Patrick Bailey. "They had something for us. They got us.''
Pittsburgh's 38 points were the most by a Tennessee opponent since San Diego lit the Titans up for 42 on Christmas Day in 2009.
That season ended with an 8-8 record. The Titans are looking for more this season behind Hasselbeck and Munchak. Sunday was a step back, but they hope just a brief one.
"We gave up 38 points - we haven't given up 30 points all season,'' Tennessee defensive tackle Shaun Smith said. "We have to go back to the drawing board. We have a long two weeks to see and correct some things.''
NOTES: Johnson has struggled during his career against the Steelers. He now has 211 yards in four games, an average of 52.8 yards. His career average per game is 94.1. ... The Steelers have won three straight in the series. ... Tennessee tight end Craig Stevens left the game early with sore ribs. Munchak said he was kept out as a preventative measure. ... Hasselbeck is now 1-3 against Pittsburgh in his career.