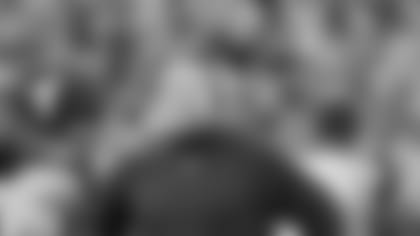 Mike Munchak is hoping to cap his first season as head coach of the Titans with a trip to the playoffs.
NASHVILLE, Tenn. —Mike Munchak takes his Tennessee Titans to Houston with a chance Sunday to cap his first season as an NFL head coach with a playoff berth.
It seems only appropriate that Munchak lead the franchise to its first playoff berth since 2008 and at least its third winning record in eight years in the city where he started his pro career and was a highly successful businessman off the field.
"Our thinking from the beginning was playoffs,'' Munchak said.
Winning the AFC South was the top goal, but the Titans (8-7) are alive going into the regular season finale against the divisional champs in a year where Munchak was the last NFL coach hired in February and had no offseason to work with his team due to the league's lockout.
Tennessee must beat Houston (10-5) and then have Cincinnati lose along with a combination of losses by either the Jets, Denver or Oakland to earn the AFC's sixth seed. That would make Munchak the fifth coach in team history to lead this franchise to the playoffs in his first season. Jack Pardee was the last in 1990 with the then-Houston Oilers with a 9-7 record as a wild card.
Munchak isn't ready to look at the games his Titans could have or should have won.
"We are what we are. We earned what we are going to get, and we are hoping that it's 9-7. We will build off of this,'' Munchak said. "Hopefully, this is a playoff opportunity for us, but we will see.''
As a head coach, Munchak couldn't be more different than the man he replaced in Jeff Fisher, who was much more fired up on game day whether yelling at officials or trying to boost his team. Munchak's calm sideline demeanor has drawn criticism over the past month as the Titans became the first team to lose to previously winless Indianapolis.
Right guard Jake Scott, who had Munchak as his position coach since 2008, said he's seen no changes in Munchak in the move from assistant to head coach. Scott still sees a calm, cool-headed man and said any inconsistencies from the Titans this season can be blamed on the players and not Munchak.
"I've played for head coaches that do both, and you just have to be yourself,'' Scott said. "If you're not genuine, that's what shows. I think he's very genuine. Everyone in this room respects him for it, and that's all that really matters.''
Safety Chris Hope, one of 23 Titans in the final year of his contract, agreed. Munchak's resume as a player speaks loud enough that the coach doesn't need to yell.
"You can't help but respect the way he carries himself and makes you want to play hard for him,'' Hope said.
Munchak's success has made him a popular target to become head coach at his alma mater Penn State, and he tried again Wednesday to squash such talk saying he's committed to Tennessee. He's much more focused on learning daily how to become a better head coach, even to the point of grading how he performs in each game.
"I think I feel more comfortable knowing what I'm supposed to do most games, but every game's different,'' Munchak said. "It seems like sometimes it gets started right in the first quarter, and there's a lot of decisions. Sometimes it's the fourth quarter. I think the more you do it, the calmer you feel about it.''
Munchak has shown himself to be a bit of a gambler, especially on fourth down. The Titans lead the NFL, converting 71.4 percent of fourth downs (10 of 14).
He's also stayed the course, sticking with Matt Hasselbeck this month when fans wanted to see rookie Jake Locker get his first NFL start. Hasselbeck rewarded his coach by throwing for 350 yards in last week's 23-17 win over Jacksonville to keep the Titans alive.
Munchak is the reason Hasselbeck decided to sign with Tennessee. Hasselbeck now has 3,274 yards passing starting the first 15 games, and he could join Warren Moon as the only quarterback to throw for 3,500 yards for this team.
Hasselbeck joked Thursday that he'd give Munchak an A grade for his first season.
"His style is great. He's very clear and very consistent,'' Hasselbeck said. "As a player, it's nice to know where you stand. It's black and white. If you're ever on the fence about something, you think back to some of his core things that he'll say, and then it's clear. He's no-nonsense, treats everybody the same, which is nice. And again as a player, just the consistency is pretty good.''
NOTES: RB Chris Johnson (right ankle), TE Daniel Graham (illness), DE Jason Jones (ankle) and WR Lavelle Hawkins did not practice. Munchak said Johnson is expected to do more Friday. DE Derrick Morgan returned to practice Thursday and was voted the team's Ed Block Courage Award winner. He tore an ACL in the first month of his rookie season and has a team-high 19 quarterback pressures. DT Shaun Smith (knee) was limited, while LB Gerald McRath (left knee/ankle) practiced fully for a second straight day.