Each week this season, Titans Online is taking a look back at a game in franchise history against the upcoming opponent.
Dec. 4, 2011: Titans 23, Bills 17
This flashback doesn't go back very far but highlights a game in which the Titans made key plays on defense, got a long touchdown run and used solid punting to seal the victory.
With Tennessee leading 10-7 in the first quarter, Buffalo attempted a run by quarterback Ryan Fitzpatrick on fourth-and-3 from the Tennessee 34-yard line. Titans linebacker Colin McCarthy stopped Fitzpatrick for no gain, forced a fumble and recovered the ball. McCarthy recovered another Bills fumble that was forced by Sen'Derrick Marks on Buffalo's first play of the second half.
Tennessee followed with an 11-play, 54-yard drive that ended with one of three field goals by Rob Bironas for a 20-10 lead with 6:45 remaining in the third quarter.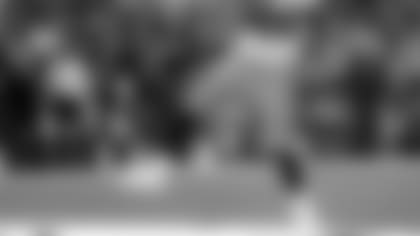 The Titans took the lead with 5:50 left in the first quarter and never trailed thereafter. Chris Johnson answered a 35-yard TD run by C.J. Spiller with a season-long 48-yard score to put Tennessee up 10-7. Johnson extended the lead to 17-7 early in the second quarter with a 4-yard TD run.
Johnson had 106 yards on nine carries (11.8 per carry) in the first half and finished with 153 yards on 23 carries (6.7 per carry). Matt Hasselbeck was an economical 16-of-25 passing for 140 yards, and Damian Williams led the Titans with four catches for 62 yards.
The Titans did not commit a turnover and were able to maintain good field position with stout punting by Brett Kern. The fifth-year pro who grew up near Buffalo on Grand Island, N.Y., averaged 47.8 yards on five punts with a net average of 45.8 and had four punts downed inside the Buffalo 20-yard line.
Kern's final punt was a 57-yarder to the Buffalo 11 that Leodis McKelvin returned just four yards with 1:02 left in the game. Buffalo gained 31 yards before spiking the ball to stop the clock and throwing three straight incompletions to end their comeback attempt with 12 seconds remaining.