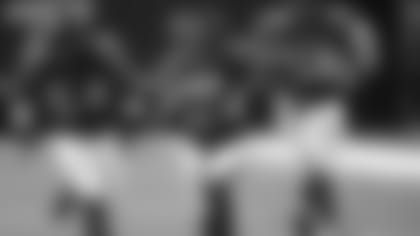 CB Tye Hill returns an interception 62 yards for a touchdown last season against the Washington Redskins.
NASHVILLE, Tenn. –** The Tennessee Titans agreed to terms today with CB Tye Hill.
A former first-round selection, Hill has compiled 24 NFL starts and five interceptions during his four-year career. Last year, he played in eight games with three starts for the Atlanta Falcons and registered one interception – a 62-yard interception return for touchdown against the Washington Redskins.
He started 10 games as a rookie in 2006 for the St. Louis Rams and totaled 42 tackles and three interceptions. His playing time in both 2007 and 2008 was limited due to injury and he finished both years on injured reserve.
Hill was originally drafted by the Rams in the first round (15th overall) of the 2006 NFL Draft. He played three seasons in St. Louis before being traded to Atlanta prior to the start of the 2009 season (September 1).