**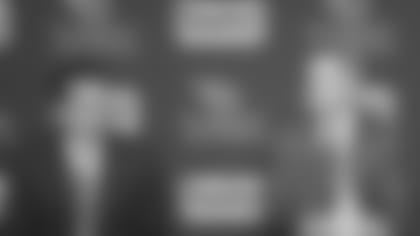 Titans head coach Jeff Fisher (left) and GM Mike Reinfeld (right) recap Day 2 of the NFL Draft.
NASHVILLE, Tenn. --** While the Tennessee Titans have plenty of defensive holes to fill in the 2010 NFL draft, their return game also needs an upgrade — and that was the focus on Friday.
To address the problem, the Titans selected Southern California receiver Damian Williams with the No. 77 pick overall in the third round. He was the fifth receiver taken in the draft and coach Jeff Fisher said Williams was a good enough receiver they would have taken him on that basis alone.
Williams returned two punts for touchdowns last season, the first to do that for the Trojans since a guy named Reggie Bush in 2004. That made him a must-have for a team that struggled so much to find a returner in 2009 the Titans often settled for simply fair catching punts.
"A very, very talented punt returner and all-around tremendous athlete so we're excited to bring him aboard," Fisher said. "We think he will solve some of our return needs that we've had as of late, so we're very excited to get Damian."
The Titans started the draft by using the 16th pick overall on defensive end Derrick Morgan of Georgia Tech to boost the pass rush. The second day started slowly for a team that traded its second-round pick away a year ago to grab tight end Jared Cook in the third round and had to wait until midway through the third round for their second selection.
They finished the second day going back to defense where they currently are without four starters from a season ago. They picked Georgia linebacker Rennie Curran with the 97th pick overall with the compensatory pick received for losing defensive tackle Albert Haynesworth to free agency in 2009.
The Titans still need help, especially in the secondary, and have six draft picks remaining Saturday. But Fisher said they tried to make a move up to make sure they didn't miss out on Williams, the fifth receiver selected.
"Fortunately, he fell to us," Fisher said.
This franchise invested heavily in receivers last year. The Titans used their first-round pick in 2009 on Kenny Britt, and he led the Titans with 701 yards receiving as a rookie. They also signed Nate Washington away from Pittsburgh in March 2009 as a free agent, and he had 47 catches for 569 yards.
An Arkansas native who started at Arkansas as a freshman in 2006, Williams transferred to Southern Cal in 2007. He led the Trojans with 58 catches for 869 yards and nine touchdowns playing with Mark Sanchez in 2008. With the Trojans hit by injuries at quarterback in 2009, Williams still caught a career-high 70 catches for 1,010 yards with six TDs.
His chance to play immediately will be at punt returner.
The Titans used five different players to handle punt returns in 2009 and averaged a measly 6.7 yards per return largely due to 22 fair catches for 25th in the league. They tried rookie Ryan Mouton at the job, but he was the one who fumbled at the Jets—turnovers turned into two touchdowns in a 24-17 loss on Sept. 27.
The Titans re-signed returner Mark Jones who had been released in the final roster cutdown Sept. 5 two days later. But Jones was hurt and wound up on injured reserve Oct. 30.
Williams has only one year of experience at that job, averaging 14.17 yards off 24 punt returns in 2009 with a long of 66 yards.
"I've always worked at it, and I've worked at it every year since I have been in high school," Williams said of returning punts. "I can't wait to do it."
The Titans will return to defense Saturday. They let defensive end Kyle Vanden Bosch leave for Detroit in free agency, and the drafting of Curran likely means they won't try to re-sign veteran Keith Bulluck. End Jevon Kearse also is gone along with cornerback Nick Harper.
Curran is a bit short at 5-foot-11, but he was first-team All-Southeastern Conference in 2009. He also had 298 tackles in three seasons. Asked about his height, Curran had a ready answer.
"I don't play barefoot," he said in a conference call. "When I put my cleats on and my helmet, I'm like 6-1, 6-2. I'm not weak either. I might be a little bit shorter, but I'm not weak by any means."