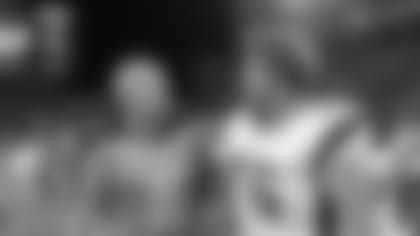 Quarterback Matt Hasselbeck and guard Steve Hutchinson are reunited after spending five seasons together in Seattle from 2001-05.
NASHVILLE, Tenn. — Steve Hutchinson has built his career on leaving a huddle and creating pathways for running backs and protecting quarterbacks.
When the seven-time Pro Bowler and five-time All-Pro squad selection became a free agent in March, he surveyed the league for a potential path to the playoffs.
He also took advice from a voice he heard in the huddle early in his career -- Titans quarterback Matt Hasselbeck -- who teamed with Hutchinson for five seasons in Seattle and provided a genuine assessment of the Titans through phone calls and text messages.
"Matt and I go way back since my rookie year (2001)," Hutchinson said Monday when he reunited with Hasselbeck and met his new Titans teammates. "It's funny how this business works out. You never think, you play with a guy for five years and then you're away from him, you never know what's going to happen, but the league is funny that way."
Although it has been several seasons since Hutchinson and Hasselbeck teamed together, the trust that they established by taking Seattle to three consecutive postseasons (2003-05 seasons) and Super Bowl XL remained strong. Hutchinson placed value on what Hasselbeck said he experienced after signing as a free agent in Tennessee last summer. Hasselbeck started all 16 games and threw for 3,571 yards and 18 touchdowns in his debut season with the Titans.
"It's always good to get the opinion of somebody you know and trust about an organization, and he said it's just a great place and couldn't say anything better about the place," Hutchinson said. "He was a big influence on me coming here."
The free agency period for the 6-foot-5, 313-pound left guard lasted less than 10 days. Hutchinson brought a resume to the Titans that includes blocking for a 1,000-yard rusher in 10 of 11 seasons. It also features standout years when Shaun Alexander rushed for 1,880 yards and scored 28 touchdowns to win the 2005 NFL MVP award in Seattle, and Adrian Peterson rushed for an NFL-best 1,760 yards in 2008 in Minnesota.
The Vikings averaged 144.9 rushing yards a game last season (fourth best in the NFL) and scored 18 rushing touchdowns (third best). The only time Hutchinson has not blocked for a 1,000-yard rusher was last season with the Vikings when Peterson missed four games because of injury, yet rushed for 970 yards.
The Titans have had a 1,000-yard rusher an NFL-best 14 times since 1996. Chris Johnson has eclipsed the mark in each of his first four seasons, but said Monday he wants to put up better numbers than in 2011, when he finished with career lows of 1,047 yards and four touchdowns. The Titans gained 1,438 yards on the ground last season, which ranked next to last in the league and was a deep departure from the team's expectations.
Hutchinson said he's seen Johnson on film, and believes there is potential to put up better numbers.
"I'm looking forward to working with him a lot," Hutchinson said. "I've been with some special backs and I've watched him on film for a number of years, and I can't wait to work with him."
The past two times Hutchinson has joined a pro team, it has been followed by improvements in the ground game. Seattle went from 1,720 rushing yards in 2000 to 1,936 in 2001, and Minnesota went from 1,467 yards in 2005 to 1,820 in 2006.
"He played next to some good guys, too," Hasselbeck said. "He made them better a little bit and made the group better, but just all in all, he's a guy that's blocked for a lot of Pro Bowlers and knows what he's doing."
The Titans started the same offensive linemen in each of the past two seasons, but are expected to shift that this season. Hutchinson has played left guard his entire career, and right guard Jake Scott is a free agent who is unlikely to re-sign with Tennessee. The Titans could shift Leroy Harris to right guard or make other movements in free agency or in this week's NFL Draft.
Hasselbeck enjoyed consistent pass protection last season. He was sacked 19 times, which tied for the least amount in his career as a starter, and hopes to remain upright as much as possible this season.
"Those guys, for me especially did a great job last year," Hasselbeck said. "Adding a guy like Hutch, I think he just fits that group well. His personality is very similar to the personalities that we have already, but each guy is a little bit different. I'm sure he brings things to the table that we don't have and that other teams don't have. We've definitely added a very good football player."
Hutchinson knows the importance of getting five offensive linemen to work in unison and said there are universals shared between offensive linemen that will help the bonding process.
"O-linemen kind of live in a very similar world, so it's not too hard for us to get along," Hutchinson said. "As far as the team goes, if I've got a couple of years left in a career, so I wanted to make sure I had a team that has a chance to get into the playoffs and do something special. That was one of the factors with me picking the Titans and moving down here to Nashville."