**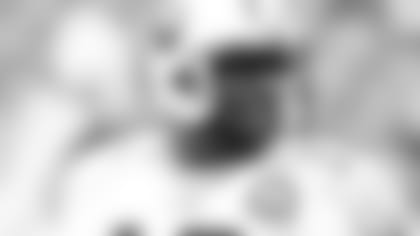 Vince Young is having fun, yet focused on becoming one of the NFL's elite quarterbacks.
NASHVILLE, Tenn. -** A free-spirited Vince Young finally seems comfortable in his own skin.
The Tennessee Titans quarterback is coming off a year in which he revived his career, coming off the bench to post an 8-2 record and his best passer rating yet.
So good that one day after a drill, he felt like showing off his basketball form, rising into the air like he was shooting a jump shot. The football rolled off his hands, then swat! A teammate batted it down. Young made sure defensive end Dave Ball didn't get the next one, though, tossing the football over the fence into a crowd of laughing fans.
Yep, Young appears to be growing up and more importantly for the Titans, growing into a leader.
"He's doing what we asked him to do,'' coach Jeff Fisher said. "He's spending the extra time, staying focused and understands the more he puts in, the better the results are going to be.''
That's what Young needs entering the final two years of his contract.
The No. 3 pick overall in the 2006 draft changed agents to Tom Condon earlier this year to help position himself for that next deal. He spent time in Nashville studying film, working on weaknesses like throwing to his left and improving timing with his receivers. His girlfriend gave birth to his son in July.
The Titans also expect Young to make a big improvement this season and help the franchise reach the playoffs for the third time in four seasons. Fisher keeps noting the Titans have surrounded Young with his best supporting cast yet with All Pro running back Chris Johnson to a corps of receivers strong from top to bottom, a strong offensive line and pass-catching tight ends.
Young's maturity has been easy to see.
He opened the preseason by completing all six of his passes. He was very sharp with the first five all going to teammates until he rolled out to his left and tried to squeeze the ball into Justin Gage on the sideline where a defender picked off the pass in Seattle.
When asked about his interception on the sideline during the game, Young quickly called the decision to throw rather than run a "dumb mistake'' on his part, exactly the kind of personal accountability that had been missing previously.
Young credits a comfort level that has come from experience and extra work this offseason.
"I'm like an extra coach, an extra voice when someone runs the wrong route, if we have a blitz or something like that and guys need to adjust a little bit quicker. I couldn't even do that two, two and a half years ago ... That's how much progress it's been for myself,'' Young said.
Teammates have noticed. Quarterback Chris Simms and fullback Ahmard Hall, who also played at Texas with Hall joining Young on the Longhorns' national championship team, expect big things from the quarterback this season.
Simms said Young is the ultimate competitor and cautions people need to remember that the quarterback is so athletically gifted that he has been able to just go out and make plays happen.
"I think he's realized it doesn't matter how athletically gifted you are, you've got to put your work in. That's what I've seen from him so far this year. He's put the work in. He's been in the meeting room and in practice he's been pretty sharp,'' Simms said.
Hall complimented Young for throwing a ball out of bounds during a training camp drill with the offense backed up against the goal line instead of risking an interception. He thinks Young has learned from watching veteran Kerry Collins and is ready to take over as the unquestioned leader of the Titans.
"Whether the quarterback's a rookie or he's a 15-year veteran, they look at the quarterback to lead the whole team, offense and defense,'' Hall said. "I think he's finally getting that now and putting himself in situations that will benefit him. He's not making the same mental mistakes.''
Young played well paired with Johnson, throwing for 1,879 yards with 10 touchdowns and seven interceptions for an 82.8 passer rating. He also ran 55 times for 281 yards with two TDs and led six game-winning drives with the Titans either tied or trailing in the fourth quarter.
His best? Easily the 99-yard drive to beat the Arizona Cardinals 20-17 with a TD pass to Kenny Britt as time expired. Fisher called it the drive of the year.
Young said his teammates will ease the pressure on Johnson and himself.
But the biggest offseason move that may have made the biggest impression came in late July when he met NFL commissioner Roger Goodell in New York to discuss his misdemeanor charge for a scuffle at a Dallas strip club in June. Young had immediately apologized for the incident, promising to learn from his mistake.
The commissioner decided against punishing the quarterback.
"He knows what type of potential that I had and the type of leader I can be for the entire NFL so I just left it at that,'' Young said.
That's what the Titans hope to see.
NOTES: CB Cortland Finnegan missed practice Tuesday, though S Vincent Fuller returned to individual drills after missing the last week with an injured left knee. Gage sat out, though he ran on the side.