**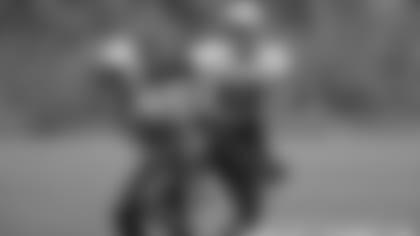 Bo Scaife returned to Titans camp, taking part in Tuesday's practice at Baptist Sports Park.
NASHVILLE, Tenn. -** Titans tight end Bo Scaife wants the security of a long-term deal. He insists not getting that contract isn't the reason why he stayed away from Tennessee's off-season program until this week.
The tight end arrived Monday and took part in Tuesday's minicamp session. Tagged as the team's franchise player in 2009, Scaife missed unrestricted free agency thanks to the league's labour deal. He had signed the team's one-year tender for $4.9 million but had been working out on his own in Colorado.
"I've really just been doing my own thing," Scaife said. "I've got a little girl and taking care of her and just preparing myself to have the best season of my career. You know when it's a good time when you feel it, and I just felt it."
So he wasn't unhappy not being given a long-term contract yet? Just stayed away trying to make his feelings known?
Scaife said that might have been a little part of it.
"I love the Titans. I love my teammates. I love coach (Jeff) Fisher and the rest of the coaching staff. Upstairs, they'll take care of that but downstairs I have no problem with anyone down here or any one of my teammates," Scaife said.
The five-year veteran is a key piece of this offence, especially this season. He is the oldest of the tight ends on the roster after Alge Crumpler signed with New England as a free agent. He ranked third on the team in 2009 with 45 catches for 440 yards playing in 14 games.
He is expected to help lead Jared Cook, going into his second NFL season, and Craig Stevens, going into his third.
"He's very important to our offence," Fisher said. "Both the younger guys are stepping up, and he's going to play. He's an experienced guy who has a good feel and has been very productive for us."
The Titans took a chance on Scaife in the sixth round in 2005, gambling on the six-foot-three tight end despite having torn both anterior cruciate ligaments. Scaife led the team with a career-high 58 catches for 561 yards in 2008, which earned him that franchise tag with $4.46 million in 2009. He has played in 76 games through his first five seasons.
Scaife said he knows he's being well paid even with his one-year deal for the upcoming season and is leaving the work to his agent, Drew Rosenhaus.
"It's a blessing just to have what I do have. I'm never one of those guys to be upset. I'm not a holdout guy, never going to be a holdout guy. Every little piece that I get I'm blessed to have because I know a lot of people don't have that. So I'm glad what the Titans are giving me right now, and hopefully we'll figure something out one of these days," Scaife said.
Vince Young played with Scaife in college at Texas and knows the trainer that worked with Scaife. But he said it's good to have Scaife back for the offence to get in sync.
"As a leader of the team, I was happy to see him here working out with the rest of the guys," Young said.
Fisher hadn't had a chance to talk with Scaife yet, but the coach said he thought the team had taken care of the tight end over the past two years.
"Guys do different things for different reasons. You know it's good. It looks like he's been working out. He's in shape, picked the offence up fine as long as he continues to participate in the off-season program things will be fine," Fisher said.
This leaves only two Titans still not taking part in the off-season program or the voluntary minicamps — running back Chris Johnson and middle linebacker Stephen Tulloch. Fisher said Tuesday the Titans would like to meet with Johnson before the next minicamps in June, and Tulloch has yet to sign his one-year tender.
Scaife said he talks with Johnson and Tulloch all the time and that he's sure both have their reasons.
"I want them to come back. They need to be back with their teammates, but I'm not going to knock anything they do," he said.
NOTES: The Titans waived returner/receiver Mark Jones, offensive lineman Kenny Alfred and running back Dominique Lindsay. Jones had been healing up from neck surgery, and the team drafted two new returners in Damian Williams and Marc Mariani. ... Auburn coach Gene Chizik watched practice Tuesday. Fisher's son, Trent, will be walking on at Auburn this fall. Fisher said Chizik was passing through town and stopped by.