LOS ANGELES, Calif. – The Los Angeles Rams beat the Cincinnati Bengals 23-20 here on Sunday in Super Bowl LVI at SoFi Stadium.
The game featured a number of Titans/Nashville area connections.
Here's a look at some of the local storylines from the winning team:
Twenty-two years ago, Brycen Hopkins was a toddler eating hot dogs while playing in the stands at the Georgia Dome in Atlanta during Super Bowl XXXIV.
His father – Titans left tackle Brad Hopkins – was on the field blocking for running back Eddie George while protecting quarterback Steve McNair.
Here on Sunday, Brad Hopkins was in the stands watching his son play tight end for the Rams.
And Brycen Hopkins stepped up big for the Rams, with four catches for 47 yards in the contest. Hopkins caught all four of his targets, including a some big ones that produced first downs.
"It didn't become surreal until this very moment, when you are going through the pageantry of it all," Brad Hopkins said at the game. "I didn't get to experience it at this level. To know that I have a family member that is in the game, it is an incredible experience."
Brycen Hopkins, who prepped at Ensworth High School in Nashville before playing at Purdue, is in his second season with the Rams.
"I don't look at this game any differently than I did when I was watching Brycen play for the TSSAA championship on the basketball court," said Brad Hopkins, a first-round draft pick of the 1993 NFL Draft by the Houston Oilers who played in 194 games over 13 seasons with the Oilers/Titans franchise. "As a dad, you are always watching the progress of your son. I know he is in the NFL, and I know he is grown, but I'll always look at him in that respect."
Sunday night was a proud dad moment for Brad Hopkins.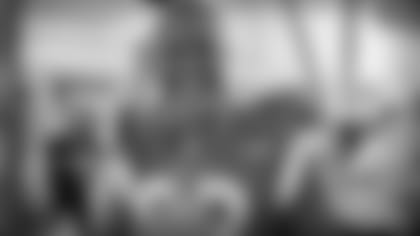 Titans fan Stephani Perkins the Titans 2021 Fan of the Year as at the game with friend, and fellow Titans fan, Kyle Turner.
"It's been crazy," Perkins said at the game. "The Titans and the NFL did it 1,000 percent. It is amazing. I've had a wonderful time. This has been beyond my wildest dreams."
A 2009 graduate of Franklin County High School, Perkins was selected by the team as its Fan of the Year in part because of her role in creating Ladies of Titans Football, a group that's considered a "safe place" for women who root for the team to talk football.
Perkins attended NFL Honors, where she was recognized by Titans head coach Mike Vrabel when he was named NFL Coach of the Year.
"He was talking about Miss Amy (Amy Adams Strunk) and I said, 'Let's go Amy! Wooo!," Perkins said. "And (Vrabel) said, "Atta girl.' I didn't realize I was so loud you could hear me on television."
During pregame, Perkins was recognized on the field at SoFi Stadium with the NFL's other 31 fans of the year.
"I could never have imagined I would be able to do something like this," Perkins said. "I've seen a few Titans fans here and there, but I feel like I am representing all of them here."
Rams receiver Van Jefferson played at Ravenwood High School.
His father, former Titans receiver coach Shawn Jefferson, was in the stands at SoFi cheering his son on nervously as well. So was Jefferson's coach at Ravenwood, Will Hester.
"You have no control, and you have to sit back and try and relax the best you can," Jefferson said. "You just try and let all that stuff you poured into him over the years come to the forefront."
Jefferson said it's been fun to watch his son have success. Van Jefferson had four catches for 23 yards for the Rams on Sunday vs the Bengals.
"It's crazy, because it seems like yesterday Van was at Ravenwood High School in Tennessee," Jefferson said. "I am excited for the chance for my son to be a champion for life, and I'm going to be rooting like hell for him."
Jefferson said several Titans had an influence on his son during his days in Tennessee.
"Chris Johnson back then, Nate Washington, Kendall Wright," Jefferson said of the former Titans. "He was a big fan of those guys. As a matter of fact, those guys played a part of Van's growth as a receiver. They would get with him and tell him what to, drills to work with. So it's been a culmination of a lot of people in his life (helping him)."
Jefferson, currently the receivers coach with the Cardinals, played in two Super Bowls during his 13-year playing career.
"We lost the two times I was in it," Jefferson said. "I hope the third time is the charm for the Jeffersons."
It was part of an eventful night for Van Jefferson, who was seen hurriedly leaving SoFi Stadium right after the game. Samaria, Van's wife, went into labor during the game and was rushed to a local hospital.
Several other Nashville area/Titans connections will get Super Bowl rings, including:
-Lance Schulters, a former Titans safety who is now a Coaching Fellow with the Rams.
-Rams cornerback Jalen Ramsey, who was born in Smyrna and prepped at Brentwood Academy.
-Former MTSU offensive lineman Chandler Brewer, who is on the Rams practice squad.
-Defensive back Kareem Orr, a former Titan who is on the Rams practice squad.
-Former Titans kicking specialist Ryan Santoso, who is also on the Rams practice squad.