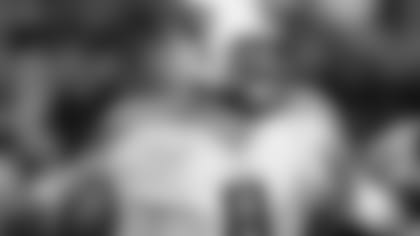 Titans QB Matt Hasselbeck suffered no structural damage in his throwing arm and is considered day-to-day this week.
NASHVILLE, Tenn. - Titans quarterback Matt Hasselbeck has no structural damage to his right forearm and elbow. Whether he plays against Tampa Bay will be determined by how comfortable the veteran is throwing the ball.
Coach Mike Munchak says Monday's tests were negative and Hasselbeck's injury is more of a muscle strain in the forearm. Hasselbeck was hurt during the 23-17 loss in Atlanta when he hit his arm on a defender's helmet. Hasselbeck is sore, and Munchak said the veteran will be day to day for practice and likely will sit out at least Wednesday.
Whether rookie Jake Locker makes his first career start for Tennessee (5-5) remains to be seen.
"He'll be smart about it to tell us where he's at,'' Munchak said of Hasselbeck. "It's different when you're throwing the football. He'll know pretty good how that arm feels and if he can make all the throws or not. If it gets to that, I'm sure the right decision will be made by us and Matt.''
Hasselbeck was hurt in the third quarter and was 13 of 25 for 124 yards passing with an interception. He also was Tennessee's leading rusher with a scramble for 17 yards.
But Locker, the eighth overall pick out of Washington, has been getting some extra work the past three weeks on Wednesdays as the Titans tried to give Hasselbeck a little more time off to heal up later in the season.
Locker threw for 140 yards and two touchdowns with a 107.3 passer rating coming off the bench. He also ran once for 11 yards.
Munchak said that extra work gives the Titans, and Hasselbeck, more time before they need to make a decision on who starts.
"Then by Friday obviously you want to have a better feel,'' Munchak said.
Fullback Ahmard Hall said he saw Hasselbeck in the training room Monday.
"He doesn't let too many things get him down,'' Hall said. "He's been injured in the past. He's a savvy vet. I think it's 13 or 14 years for Matt. He's been there, done that. He'll be ready to go next week.''
Hasselbeck has company in the training room.
Right tackle David Stewart had an MRI on his right calf, an injury that knocked him out of the game. Linebacker Barrett Ruud re-injured a groin muscle, while defensive end Derrick Morgan hurt an ankle early. Munchak said they all fall into the same category as Hasselbeck of wait and see how much soreness they have and whether they can play or not.
"This is the first game in a while we got hit with four or five guys being questionable,'' Munchak said.
The Titans have bigger issues. They have gone win-loss, win-loss now the past four weeks and dropped two games behind the Texans (7-3) in the AFC South. They are in a pack tied at 5-5 and a game out of the wild-card slot with the Bucs (4-6) coming in losers of four straight followed by a visit to Buffalo (5-5).
But Tennessee's run game remains mired in last in the NFL.
Chris Johnson had a season-low 13 yards on 12 carries a week after running for a season-best 130 yards. Munchak said they needed more than the 14 rushes they had versus Atlanta. But Johnson was tackled a couple times in the backfield, and Munchak said they didn't block well.
"That starts with the offensive line. Anytime you have this conversation, it starts with them. They know that,'' Munchak said. "We need to do better than that. That game may have been much different.''
The Titans once again hurt themselves with 10 penalties for 86 yards, the first holding on Jared Cook that wiped out a 33-yard kickoff return by Marc Mariani. That backed Tennessee up from the Atlanta 35 to the Titans 7. Johnson was tackled on the first play for a 3-yard loss.
"We've got to find a way to make some runs,'' Munchak said. "I thought we would run the ball better.''
Only two NFL teams have more yards off penalties than the Titans (719), and only Oakland (103), Carolina (84) and Tampa Bay (83) have more penalties.
"To me, it's frustrating,'' Munchak said. "For anybody. It doesn't matter to me who it is. I don't feel better saying well, it's a rookie at least. To me, it's a Titan. That's bad enough.''