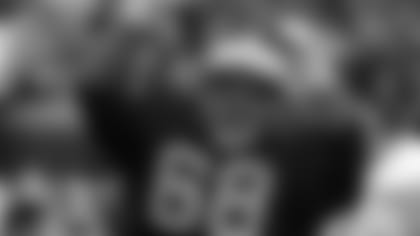 Defensive tackle Mike Martin was the second player taken by the Titans Friday with a wrestling background.
NASHVILLE, Tenn. --The Titans tagged in a pair of defensive players with wrestling backgrounds Friday, adding speed at linebacker and grit on the defensive line.

Tennessee tabbed North Carolina senior Zach Brown (6-foot-1, 244 pounds) in the second round with the 52nd overall pick of the 2012 NFL Draft and followed with the selection of Michigan defensive tackle Mike Martin (6-1, 306) in the third round with the 82nd overall pick.

Brown, a native of Columbia, Md., and Martin, a native of Redford, Mich., each won prep wrestling titles.

Titans general manager Ruston Webster said a wrestling background can produce a certain set of physical and mental attributes that transfer well to the gridiron. Returning defensive tackle Karl Klug frequently credited his wrestling background with his production last season as a rookie.

"To me, wrestlers do have that natural leverage," Webster said. "They understand leverage. They understand how to use their hands, and typically, they're tough guys. That's why, I think, you see it more in guards and centers and defensive tackles. It is something that, to me, when a guy has been a wrestler, especially when he's been a successful wrestler, it says something about his toughness and commitment."

Defensive coordinator Jerry Gray said Brown's speed will make him the third or fourth fastest player at any defensive position.

"He'll come in and get a chance to play "Will" linebacker, get a chance to play in space," Gray said. "He has athletic ability. He can make plays in space. He'll get a chance to blitz off the open side, which will be good for us. We know he can run, so he'll be able to get into the nickel package."

Brown set the Tar Heels record, running the 60-meter dash in 6.72 seconds, in 2009. He clocked a 4.44 in the 40-yard dash at the NFL Combine in February, and followed it with 4.37 in the same event during his pro day.

"The obvious thing is the speed," Bush said. "He's a big, fast athlete. We like a lot of things that way. Spending time with the kid, you find a kid that was passionate about the game. He had been there for four years, played a lot of different positions, and quite frankly, the kid wants to get a home and learn one particular thing to do so he can do it even better."

Gray said North Carolina moved Brown multiple places on the field and basically used him as a chaser.

"What we'll get a chance to do, with Frank's assistance, is to put him in a position where he's comfortable," Gray said. "This will be better for him because he won't have to line up in five or six places."

Veteran scout Cole Proctor surveyed Brown and said, "He has those things I haven't seen (in a linebacker)."

"He's just a fine athlete; I think he's going to do a great job for us," Proctor said. "He's a willing special teams player, and I think coaches will be looking forward to having him here and training him."

Martin also delivered impressive performances at the NFL Combine. He led all defensive tackles/nose guards with a 4.25 time in the 20-yard shuttle, ranked third with a 33.5-inch vertical and second with 36 bench press repetitions of 225 pounds.

Titans coaches expect Martin's frame, which is shorter in length than some defensive linemen, to be an advantage in the leverage battles against offensive linemen that occur every snap. Titans coach Mike Munchak, a Hall of Fame guard, said Martin's energy and effort will enable him to make opposing interior linemen look bad if they think about taking off a play.

The Titans received solid production from Klug and defensive tackle Jurrell Casey in their rookie campaigns, but coaches said Martin will have an opportunity to compete for playing time at the post as well.

BIG BROTHER: Brown said he learned a little bit about the Titans through a close relationship with former Tennessee linebacker David Thornton, who was an assistant at UNC after retiring from pro football and prior to joining the personnel staff of the Colts. Thornton was the 2008 recipient of the Titans Community Man of the Year Award.

"That's like my big brother," Brown said. "He was down there at Carolina for two years."

Brown also knows a little bit about Nashville and LP Field from playing against the Volunteers in the Music City Bowl in 2010.

"I liked the stadium while I was there," Brown said. "I liked the field. I could actually wear the cleats I wanted to wear."

GOOGLE THIS: Martin told reporters shortly after his selection that he thought the Titans were very "genuine" with him when he officially visited Baptist Sports Park.

When asked what he already knew about the team, Martin said, "I know that I'm going to Google the hell out of the Titans right now. I know a lot about the Titans, but I'm going to get a deeper understanding of every single detail about the organization and get ready to go here."

THREE WITH FOUR: All of the Titans selections so far — Brown, Martin and first-round pick Kendall Wright — played four years at their respective schools.

"I like four-year starters," Webster said. "That, kind of like talking about the wrestling thing, says something about a player. You have to be a special player to do that. It doesn't always happen that way, but there are always tend to be four-year starters that have seen a lot of ball, and I think it helps them when they come into the league."

IN THE DIVISION: Indianapolis started the second round with another offensive selection; Jacksonville opted for defense; and Houston's second-round pick went to Tampa Bay through a trade.

The Colts followed their No. 1 overall pick of Stanford QB Andrew Luck with the first pick of the second round (33rd overall) and went back to Stanford in drafting tight end Coby Fleenor (6-6, 247). Indianapolis drafted Clemson tight end Dwayne Allen (6-3, 255) with the 64th pick and Florida International receiver T.Y. Hilton (5-10, 183) in the third round.

The Jaguars drafted Oklahoma State receiver Justin Blackmon in the first round Thursday and followed on Friday with Clemson defensive end Andre Branch (6-4, 259) in the second round with the 38th overall pick. Jacksonville took California punter Bryan Anger (6-3, 208) with the 70th pick in the third round.

The Texans tabbed Ohio State receiver Devier Posey (6-1, 211) with the 68th pick and Miami (OH) guard Brandon Brooks (6-5, 343) with the 76th pick in the third round.