**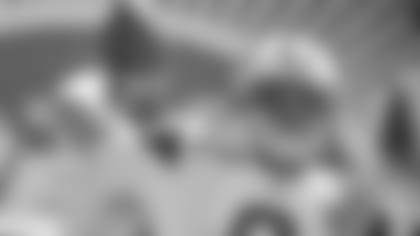 The Titans travel to New York this week to face rookie QB Mark Sanchez and the 2-0 Jets.
NEW YORK, N.Y. --** Mark Sanchez and the
New York Jets
sent quite the message to the
New England Patriots
.
The rest of the NFL, too.
The rookie quarterback came out throwing in the second half after two quiet quarters Sunday, connecting with Dustin Keller on the go-ahead touchdown that gave the Jets a 16-9 victory over Tom Brady and the Patriots.
The Titans play the Jets in New York on Sunday.
New head coach Rex Ryan said it won't be hard to keep his team focused, despite his team's early season success.
"It's easy to focus. We have the Titans coming in here," Ryan said. "They won more games than any other team in the AFC last year and were the #1 seed in the playoffs. We know they have an outstanding team, so it's not hard to focus."
The Jets' gritty team effort, which backed up some pre-game boasting from Ryan, stood in contrast to another dazzling individual performance by the Saints' Drew Brees, who tossed three more touchdown passes in a 48-22 rout of the Philadelphia Eagles.
Brees threw six TD passes last week as the Saints pounded Detroit, and seemed to pick apart Philadelphia's secondary just as easily. He completed 25 of 34 passes for 311 yards and one interception, with Marques Colston grabbing eight passes for 98 yards and two of the scores.
The Eagles (1-1) were without Donovan McNabb, who missed the game with a cracked rib. Kevin Kolb started in his place and threw for 391 yards and two touchdowns, but he also threw three interceptions, including one that was returned 71 yards by DeSean Jackson for a touchdown.
"You like starting 2-0,'' Saints coach Sean Payton said flatly, "but it doesn't promise you anything.''
Promises? Ryan sure knows something about that.
The outspoken Jets coach reiterated his offseason promise this week that he didn't come to "kiss Bill Belichick's rings,'' and even sent a voicemail to season ticket holders urging them to be loud Sunday. They responded so forcefully that Brady was forced into consecutive delay of game penalties in the third quarter.
The victory was the first for the Jets (2-0) over Brady at home, and the first over the Patriots (1-1) at the Meadowlands since 2000. The Patriots managed only three field goals from Stephen Gostkowski a week after the Jets' defense held the high-scoring Houston Texans without an offensive touchdown in a 24-7 win.
"That's a statement not just to us,'' cornerback Darrelle Revis said, "but to the league that every week we're going to come out here and try to get a shutout.''
Brady got the ball back at the Patriots 10 with 1:48 left. The Jets defense stepped up one more time, with Dwight Lowery knocking away a pass to Joey Galloway on fourth down in the closing minutes.
"We're not really firing on all cylinders right now,'' Brady said. "To not get the ball in the end zone is unacceptable.''
In Arlington, Texas, Lawrence Tynes kicked a 37-yard field goal as time expired and the Giants beat the turnover-prone Cowboys, ruining the debut of their rival's $1.15 billion stadium.
The Cowboys (1-1) went ahead 31-30 on a touchdown run by Felix Jones with 3:40 left. It was the seventh lead change of a game in which neither team led by more than six points and it didn't last.
Eli Manning drove New York 56 yards in seven plays. He got out of a first-and-20 on his 15 to start it and converted two third downs, including one on a tipped pass caught by Mario Manningham.
New York (2-0) scored three touchdowns off interceptions of Tony Romo and won despite losing defensive end Justin Tuck to a shoulder injury and receiver Domenik Hixon to a sprained knee.
In Detroit, Brett Favre set an NFL record with his 271st straight start in the regular season, then threw two touchdown passes to help beat the Lions.
Adrian Peterson's 27-yard TD run midway through the third quarter gave Minnesota (2-0) its first lead. He finished with 92 yards rushing, handing Detroit (0-2) its 19th straight loss to tie the second-longest skid in NFL history.
At San Francisco, Frank Gore had touchdown runs of 79 and a career-best 80 yards, and finished with 207 yards on 16 carries to lead the 49ers.
Gore nearly reached his franchise mark of 212 yards set in 2006 before leaving in the fourth quarter with a sprained right ankle. He's the second player in NFL history to have two TD runs of 79 or more yards in the same game, joining Barry Sanders, who did it Oct. 12, 1997.
Seattle (1-1) lost quarterback Matt Hasselbeck to a rib injury just before halftime. He didn't return after completing 10 of 18 passes for 97 yards against the 49ers (2-0).
At San Diego, Ray Lewis stopped Darren Sproles on fourth-and-2 at the Ravens 15 with only 33 seconds left, spoiling a monster afternoon by San Diego quarterback Philip Rivers.
He threw for a career-high 436 yards and two touchdowns for the Chargers (1-1).
Joe Flacco threw two TD passes for the Ravens (2-0), and Willis McGahee ran for two more.
At Denver, Elvis Dumervil tied a Broncos record with four sacks and linebacker Andra Davis had 10 tackles against his former team.
After beating Cincinnati last week on Brandon Stokley's 87-yard touchdown catch with 11 seconds left, Denver is 2-0 under new coach Josh McDaniels, who worked with Browns coach Eric Mangini in New England. Mangini's new team is 0-2.
At Chicago, Jay Cutler came through with a big pass to Devin Hester on third down, and Robbie Gould booted a 44-yard field goal with 15 seconds left to lift the Bears.
Cutler finished with 236 yards and two touchdowns against Pittsburgh (1-1), and didn't throw an interception after being picked off a career-high four times last week against Green Bay.
Ben Roethlisberger threw for 221 yards against the Bears (1-1).
At Green Bay, Wis., the Bengals nearly blew another lead in the final minute, before the Packers ran out of time at the Cincinnati 10 yard line.
The Packers (1-1) kicked a late field goal and recovered an onside kick, and Aaron Rodgers marched them to the Bengals 10 before a false start call with two seconds left ended the game.
Chad Ochocinco delivered on his promise to perform a Lambeau Leap when he caught a 13-yard TD pass from Carson Palmer in the third quarter. The Bengals (1-1) also got five sacks from Antwan Odom and 141 yards rushing from Cedric Benson.
At Nashville, Tenn., Matt Schaub threw for 357 yards and four touchdowns, and Kris Brown kicked a 23-yard field goal in the closing minutes to ruin Tennessee's home opener.
The Texans (1-1) won their first game in the month of September since 2007, while the Titans (0-2) are skidding a different direction after starting 10-0 last season.
The Titans' Chris Johnson ran for 197 yards and three touchdowns.
At Atlanta, Matt Ryan threw three touchdown passes in the first half and Chris Houston stopped a Jake Delhomme-led rally at the end, intercepting a pass at the Falcons 4 to preserve the win.
Delhomme accounted for 11 turnovers his two previous games. He was better against the Falcons (2-0), throwing for 308 yards and a touchdown, but Carolina (0-2) still lost.
At Orchard Park, N.Y., Donte Whitner returned an interception 76 yards for a touchdown, and Terrell Owens scored on a 43-yard catch in his home debut for the Bills.
Buffalo (1-1) ended a five-game home losing streak. The Buccaneers (0-2) have lost six straight and continue to struggle on defense after allowing 438 yards.
At Landover, Md., Shaun Suisham kicked field goals of 21, 28 and 23 yards as the Redskins had four drives of more than 60 yards that faltered inside the 10.
Washington (1-1) put the game away with a 78-yard drive that ended with a failed fourth-and-1 from the 2 with less than 2 minutes to play, leaving the Rams (0-2) with too far to go.
At Kansas City, Mo., Darren McFadden answered Kansas City's go-ahead touchdown with just over a minute left, lifting the Raiders to a lackluster win.
Matt Cassel, making his Chiefs debut, hit Dwayne Bowe with a 29-yard scoring strike for a 10-6 lead with 2:38 left. But the Raiders (1-1) drove 69 yards to hand KC its second straight loss under first-year head coach Todd Haley.
At Jacksonville, Fla., Kurt Warner completed his first 15 passes and broke the NFL's single-game record for completion percentage for the Cardinals.
The only good news for the Jaguars (0-2) was that hardly anyone in Jacksonville saw it. The game was blacked out on local television, and the stands were about half full.
With a big lead and the NFL record in hand, Warner headed to the bench late in the third quarter for the Cardinals (1-1). He finished 24 of 26 for 243 yards with two touchdowns.