NASHVILLE, Tenn. — Since his days as a three-sport athlete growing up in New Jersey, Tajae Sharpe's always considered himself a competitor.
Sharpe's perseverance helped him reach the NFL.
On Sunday, the Titans rookie receiver will look on the field at Nissan Stadium and see another fighter in his family – his 73-year-old grandmother, Cozy Little.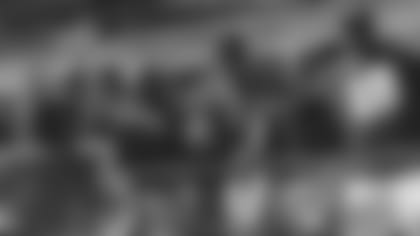 Little is a breast cancer survivor, and she'll serve as the Honorary 12th Titan for Sunday's game against the Browns.
"I am so proud of her, and it is going to be amazing to have her there,'' Sharpe said. "She fought hard through the whole process, so for her to be recognized, it is going to be a big deal. My grandmother is extremely important to me. She has always played a big role in my life since I was little.
"I know she is going to be excited."
Cozy Little was diagnosed with breast cancer in 2001, and she had a mastectomy. Recently, she had a check-up, and she had no issues. She's a breast cancer survivor.
October is Breast Cancer Awareness Month in the NFL, and the Titans will honor survivors on the field at Sunday's game. Additionally, all fans will receive a pink TitanUp rally towel, as well as pink ribbons. NFL breast cancer awareness games feature players wearing pink on the field, including cleats, wristbands, gloves and more. Game balls with pink ribbon decals will be used on Sunday.
Sharpe has worn pink in October since high school.
"I am always going to represent the pink in the month of October to show the respect I have for all the women who've had to deal with breast cancer, including my grandmother,'' Sharpe said. "It is something I have done since high school, and it is something I am going to continue to do. There's a special place in my heart for all women who've dealt with breast cancer."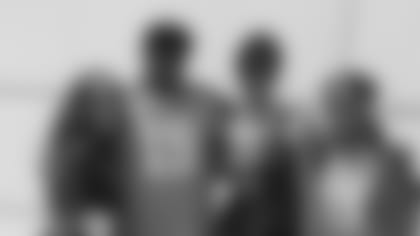 A fifth-round draft pick from Massachusetts, Sharpe has started all five games for the Titans. He has 18 catches for 189 yards this season.
On Sunday, 13 members of his family are scheduled to be in Nashville. His mother, father, sister and girlfriend have been regulars at Nissan Stadium, and they spent time in Nashville during training camp as well.
Cozy Little has been one of his biggest supporters. She began living with Tajae and his family back in 2000.
Each week, Cozy Little sends Tajae verses from The Bible, and spiritual messages.
"She was at every one of Tajae's games growing up,'' said Jay Sharpe, Tajae's dad. "And you should see her during games when she's watching him. You would never know, as a religious woman, how fired up she gets during games. You wouldn't believe it. I couldn't even describe it. She is pretty intense, and she is extremely proud of Tajae."
On Sunday, Cozy Little will take the field before the team comes out.
As the Honorary 12th Titan, she'll plant a sword in the Titans logo in the middle of the field just before kickoff.
"I know she is going to represent well,'' Sharpe said with a smile. "It is going to be a special moment."