**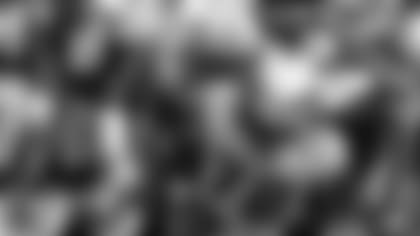 The Titans played suffocating defense, but couldn't overcome seven turnovers in a 19-11 loss to Pittsburgh Sunday at LP Field.
NASHVILLE, Tenn --** Tennessee fought through an epidemic of "terrible turnovers" Sunday that the Titans could not overcome with a last-gasp rally.
Tennessee turned over the ball to Pittsburgh seven times in a 19-11 loss at LP Field as Titans fans waved light blue towels to counter Steelers fans that waved their more famous yellow and black Terrible Towels.
Titans rookie kick returner Marc Mariani fumbled after a 34-yard return on the Titans' first possession. Starting quarterback Vince Young threw two interceptions and lost one fumble, running back Chris Johnson lost a fumble before halftime, and Kerry Collins threw an interception and lost a fumble after he replaced Young in the fourth quarter.
 "Seven turnovers is way too many, and we're all accountable for that," Collins said. "Against a team like this, a defense that's hard to move the ball against, you turn the ball over, give their offense a short field position, it makes it tough."
Young's first interception occurred on a first-and-10 from the Steelers' 16 with the Titans trailing 7-3 in the first quarter. Pittsburgh safety Troy Polamalu snatched Young's throw in the end zone before it reached Nate Washington.
"I just had my eyes one time, in the wrong spot," Young said. "The first interception, Polamalu made a play. He was driving on our basic guy, Bo Scaife, and then he dropped back underneath the post. That's Polamalu. He makes plays like that.
"I felt like we were going to score that drive and it would have been a big difference," Young added.
Pittsburgh's Jeff Reed kicked field goals from 36, 34, 25 and 27 yards after four of the turnovers, helping the Steelers build a 19-3 lead the Titans couldn't catch in the final five minutes.
"You can't turn the ball over seven times," guard Leroy Harris said. "Our defense did a heck of a job out there because it could have been worse. We were fortunate we had another chance."
The Titans (1-1) had four turnovers and four first downs in the first half but only trailed 13-3.
Fullback Ahmard Hall called the game "definitely ugly."
"It's not just one of those games," Hall said. "You can't do this in the league. I hope we never do this again. You can't win ballgames in this league turning it over a few times, let alone seven times. We feel like we're a good football team. We're not getting any moral victories from this."
Titans coach Jeff Fisher subbed Collins for Young with Tennessee trailing 16-3 early in the fourth quarter. The first three series for Collins ended with an interception, a punt and a fumble, but the 16-year NFL veteran led Tennessee on a 17-play, 85-yard drive on his fourth series. Collins connected with Washington on a fade route in the end zone and completed the two-point conversion on a  pass to Kenny Britt to make it 19-11 with under a minute to play. After Rob Bironas led a successful onside kick that the Titans recovered with under a minute to play, Collins nearly connected with Washington in the end zone again. However, the ball was broken up just as Washington was set to secure the potential game-tying touchdown.
"It was an opportunity that we were going over all week," Washington said. "I ran a fade, and Kerry put a nice-touch ball in the area. (The near touchdown was) just a great play by their safety. We have to get those plays and take advantage of them.
Young was 7-of-10 passing for 66 yards and two interceptions. His rating was 48.3. Collins completed 17 of 25 attempts for 149 yards for a rating of 80.2.
Fisher said he made the switch because he thought the Titans needed a spark. He immediately said after the game that Young will start next Sunday when the Titans visit the New York Giants.
When asked if being benched would affect Young's confidence in future games, Fisher replied, "I wasn't concerned, honestly, about his feelings at that point. I was trying to win the football game. And he's our starting quarterback and he will start this week."
Fisher said experience will help Young respond.
Collins said it is the back-up quarterback's job to be ready whenever. He said he's experienced that as a starter and a reserve and he expects Young to start next week.
"As starters, we all have games like Vince had today," Collins said. "I've had them. Everybody that's played has had them. You go back to the guy that's your starter. I think Vince will be fine from it and move on."
Johnson rushed 16 times for 34 yards, ending a streak of 12 straight games with at least 100 yards rushing. Johnson's streak of 12 games tied Oakland's Marcus Allen for second-best in NFL history and falls shy of tying Barry Sanders' record by two games.
"It came to an end, but the most disappointing thing was not getting the victory today," Johnson said. "That is more important than anything."
A holding penalty called on Titans center Eugene Amano erased an 85-yard touchdown run by Johnson that would have tied the game at 10 in the second quarter and extended the rushing streak.
"When they took it away, it just took everything," Johnson said. "It was like a dagger in our heart or whatever, and from then on everything just started going downhill."
Pittsburgh nose tackle Chris Hoke said he wasn't concerned when he saw Johnson break loose, scamper and hand the ball off to a fan in the first row.
"The center held me," Hoke said. "It was obvious. Right away, I saw the ref threw the flag so I knew it was coming back."
Fisher said he did not see the penalty but "heard it was somewhat suspect."
The Titans were flagged 11 times for 72 yards. The Steelers were flagged five times for 35 yards.
Pittsburgh held Johnson to 57 yards on 15 carries during their meeting in Pittsburgh in 2009. He finished last season's campaign with 2,006 rushing yards.
Hoke said the Steelers tried to take away the Titans' preferences.
"Our goal was to shut down the run," Hoke said. "We know he's an excellent runner. He's so fast and he's so good on his cutback. We wanted to make sure that we kept our gaps … and stay square to the line of scrimmage so there were no cutback lanes. And there weren't any today."
Titans guard Jake Scott said the problem was a lack of execution.
"It's not the defense," Scott said. "It's what we did. We didn't block guys that we knew we were supposed to block. We didn't do things that we know how to do. It's knowing your assignment and doing it.
"We can run the ball against them," Scott continued. "You just can't let yourself get behind so you don't have that option anymore. I think we ran the ball well. You're not going to get eight yards a carry on them."
Pittsburgh's lone touchdown occurred on the opening kickoff when the Steelers executed a reverse from Mewelde Moore to Antonio Brown, who ran 89 yards for the score. Despite recovering all of Tennessee's fumbles, Pittsburgh struggled to move the ball against the Titans, who recorded four sacks and six quarterback hurries.
Pittsburgh finished with 127 net (106 rushing), the least amount allowed by the Titans since 2000.
"I think we did good tackling and keeping the ball in front of us," Titans safety Chris Hope said. "This game, you need all three phases (offense, defense, special teams) to play well. (Sunday) was a tough day for our offense, and we knew that going into the game. We tried to match that same intensity. (The Steelers) played really well today. I'm not sure they've played that well in the past few games."
Cornerback Cortland Finnegan said the ultimate goal is to keep points off the scoreboard. He said Tennessee can evaluate the loss and increase its composure in future tough games this season.
"This was a chance to increase our composure in big games like this," Finnegan said. "Now we know what we're going to need to do and not do in certain situations."