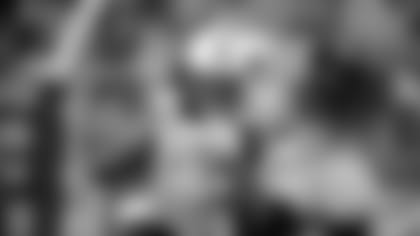 Chris Johnson leads the NFL in rushing with 824 yards (6.9-yard avg.) through only seven games.
NASHVILLE, Tenn. --** Tennessee cornerback Cortland Finnegan is fast, very fast. And he refuses to even think about racing teammate Chris Johnson.

"There's some things you just don't do," Finnegan said with a smile. "A Ferrari and a Toyota Corolla will not race. I feel like I'll be a Toyota Corolla. I'm not going to race a Ferrari."

Johnson is the speedy second-year running back from East Carolina who is leaving defenders in his wake. He's leading the NFL in yards rushing (824) and yards per carry with a whopping 6.9 average, and was the AFC offensive player of the week Wednesday for his franchise-record 228 yards rushing in last week's 30-13 win over Jacksonville.

Call it arrogant, but Johnson said he hasn't seen anyone match his speed -- measured at 4.24 seconds in a 40-yard dash -- yet in the NFL.

"I'm not all about my speed. I can make people miss. I can break tackles," he said.

It's part of Johnson's march to being one of the NFL's best, and this season's goal is 2,000 yards, which has been done only five times and not since Jamal Lewis in 2003. If he reaches that, Johnson plans to reward his linemen by buying them cars.

He has topped 100 yards three times this season, and his 228 yards was the NFL's best since Adrian Peterson rushed for 296 on Nov. 4, 2007, against San Diego. It was also the 16th best rushing total since the NFL/AFL merger in 1970.

Some running backs may have more touchdowns than Johnson's four, but each of his scoring runs has been longer than 52 yards, and he is busy rewriting the Tennessee record book, passing by names like Billy Cannon, Earl Campbell and Eddie George. Johnson has two of the franchise's three longest TD runs with an 89-yarder and a 91-yarder -- both this season.

"It feels real good to look at some of the guys who have played before me, then come in and break a record. But records are made to be broken," Johnson said.

San Francisco (3-4) is next to defend Johnson this Sunday, and coach Mike Singletary's 49ers rank second in the NFL against the run. They've allowed only one team to top 100 yards this season. But he said preparing for Johnson is very difficult and deceptive.

"You really have to know where he's at," Singletary said. "You kind of hold your breath until he's on the ground."

The scary thing? Titans coach Jeff Fisher sees Johnson getting better.

"He changes defenses. If the people aren't familiar with him, then the result's going to be what you've seen. He can get on the edge and outrun people. I think we will all agree that when he gets in the secondary ... no one's going to catch him," Fisher said. "It's a touchdown."

A knock on Johnson coming out of East Carolina was whether he could survive running between the tackles at 5-foot-11, 200 pounds. It's why he was still available at No. 24 overall in the 2008 draft. He's proven so far he can do just that, including running over Jaguars safety Brian Russell on his 89-yard TD run.

"He knows how to take a hit," Fisher said. "That's the most impressive thing about him because of his size and stature, one would think this guy's not going to get up, but he does."

Johnson turned in his 4.24-second run at the 2008 NFL Combine, the fastest in the last 15 years that they've used electronic timing.

The inability of most teams to simulate that speed is what Fisher believes makes defending Johnson so difficult. He compared it to preparing for Barry Sanders and recalled that one team tried bringing a chicken out for the defense to chase.

"That's where it is with Chris. It's clearly on film," Fisher said. "You see guys that can really run lose the edge and lose the corner."

Quarterback Vince Young has started only two games with Johnson behind him but thinks Johnson's best skill can't be coached.

"The speed that he has, he has a God-given talent," Young said. "Just get the ball in his hands."

Coaches like how Johnson has worked hard to improve himself as a runner, studying areas like vision and aiming points to help him follow blockers. Johnson also is more patient, following the blocks of linemen and receivers to spring him further down the field.

"He's worked harder to improve that part of his game," Fisher said.

Johnson feels more patient this year, which is why he's only 404 yards away from matching what he ran for as a rookie with nine games left.

And if he has to pay up his promise to his linemen, how about some Ferraris?

"I didn't say what kind of cars," Johnson said.