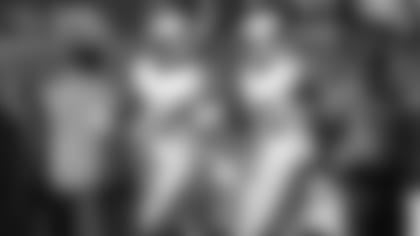 NASHVILLE, Tenn. — Here's a look at six things that stood out for Titans in their 12-9 overtime win over the Browns:
There's no denying it was an ugly performance on offense. The Titans were just 5-of-17 third down, and they struggled in the red zone. A first-and-goal from the one produced zero points, as running backs DeMarco Murray and Derrick Henry were stuffed, and quarterback Marcus Mariota missed an open Delanie Walker. Throughout the game there were too many drops. The Titans need to clean things up here during the bye week.
Titans safety Kevin Byard is turning into a big-time playmaker right before our eyes. With three interceptions against the Browns, Byard now has five takeaways in a four-week span. He had an interception at Houston and a fumble recovery at Miami. Byard became the first NFL player in 2017 to record three interceptions in a game and the first NFL player to do so since Eagles safety Kurt Coleman at Washington in 2011. Byard became the first Titans player to record three interceptions in a game since linebacker Keith Bulluck in New Orleans on MNF in 2007. I have a feeling it's a sign of more big things to come.
The Titans didn't allow a touchdown all day, and they recorded three interceptions and two sacks of Browns quarterbacks. But what really stood out to me was the way the defense turned things up a few notches when the game reached overtime. Cleveland got the ball first, and the Titans forced a three-and-out. On Cleveland's second possession in OT, the Browns went three-and-out again, as linebackers Brian Orakpo and Derrick Morgan combined to sack Browns QB Cody Kessler for a 12-yard loss. It was a refuse-to-lose mentality for the defense in crunch time.
Ryan Succop's calm under pressure**
Titans kicker Ryan Succop said he "prayed for peace" as he lined up to kick the game-winner on Sunday, and then he delivered. Succop has been money in the bank for the Titans. He's 20-of-22 on the season, and he's now made 55 kicks in a row from inside 50 yards. Sunday's boot in OT was the seventh career game-winning field goal for Succop, and his second as a member of the Titans.
Titans fans need to keep their fingers crossed on this one. The Titans were able to survive on Sunday after Walker suffered an ankle injury in overtime. The sight of Walker getting his right foot bent back awkwardly, and leaving the stadium in a walking boot, wasn't a pretty sight to see. Walker has consistently been one of the team's biggest offensive threats. On Sunday he led the team with seven catches for 63 yards, and he was a target in key situations. The Titans need him back ASAP.
Mariota still not 100 percent
Yes, Mariota took off and ran for a first down on Sunday. But no, he wasn't 100 percent, because of his hamstring. The good news is the Titans found a way to win the game when Mariota was less than full strength, and on a day when his receivers dropped several passes. The Titans have now won back-to-back games with their QB at less than 100 percent. On offense, they've been forced to scale things back from a play-calling standpoint because of the QBs limitations. An extra week to recover with the bye should help Mariota get closer to form, and make the Titans better on offense as a result.
The Tennessee Titans take on the Cleveland Browns in Week 7 at FirstEnergy Stadium. (Photos: Donn Jones, AP)