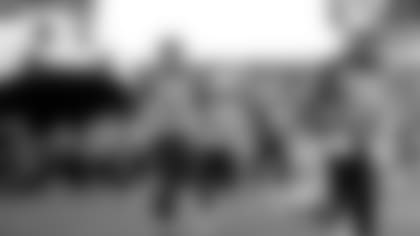 Receivers Michael Preston (14) and James Kirkendoll (19) have been busy helping Titans defensive backs prepare for Atlanta's potent offense.
NASHVILLE, Tenn.— Fantasy football is about big numbers on game days.
During the week, however, two young Titans play a different kind of fantasy football — a type intended to keep Titans' opponents from posting big numbers on game days.
Practice squad receivers James Kirkendoll and Michael Preston pretend to be someone else each week. The 5-foot-10, 175-pound Kirkendoll and 6-5, 206-pound Preston do their best to show defensive starters what they might encounter in the upcoming game.
"It's cool giving the defense a look," Kirkendoll said. "Everybody has a role on our team. That's basically my role right now."
Kirkendoll and Preston watch film of the players that they will mimic each week and wear special jerseys with interchangeable numbers.
"Right now I'm trying to give our DBs the best look at him while trying to better my craft also," Preston said. "I'll look at a few clips of him running routes against other teams through the film session and then try to mimic that. Sometimes you may pick up things for your own game from watching other receivers."
Last week, Kirkendoll wore the No. 89 of similarly sized Carolina receiver Steve Smith (5-9, 185 pounds), and Preston wore the No. 17 of Legedu Naanee (6-2, 220). 
"I like (Carolina's playbook), Kirkendoll said. "They were throwing the ball everywhere down the field so I got a lot of reps last week and a lot of deep balls. I definitely enjoyed doing the whole Steve Smith role."
Preston agreed, saying he liked the route trees that Carolina uses in its passing game.
The Titans held the Panthers, who were ranked fifth in offense, to 279 net yards and three points. Tennessee defenders held Smith to five catches for 33 yards, while Naanee caught eight passes for 75 yards.
"Our receivers do an excellent job," Cortland Finnegan said. "They come to work, they push us, they're star receivers in their own rights. The fact that we have good practice squad receivers like that really speaks volumes for what we do on Sunday."
This week, Preston is wearing the No. 84 of Roddy White, who has 47 catches for 563 yards, and Kirkendoll is doing some simulation of Harry Douglas and a little bit of first-round draft pick Julio Jones. Douglas had eight catches for 133 yards last week against New Orleans after Jones left the game with a hamstring injury.
Finnegan and Jason McCourty said the talents that Kirkendoll and Preston brought into training camp help with the simulation of opposing players. McCourty said the variety of looks they can provide because of their different attributes is also helpful.
"It's great to have them be two totally different wide receivers," McCourty said. "Last week, Kirkendoll could duplicate Steve Smith pretty well — a smaller receiver, quick. This week, we've got Roddy White, and you've got a guy like Michael Preston that can be a bigger receiver."
The path to the NFL differed for Kirkendoll, who played collegiately at Texas, and Preston, who played at Division III Heidelberg University in Ohio. Both signed as free agents with Tennessee, went through training camp. They were cut and signed to the practice squad before the regular season began.
Their current role is not fulfilling the ultimate goal of winning a roster spot, but it is a way to get better and keep playing football.
"These are our work days," Preston said. "I think we both realize that. It's not where we want to be, but it's a stepping stone to get where we want to be so we take these days serious. You're already getting good quality reps against Cortland and J-Mac, so that can only make us better."