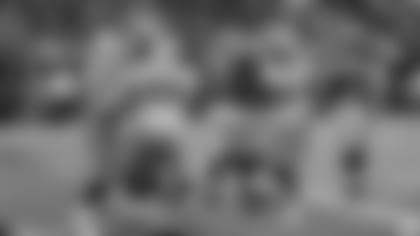 Rookie DT Karl Klug recorded two sacks, including this safety that put the Titans up 2-0.
NEW ORLEANS -- Rookies ruled the Superdome Thursday as the Titans defeated the Saints 32-9 in the fourth and final preseason game for each team.
First round draft pick Jake Locker ran for a 22-yard touchdown and threw for another score. Fourth-rounder Colin McCarthy had seven tackles and forced a fumble, fifth-rounder Karl Klug recorded two sacks, including a safety when he took down Saints QB Sean Canfield in the end zone and seventh-round selection Tommie Campbell recorded his second interception in as many weeks.
"It's just good to see when you play a lot of guys," Titans head coach Mike Munchak said. "We didn't play sloppy. We didn't turn the ball over at all. We had three different quarterbacks and three different centers. We got all of our ball carriers out there. That has been going on all four preseason games."
Locker completed 15 of 17 passes for 132 yards and rushed three times for 39 yards. Locker avoided contact on a pass play, saw a clearing, tucked the ball and sprinted 22 yards for the Titans' first touchdown to punctuate a 57-yard drive.
"It was great to see some green grass in front of me," Locker said. "Scoring is always great."
The No. 8 overall pick last April also used his legs on a rollout and found an open Lavelle Hawkins for a 12-yard touchdown pass to cap a 59-yard drive that lasted more than five minutes.
Locker, who is expected to backup 13-year NFL veteran Matt Hasselbeck, said during a television interview that he enjoyed the in-game scenarios and the learning opportunities he's received from Hasselbeck since training camp opened. Hasselbeck was 2-for-5 for 37 yards on two series Thursday.
"Matt's been great for me," said Locker, adding that Hasselbeck's demeanor in and out of the huddle has allowed him to "grow quicker as a player and a person."
Klug (275 pounds) is relatively light compared to other defensive tackles but uses his quickness and maneuvers in a way that's been difficult for offensive linemen to temper. He burst through a block and downed Canfield for the safety on the Saints' second possession.
New Orleans' third possession ended when McCarthy made initial contact with Tory Humphrey after a catch and safety Jordan Babineaux finished the tackle and forced a fumble that Jason McCourty recovered. McCarthy had seven tackles and forced another fumble later in the game.
McCourty tipped a pass by Canfield on the Saints' next possession, and Babineaux, an 8-year NFL veteran who signed in the offseason, caught it for his second interception of the preseason.
Campbell, a former janitor at a Pittsburgh airport, intercepted a deflected pass to end the fifth possession by the Saints.
New Orleans, who played at Oakland Sunday night and opens its regular season next Thursday at defending Super Bowl champ Green Bay,  didn't play many offensive starters. Quarterback Drew Brees and second-string QB Chase Daniel didn't take a snap.
Tennessee opens its regular season at Jacksonville on Sept. 11.
BIG RETURNS IN BIG EASY: The Titans rested Pro Bowl punt and kickoff returner Marc Mariani (ankle) on Thursday, but yielded substantial returns from Damian Williams and Hawkins.
Williams, a 2010 NFL Draft classmate of Mariani, returned a punt 52 yards for a touchdown in the fourth quarter for the Titans' final score. Hawkins returned two kickoffs for a total of 84 yards, including a 67-yarder to begin the second half.
The return by Hawkins set up a 41-yard field goal by Rob Bironas, who also fired accurately from 32 and 47 yards.
Mariani wore a precautionary boot on Monday, and missed practice Tuesday, despite shedding the boot. He is expected to play against Jacksonville.
FORCING TURNOVERS: Tennessee forced a preseason-high five turnovers and finished the preseason at plus-nine in the takeaways/giveaways category. The Titans were plus-two in wins against Minnesota and Chicago and even in a loss at St. Louis.
"It always eats at you," Saints coach Sean Payton said of the mistakes made by New Orleans. "It's the miscues, it's the sacks for a safety, it's the interceptions and fumbles, those things bug you. Regardless of who's playing, those are signs of sloppy play."
CUTS ON THE WAY:All NFL rosters must be trimmed from 80 to 53 by Saturday. Titans coaches will use Thursday's game as a final evaluation tool of who will make the team.