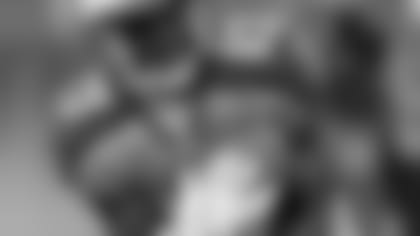 Rookie wide receiver Damian Williams has been taking advantage of his recent opportunities for playing time.
NASHVILLE, Tenn. --** Damian Williams believes in putting 'know' before 'go' and that understanding every aspect of every play is a key way to earn playing time.

"The easiest way to get on the field is to know everything," Williams said. "Know all the protections, know what the line is going to do, know what the quarterback is going to do, know what every position on the field is doing. I feel like if you know that, it's hard to keep somebody off the field that knows everything unless they're just totally not athletic. When you get to this level, that's what makes you an elite player."

When opportunity knocks on the door, Williams said he wants to blow the door "off its hinges." Williams moved up the depth chart the past two weeks while Justin Gage (hamstring) was out. Williams responded with six catches for 78 yards, including four receptions for 48 yards in Monday's 30-3 win against Jacksonville.

"You can only ask for opportunity," Williams said. "Once you get it, what you do with it is up to you. Right now, I'm still trying to feel my way out, find my role. As it increases I'll be able to make more plays and, hopefully, contribute the way they want me to contribute."

The first catch in Jacksonville occurred immediately after quarterback Kerry Collins replaced Vince Young, who left with a sprained knee and ankle sustained during the recovery of a fumbled snap. Collins connected with Williams for 20 yards on a third-down-and-12 play, gaining valuable yards and helping Collins establish a rhythm.

Williams and Collins said they established a flow between them during the preseason and have continued it during practice reps for the second-team offense.

"Based on what I saw (in the Jacksonville game), I'd certainly go his way again," Collins said. "He's shown that he's capable of handling anything that's thrown his way. He came from a big program (Southern California). You like those kind of guys that have been in that situation before with big games. I don't get the feeling that he thinks that the game is bigger than him. He just comes in, does his job and has done a good job."

Young did not practice this week and is listed as questionable when the Titans (4-2) host the Philadelphia Eagles (4-2) at noon Sunday. Collins had a full practice Friday and is listed as probable on the team's injury report because he hurt a finger on his throwing hand during the Jacksonville game.

Wide receivers coach Fred Graves said the chemistry between a quarterback and receiver is important.

"You always try to have that," Graves said. "I think it's a quarterback trusting a receiver, where he's going to be, and the receiver knowing what the quarterback is looking for. I think if guys can get on the same page mentally as far as that is concerned and looking at tapes, understanding what the defense is giving them, it makes it a lot easier for both parties."

The Titans drafted Williams in the third round out of USC, where he caught 128 passes for 1,879 yards and 15 touchdowns in 25 games. The rookie receiver quickly learned Tennessee's offense in the offseason.

Titans coach Jeff Fisher and Graves both said this week that Williams' mental ability was a significant factor in why Tennessee drafted him.

"We were fortunate to get him where we got him in the draft," Graves said. "He's a cerebral guy. He understands what's going on. He understands football concepts."

Physical abilities are there too, Graves said.

"He's got real good quickness," Graves said. "He knows how to get in and out of his breaks, (create) separation on routes. All the things that you try to teach your receiver, he's got that package. He's probably got to get a little stronger, but he's got quick feet and he can go get the football."

One testament to Williams' quickness is that the Titans also had him line up as Philadelphia quarterback Michael Vick for reps against the first-team defense this week. Philadelphia coach Andy Reid said Kevin Kolb will start at QB Sunday, but the Titans wanted to prepare for the contrast that Vick, who has torn rib cartilage, might present.

Williams said he has contacted former USC receivers Steve Smith (New York Giants) and Dwayne Jarrett (former Carolina Panthers receiver) for tips on how to approach this season.

"I've always kept up with DJ," Williams said. "We talk every now and then. His situation was different than mine. He came in and was expected to be the guy. For me it was 'Come in, feel your way out, and hopefully you make it, you may not.' Fortunately for me I was able to hop in there and had a couple of things go my way."

Perhaps a bigger impact on Williams, however, started at Springdale High School in Arkansas when he played for Gus Malzahn, who is now the offensive coordinator at Auburn.

"My coach was such a stickler on being a pro," Williams said. "Even in high school, you wanted to be a professional about everything you did. … Make sure you're on time, be a man of your word, study, be a pro. I've always carried that along with me, and I guess I have Coach Malzahn to thank for that."