**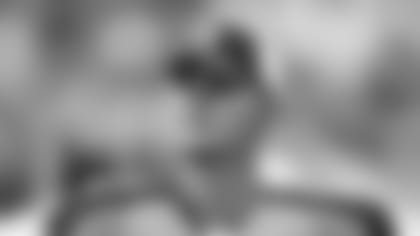 Rusty Smith, a rookie out of Florida Atlantic, makes his first NFL start Sunday at Houston.
NASHVILLE, Tenn. -** Rusty Smith showed up for work bright and early Monday morning, and the Tennessee quarterback hasn't left the building much since.
That's because the sixth-round draft pick from Florida Atlantic is about to become the first rookie quarterback from Jacksonville to start in the NFL, not Tim Tebow — who also went to the same big church back home as Smith.
Smith will start Sunday in Houston against the Texans (4-6) with Vince Young on injured reserve and needing surgery on his right thumb, and with veteran Kerry Collins recovering from a strained left calf.
Collins doesn't think anyone has to worry about the six-foot-five, 226-pound Smith being prepared.
"He's a starting quarterback," Collins said. "There's pressure, but that's when you just got to focus on what you need to do. I think everybody will see that he's ready to play."
Only a week ago, Smith moved up from No. 3 to Young's backup due to Collins' injury and talked of trying to emulate Colt McCoy if he did have to hit the field. Now he will be the third different starter in as many games for the Titans (5-5), who have lost three straight and have had a starter finish a game only once in the past five.
He got into last week's 19-16 overtime loss to Washington when Young tore the flexor tendon in his right thumb. When Young had a heated exchange with Fisher in the locker room after tossing his pads into the stands, coach Jeff Fisher announced after the game that Smith would start the next game, even if Young had been healthy.
Fisher said Smith can handle pretty much anything.
"He played the pro-style offence, made all the throws. He's a very accurate passer, he has a strong arm. He's tall and he sees well and he's very intelligent," Fisher said. "We had him up on our board, we had him quite high after our visit with him. We felt like he had a chance."
Smith is the top passer in the short history of Florida Atlantic, the program Howard Schnellenberger first put a team on the field in 2001. Smith led the Owls to their first bowl berth and win and is their first player drafted, though he lasted until the 176th pick overall in the sixth round when an injury to his left, non-throwing shoulder limited him to seven games.
He still threw for 1,915 yards with 14 touchdowns and only five interceptions.
The Titans grabbed Smith with the first of their two picks in the sixth round, loving his strong arm and footwork in the pocket. He beat out Chris Simms, signed in the spring, for the No. 3 spot. Simms now is back on the roster as Smith's backup until Collins heals up.
"You tell him something once, and he gets it," Fisher said. "He has a real good understanding of the offence, of protections and where he needs to go with the football. I just felt like he had a huge upside."
Smith was 3 of 9 for 62 yards with one interception in his NFL debut, coming off the bench late in the third quarter of the 19-16 overtime loss to Washington. His first professional completion was a 52-yarder to Nate Washington, and Smith immediately looked for, and threw, to Randy Moss on three of his first four passes.
"He came in there, he didn't seem nervous or anything like that," Titans running back Chris Johnson said of Smith. "He came in fired up. So basically, I think he'll be ready to go with some practice."
Smith will have offensive co-ordinator Mike Heimerdinger calling plays Sunday. Heimerdinger learned Wednesday he has cancer, but his treatment doesn't start until Monday so the co-ordinator returned to work Thursday. The rookie has spent some extra time getting to know receivers such as Randy Moss, Nate Washington and Justin Gage since he hadn't worked with them much.
The Texans, with the NFL's worst passing defence (301 yards per game), sound as if they're preparing more to defend Johnson.
"That's still what they want to do which is run the ball with him," Texans defensive end Antonio Smith said. "He gets probably a good 60-70 per cent of their possessions whether it's passing it to him out of the backfield or running the ball. He is who we are going to have to stop regardless of whoever is at the quarterback position."
Smith said veterans keep advising him just to have fun and trust his teammates. He said he won't try to do more than the offence calls for him to do when kickoff comes.
"I expect nerves to kick in a little bit as they should. I've heard somebody say if you're not nervous, you're not ready."