**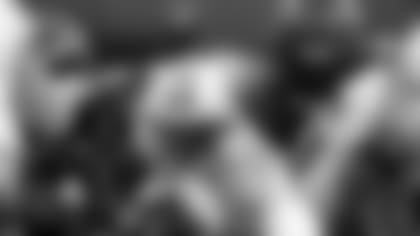 Rookie running  back Stafon Johnson was enjoying a productive night before suffering a separated ankle on the final play of the third quarter.
SEATTLE -** Hard-luck rookie running back Stafon Johnson dislocated his right ankle during the Tennessee Titans' 20-18 loss to the
Seattle Seahawks
in their preseason opener Saturday night.
Johnson was hit high and spun around by Seattle's Kam Chancellor following a short reception on the final play of the third quarter. He then landed hard on his right leg.
As the Titans prayed on one knee nearby and coach Jeff Fisher held Johnson's head, the running back was driven off the field while seated on the back of a cart. An air cast was on his lower right leg. He briefly held his hands over his face, then pointed toward the heavens.
Johnson's final season at Southern California was ruined when a falling weight bar crushed his neck and larynx.
The Titans' Twitter feed said the initial diagnosis is a dislocated right ankle, and Johnson's teammates talked about the injury in somber tones after the game.
"All that stuff he has been through, we just have to be motivating for him and keep him in our prayers,'' quarterback Vince Young said.
Johnson, an undrafted free agent, had been battling to win a backup job to 2,000-yard rusher Chris Johnson.
"It's very, very tough for Stafon,'' coach Jeff Fisher said.
Fisher spoke only in generalities about the injury.
"With what he's been able to overcome, he's a special young man,'' Fisher said.
About the only time new Seahawks coach Pete Carroll wasn't giddy in his Seattle debut was when he zipped across the field in front of the Titans' bench to express concern for Johnson, whom he coached at USC.
"I told him I loved him, and no one can get tougher or stronger than he is,'' Carroll said. "I was so sorry to see that. This guy, what he's undergone to get here, so much pressure physically and emotionally, and to have a serious injury. ... If anybody can get back, he can. He's an absolute warrior.''