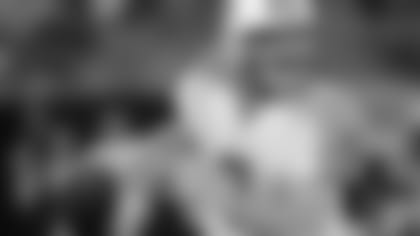 Rookie QB Rusty Smith said he's prepared to be in the lead backup role Sunday vs. Washington.
NASHVILLE, Tenn. --** Vince Young is expected to be back in the Titans' starting lineup Sunday against the
Washington Redskins
, but he could have a new backup.
Rookie Rusty Smith, a sixth-round selection in the 2010 NFL Draft out of Florida Atlantic, will likely be Tennessee's No. 2 quarterback Sunday because a calf injury hampering 16-year veteran QB Kerry Collins.
Smith has been inactive as the Titans' third quarterback each week this season, but he's gone against Tennessee's starting defense in practices each week.
Titans coach Jeff Fisher said he has faith in Smith if something happens to Young, who sprained his knee and ankle on Oct. 18 at Jacksonville and has not been 100 percent since. Fisher said the Titans (5-4) have displayed that confidence in Smith by not signing a veteran free agent this week, and the rookie has absorbed the system since he arrived in Tennessee.
"He played in the preseason," Fisher said. "He's been to all the meetings. He's watching, he's preparing, he's doing all the little things. The hardest thing to do, as I've said, time and time again, is to be a backup. But if you take advantage of the mental opportunities and mental reps, then when you get your shot, as he did on the practice field, you make the right decisions."
Smith completed 18 of 33 passes for 198 yards and threw two interceptions in the preseason. He won the last roster spot that Tennessee kept for a quarterback, beating veteran Chris Simms, who had previous experience with the Titans.
Smith said he's tried to be ready for whenever the team needs him.
"I've been preparing since I got here and trying to learn as much as I can," Smith said. "That way, if my number does get called, then I'm ready.
"Hopefully Vince does not get hurt," Smith continued. "I wouldn't wish that on anybody, but if my number does get called on Sunday, I'll be ready. I think (offensive coordinator Mike Heimerdinger) will be able to call his offense."
Young left early in the Jacksonville game and missed the entire game against Philadelphia on Oct. 24. He returned to the starting lineup against San Diego on Oct. 31 and aggravated the ankle sprain. Young used the bye week on Nov. 7 to rest and rehab the ankle, but Fisher said Young had not healed well enough last week for him to start against Miami last Sunday. The Titans did not plan to play Young against the Dolphins, but the fifth-year pro played the second half after Collins injured a calf late in the first half.
"I know I'm getting better," Young said. "I can move around. I was jogging on it (Wednesday). It feels way better (than Sunday)."
Collins said doctors have told him that the calf injury is not "season-ending."
He said Wednesday it was "still sore but improving."
"We're trying to be aggressive with it, but at the same time being smart," Collins said.
The veteran agreed with Fisher that the Titans showed faith in Smith by not bringing in another quarterback this week and said Smith has absorbed knowledge at every opportunity.
"He'll be fine. He had a good camp, and he knows the offense," Collins said. "He's one of those guys that pays attention and learns and listens."
"It definitely makes me feel good that the coaches have confidence," Smith said. "If they had (signed a veteran), I totally would have understood. I am just a rookie, and offenses are more complex than college offenses. But it does portray confidence they have in me."
Smith and rookie safety Robert Johnson are the only two rookies with spots on the 53-man roster that the Titans have not activated and played this season. Rookie receiver and kick returner Marc Mariani, who has played in each game this season and ranks third among all rookies in kickoff return average (26.2 yards) and punt return average (12.7), said all the Titans' rookies have emphasized preparing for whenever they are called upon.
He expects the same if Smith is needed against Washington (4-5).
"I think we all approach each week the same way, and that is to prepare like we're going to play," Mariani said. "You always want to be ready if your number is called. He's no different. He's very professional about the way he handles his business, and if his number gets called, I'm very confident he'll be ready to go."