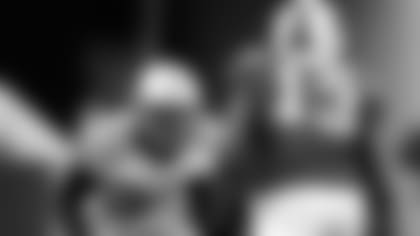 Filling in for injured starter Jason McCourty, rookie cornerback Chris Hawkins covers Bills receiver Stevie Johnson last Sunday in Buffalo.
NASHVILLE, Tenn. — Chris Hawkins said "anxious" was a better description than "nervous."
Hawkins shifted from a reserve role on special teams to a cornerback position Sunday in Buffalo after a concussion sent starting cornerback Jason McCourty to the sideline. The Titans' defense adjusted to four and five receiver sets used by the Bills and held on for a 23-17 win. Tennessee didn't allow a pass play of 30 yards or more, despite McCourty missing most of the game.
"I wouldn't say nervous," Hawkins said of his first significant playing time on defense. "I would say it's a feeling of, a little anxious to get out there and see what's going to happen. You want to play, but then you know that something bad can happen. I've been practicing, but it's different playing in a game."
Titans coach Mike Munchak said Hawkins did a good job of filling in, and defensive coordinator Jerry Gray adjusted to the change in personnel. Although Hawkins spent last season on practice squads of three teams, Gray said he had confidence in Hawkins, a native of Baton Rouge, La., who played collegiately at LSU.
"This guy has played at a high level at LSU and he's covered the best wide receivers in college football," Gray said. "Who's going to intimidate you at LSU? I think he carries that. It's not a chip on his shoulder. He carries that confidence."
Hawkins said he didn't want McCourty to get injured, but wanted to do his best when called upon. He said the secondary expected Buffalo to throw the football frequently, especially when they trailed.
"Coming into a game where you know they're going to throw the ball, it's exciting for a DB," Hawkins said. "You know you'll get an opportunity to make a play. We did a pretty decent job of adjusting to it. As a DB, you've been preparing for it, and it's time to go play."
McCourty did not practice Wednesday or Thursday and is undergoing tests and evaluations this week. He will have to pass mandatory concussion tests before he is cleared to return to the playing field, so Hawkins and rookie Tommie Campbell may be called on Sunday when Tennessee (7-5) hosts New Orleans (9-3). Campbell missed last week with a shoulder injury but is expected to return.
The Saints lead the NFL in yards per game (448.7), yards per play (6.5), passing yards per game (325.3) and are the only team in the league that has converted more third downs than it hasn't (53.2 percent). New Orleans also ranks second in the NFL in scoring (32.8 points per game). Quarterback Drew Brees has completed 349 of 496 passes (70.4 percent) for 4,031 yards and 30 touchdowns.
Veteran safety Jordan Babineaux said the Titans expect the savvy and talented play of Brees to help the Saints gain yards, but Tennessee's defense must prevent points.
"There's not too many coverages that the guy hasn't seen," Babineaux said. "I think it's going to come down to when we have opportunity to get hands on the ball by forcing him into a bad throw, we've got to capitalize. We know he's going to move the ball. He's going to get his yards. One thing that we have to do as a defense is stop them from getting into the end zone."
Gray said the Titans defense must disrupt Brees and keep the QB guessing on who will be applying pressure and the direction of that pressure. He said Hawkins and Campbell have logged enough reps against Tennessee's starters this year to build his confidence in them.
"Young guys don't scare me. That seems to be one of my strengths: teach the young guys how to go play football" and "don't be intimidated by anybody in this league," Gray said. "If you've got God-given speed, I'll teach you technique."
The Titans have emphasized versatility, depth and doing what it takes to get the job done this season. Sunday marked the sixth straight game and 10th overall in which Tennessee has allowed less than 25 points. 
"I think we did a great job of handling (changes Sunday)," Babineaux said. "Hawkins stepped in and played an excellent game, really showed his abilities as to what he can do as a key backup. That's something you want to see from a young guy, something you want to see from your teammates, especially when it comes from within our group."