**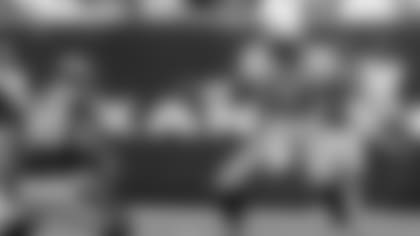 The Titans/Texans rivalry has intensified with Houston winning the last two meetings.
NASHVILLE, Tenn. -** The fans in Houston always have hated the Titans as the team that left town without looking back. Now Tennessee linebacker Keith Bulluck may have stirred up things between the players.
Bulluck said Thursday the Texans treated their 34-31 win over Tennessee like the AFC championship game than Week 2 of the regular season. He also pointed out Houston has never sniffed the playoffs so that must be why any win over a fellow AFC South team is treated like a postseason victory.
The Texans (5-4) are thinking playoffs. The Titans? Well, they are stuck at 3-6 after an 0-6 start, and their visit Monday night to Houston offers up a huge stage, according to Bulluck.
"We're a 3-6 team with nothing to lose. I know they have playoff aspirations and everything, so we're really looking forward to come down to Houston and destroying all playoff thoughts and aspirations they have. Thank you. Because my season is not going the way that I intended it to,'' Bulluck said.
Tennessee leads this series 11-4. But the Texans have won two straight and have the chance for their second season sweep since 2004 in a rivalry finally showing some intensity on the field.
That last win on Sept. 20 featured a scuffle on the Texans' sideline that left three players fined as Houston receiver Andre Johnson was tagged $7,500 for taking Tennessee cornerback Cortland Finnegan to the ground by the face mask after a play in which he wasn't flagged. Houston receiver Jacoby Jones was fined $5,000 for entering the fight.
Officials ejected Tennessee defensive tackle Jason Jones for throwing a punch, which the lineman denied. Still, Jones was fined $5,000 as well.
Houston quarterback Matt Schaub dismissed the scuffle as just the heat of competition during a conference call Thursday with Tennessee reporters.
"Obviously, it's unfortunate how things went down with everything, but it's a hard fought game and things like that sometimes happen,'' Schaub said.
Now two straight wins? Schaub said that does help build a rivalry.
"It makes everything more interesting especially within the division because you know the team extremely well and the faces stay the same for a few years,'' he said. "You get to know how each other plays, and then it's just about going out and executing your plan.''
Plays are one thing. Bulluck had to stop Thursday to remember Schaub's name and called it a very distant relationship.
"We did have a relationship like in the sense that this organization used to be in Houston. We're more like cousins. They're like our fourth- or fifth-cousin. We don't really acknowledge them,'' Bulluck said.
The linebacker was on a roll, but did admit he respects the Texans' progress from their start as an expansion franchise that debuted in 2002 - two years after he was a first-round draft pick.
"I've been here since they've been in existence, so that's like less than 10 years that they've been in existence,'' he said. "The last couple years they've been playing good football. For them to be a young expansion team, they're making strides in the right direction. I don't know when it comes to a rivalry.''