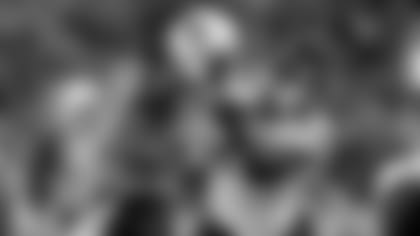 The Ravens are expecting to see plenty of Chris Johnson in Sunday's Week 2 Matchup.
BALTIMORE -- With a stifling defensive effort, the Baltimore Ravens made a statement during their opening-weekend victory.
The Tennessee Titans are trying not to panic after failing to move the ball with much consistency in Week 1.
Baltimore tries to open 2-0 for the third time in four seasons while Tennessee hopes to regroup during Mike Munchak's home coaching debut Sunday.
The Ravens, who were ousted in the playoffs last season by Pittsburgh, opened 2011 with a bang, routing the Steelers 35-7 last Sunday.
"This is just a start," said receiver Anquan Boldin, who had four catches for 74 yards and a touchdown. "We wanted to come out and make a statement, but we think we can only get better from here."
Baltimore recorded three interceptions and recovered four fumbles in a performance that resembled that of the defensive unit which led the team during its 2000 Super Bowl run. The Ravens also had four sacks - three from Terrell Suggs, who with 71 1/2 surpassed Peter Boulware for the most in franchise history.
"Seems like every year he hits double-digits in sacks," Ravens defensive end Cory Redding said. "Dudes really have to look out for him. Quarterbacks really have to find him on the field. They have to account for this guy, because if they don't he's going to put the quarterback on his back."
Tennessee quarterback Matt Hasselbeck knows all too well of Suggs' defensive prowess. Hasselbeck was sacked eight times in two games against Baltimore while with Seattle, including twice by Suggs during a 44-41 Ravens overtime victory Nov. 23, 2003.
In his first game with Tennessee, Hasselbeck completed 21 of 34 passes for 263 yards with two touchdowns and an interception last Sunday. However, Chris Johnson, who joined the team roughly two weeks ago following a holdout, rushed for just 24 yards on nine carries as the Titans fell 16-14 at Jacksonville.
"Don't over-panic," Munchak told the Titans' official website. "We have a very good opponent coming in. You have to believe in everything that you've done. You don't throw everything away after one game because certain things didn't work out the way you wanted.
"The NFL is a tricky thing because one week it changes so much. Football can get very humbling real fast. It's a brand new opportunity. We've got 15 more of these and we still have an opportunity to do something special."
On what was a quiet offensive day for the Titans, Kenny Britt shined, hauling in five passes for 136 yards and two touchdowns.
While Britt will have to worry about going up against seven-time Pro Bowl safety Ed Reed, who is coming off the 12th multi-interception game of his career, Ravens rookie cornerback Jimmy Smith is expected to miss a few weeks with a high ankle sprain.
Tennessee, which surrendered an average of 133.0 rushing yards en route to losing nine of 10 to close last season, surrendered 323 total yards during its opener - 163 on the ground.
The Titans' inability to stop the run could mean another big day for Ray Rice, who ran for 107 yards and caught four passes for another 42 against the Steelers, scoring twice. Joe Flacco also impressed, throwing for 224 yards and three TDs.
While Johnson struggled in the opener, he has averaged an NFL-best 114.2 rushing yards over the previous two seasons at home.
"He is what they call their home-run hitter," Ravens linebacker Ray Lewis said. "He is their offense, he's their heartbeat. And if you look at what they did last weekend ... you've got to know that he's definitely going to touch the football a lot this week. And we're prepared for it.
"It should be a great test for us. But when you talk about just skill and talent, he is a special, special talent."
Tennessee and Baltimore have split 16 meetings, with the Titans taking the last matchup 13-10 on Oct. 5, 2008.