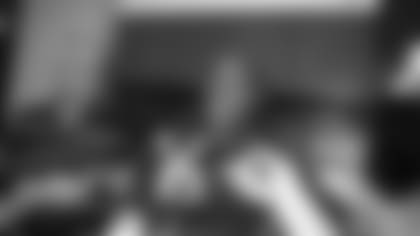 Mark Jones addresses reporters after Wednesday's practice at Baptist Sports Park.
NASHVILLE, Tenn. --** The Tennessee Titans don't reverse themselves under coach Jeff Fisher. Mired in an 0-3 start and getting nothing out of their rookies on special teams, they had no choice.

So the Titans brought back veteran returner Mark Jones -- the same guy they cut Sept. 4 in their final roster reductions. The move comes after rookie Ryan Mouton fumbled a kickoff and lost a punt after trying to fair catch the ball over his shoulder, turnovers that turned into 14 points and a 24-17 loss at the New York Jets last week.

Or as Titans linebacker Keith Bulluck said Wednesday, "It's about time we got somebody back there."

Jones will handle both kickoff and punt returns. Fisher said Jones can only help a team that ranks near the bottom of the NFL in both categories.

"He's a sure-handed returner. He'll catch the kickoffs and the punts, and he makes good decisions. We're encouraged that he's healthy. He feels good, he's been working out and he's in good shape," Fisher said.

The Titans had signed Jones to a two-year contract this offseason to replace Chris Carr, who left for Baltimore for the chance to play more on defense. But Jones was limited by a hamstring through training camp and played only the final two exhibitions, and the six-year veteran said he knew he had to do something spectacular to stay on the roster.

Instead, Jones fumbled on a kickoff in his first exhibition. Combined with decisions elsewhere on the roster, the Titans went with rookies Javon Ringer, Jason McCourty and Ryan Mouton to handle kickoffs and punts. Mouton missed the season opener as he recovered from his own injury, and Fisher used cornerback Cortland Finnegan on punts.

The combination wasn't productive during the team's 0-3 start. The Titans currently rank 29th in the NFL averaging 20.1 yards on kickoff returns with a long of 27 and one fumble. Five teams are worse on punt returns than the Titans' 5.1-yard average, but that is where Tennessee has had four fumbles.

After the Jets' loss, Fisher said it was his responsibility to get someone in to handle the job. Jones got a call from his agent Tuesday. Jones had stayed in Nashville after failing a physical with Carolina in early September, strengthening his right hamstring.

Fisher said to ask Carolina why Jones failed the Panthers' physical.

"We didn't fail him on a physical. We released him and he was healthy to play two weeks for us," Fisher said.

Jones watched the opener and had friends, including a couple Titans, texting or calling him with the team's struggles on special teams and how the team could have used him. Now he's back on a two-year contract -- just as he was during the preseason -- with no grudges.

"I was very happy and grateful to get the opportunity to come back here despite what happened before. That's behind me. I'm moving forward and not going to think about what happened before," Jones said.

NOTES: Tight end Bo Scaife returned to full practice Wednesday and was not even listed on the injury report. Fisher said they have no problems with his return from an injured left knee. But cornerback Cortland Finnegan (right hamstring), defensive tackle Jason Jones (sore shoulder), running back LenDale White (illness) and linebacker Stanford Keglar (hamstring) did not practice.