**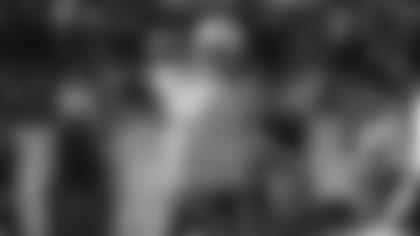 Titans QB Kerry Collins will look to improve his career record to 4-0 against Pittsburgh.
NASHVILLE, Tenn. --** The Tennessee Titans will kick off the NFL season Thursday night when they travel to Pittsburgh to take on the defending Super Bowl champion
Pittsburgh Steelers
(NBC, 7:30 PM CT). And as always in the NFL, much of the attention will be on the men under center.
Titans quarterback KERRY COLLINS, who attended Wilson High School in West Lawn, Pa., hopes to extend a perfect 3-0 career record against Pittsburgh. The 15-year veteran led Tennessee to an NFL-best 13-3 record in 2008.
"I wouldn't characterize it as a statement game, but we'll see where we're at right now," Collins said. "They had a great season last year. Obviously, they're going to be fired up and we have to be ready to play."
Steelers quarterback BEN ROETHLISBERGER, who last year became the second-youngest quarterback (26 years, 336 days) to win two Super Bowls (TOM BRADY, 26 years, 182 days), says the Steelers' expectations are even higher as defending champions in 2009.
"We're setting our goals high," says Roethlisberger, who aims to lead the Steelers to their seventh consecutive win on Kickoff Weekend. "We need to be better. We just can't rely on our defense to win every game for us."
Below is a team-by-team look at the quarterback position in the AFC in 2009:
BALTIMORE: A year removed from leading the Ravens to the AFC Championship Game and becoming the first rookie quarterback in NFL history to win two playoff games, JOE FLACCO is focused on surpassing his accomplishments from last season. The strong-armed 24-year-old will depend on veteran wide receiver DERRICK MASON, who led the Ravens with 1,037 receiving yards a season ago, and a rushing attack that helped the Ravens finish first in the AFC with 2,376 yards featuring fullbackLE' RON MC CLAIN, and running backs WILLIS MC GAHEE, and RAY RICE.
BUFFALO:Three-year veteran TRENT EDWARDS enters his second season as Buffalo's Kickoff Weekend starter. In 2008, Edwards ranked second in the AFC with a 106.3 fourth quarter passer rating. In the offseason, Edwards gained a new target when the Bills signed All-Star wide receiver TERRELL OWENS. Edwards will rely on Owens and wide receiver LEE EVANS as his top two pass-catching options.
CINCINNATI:Playing in only four games in 2008 due to a right elbow injury, Bengals quarterback CARSON PALMER enters his seventh NFL season focused on returning Cincinnati to the playoffs for the first time since 2005. Palmer, who tossed a career and franchise-high 4,131 passing yards in 2007, aims to reach 4,000 passing yards for the third time in the past four seasons. The 6-5 quarterback will look to spread the ball around to wide receivers LAVERANUES COLES, CHRIS HENRY and CHAD OCHOCINCO.
CLEVELAND:Browns first-year head coach ERIC MANGINI has two options at quarterback. Veteran DEREK ANDERSON has a 13-11 (.542) record as a starter the past two seasons for the Browns. In 2007, Anderson tied FRANK RYAN (1966) for the second-most touchdown passes in a single season in franchise history with 29 (BRIAN SIPE, 30 in 1980) and earned his first trip to the Pro Bowl. Third-year veteran BRADY QUINN is building off the valuable experience he gained last season. The Ohio native started three games in 2008.
DENVER:Acquired by the Broncos from the Bears in April, KYLE ORTONis ready to kick off a new era in Denver. Orton set career-highs with 272 completions, 2,972 yards and 18 touchdowns with Chicago in 2008. The fifth-year pro has a 21-12 (.636) record as a starter and aims to continue his progression under the guidance of rookie head coach JOSH MC DANIELS.
HOUSTON:Expectations in Houston are heating up and quarterback MATT SCHAUBwill play a huge role as the Texans challenge for their first playoff bid in franchise history. Schaub, who led the NFL's third-ranked offense in 2008, passed for a career-high 3,043 passing yards. The 6-5, 234-pound QB enters his third season as a starter and will look to utilize All-Star wide receiver ANDRE JOHNSON, who led the NFL with 115 receptions last season.
INDIANAPOLIS:Three-time MVP PEYTON MANNING welcomes in rookie head coach JIM CALDWELL, who spent six seasons as his quarterbacks coach (2002-07). The 12-year veteran will find comfort in reliable targets REGGIE WAYNE, who aims for his sixth consecutive season with 1,000 receiving yards, and tight end DALLAS CLARK, who posted career-bests in receptions (77) and yards (848) in 2008.
JACKSONVILLE:Shedding nearly 20 pounds this offseason, DAVID GARRARD plans to be more elusive in his quest to help the Jaguars return to postseason play. The former fourth-round pick set career highs in completions (335), passing yards (3,620) and rushing yards (322) in 2008. Entering his third season as a starter, Garrard will be supported by All-Star wide receiver TORRY HOLT and running back MAURICE JONES-DREW.
KANSAS CITY:Acquired via trade in February, MATT CASSEL will enter his first season as a starter on Kickoff Weekend. The fifth-year quarterback looks forward to a smooth transition under the direction of rookie head coach TODD HALEY, who joins the Chiefs after a two-year stint as offensive coordinator of the Arizona Cardinals. In 2008, Cassel registered a 10-5 (.667) record as a starter with New England.
MIAMI:Leading the Dolphins to their first AFC East title since 2000, CHAD PENNINGTONenters his second season in Miami. The savvy veteran totaled a career-high 3,653 passing yards in 2008 and became the first quarterback in NFL history to pass for at least 3,500 yards and record seven or fewer interceptions. Pennington can become first Dolphins QB since DAN MARINO (1994-95) to total 3,500-plus passing yards in consecutive seasons.
NEW ENGLAND:Recovered from a knee injury that sidelined him for 15 games last season, TOM BRADY is determined to regain his 2007 form when he set a league record with 50 touchdown passes in a single-season. Brady's top two receiving options RANDY MOSS and WES WELKERreturn, while wide receiver JOEY GALLOWAY and running back FRED TAYLOR will be new additions to the Patriots' offense. Entering his 10th season, Brady has a 101-27 (.789) record (including postseason) -- the best win percentage of any NFL quarterback in the Super Bowl era with at least 100 starts.
NEW YORK JETS:Selected at No. 5 overall in the 2009 NFL Draft,MARK SANCHEZ will become the first Jets rookie quarterback to start since MATT ROBINSON in 1977. The University of Southern California product will be surrounded by All-Star running backs THOMAS JONES and LEON WASHINGTON and JERRICHO COTCHERYas a go-to receiver.
OAKLAND:A former No. 1 overall pick, JA MARCUS RUSSELL continued his development as an NFL quarterback this offseason by spending the majority of his time in the classroom watching film and studying the playbook. Russell will look to stretch the field vertically with rookie wide receiver DARRIUS HEYWARD-BEY (1st round, No. 7) and ZACH MILLER, who became the first Raiders tight end to lead the team in receptions (56) and yards (778) since TODD CHRISTENSEN in 1986.
PITTSBURGH:A proven winner since entering the league in 2004, BEN ROETHLISBERGER has won 51 games, the most wins in NFL history for a quarterback in his first five seasons and ranks second in the NFL among active quarterbacks with a .718 (51-20) win percentage. Roethlisberger has 14,974 career passing yards entering Kickoff Weekend and needs 26 yards to become only the second quarterback in Steelers history to surpass 15,000 (TERRY BRADSHAW; 27,989).
SAN DIEGO: PHILIP RIVERS set a franchise single-season record with 34 touchdowns in 2008, but still aims to improve. The six-year veteran has led the Chargers to three AFC West titles in his three seasons as the starter and aims for a fourth in 2009. Rivers totaled a career-high 4,009 passing yards last season and can become the first Chargers QB to record 4,000-plus yards in back-to-back seasons since DAN FOUTS (4,715 in 1980; 4,802 in 1981).
TENNESSEE:Pro Bowl quarterback KERRY COLLINS returns for his 15th season. In 2008, Collins finished with an 80.2 passer rating, the third-best mark of his career. Collins will have newly-acquired wide receiver NATE WASHINGTON at his disposal to stretch the field and will be protected by an offensive line that tied for first in the NFL with 12 sacks allowed last season (Denver). The 36-year-old ranks third among active quarterbacks with 37,393 passing yards and needs 2,607 passing yards to become the 12th quarterback in NFL history with 40,000 career passing yards.
Following is a team-by-team look at the NFC's starting quarterbacks on Kickoff Weekend:
ARIZONA: Four-time All-Star KURT WARNER returns after leading the Cardinals to the franchise's first Super Bowl last year. The 12-year veteran enters his fifth season with Arizona and owns the third-highest career passer rating in NFL history with a 93.8 mark. In 2008, the two-time NFL MVP established team records for attempts (598), completions (401), completion percentage (67.1), passer rating (96.9) and touchdown passes (30) while his 4,583 passing yards ranked second-most in club annals. He was also honored as the WALTER PAYTON NFL Man of the Year.
ATLANTA: After a successful rookie campaign, MATT RYAN will look to guide the Falcons back to the playoffs. Last season, Ryan was named the AP NFL Offensive Rookie of the Year and, along with Baltimore's JOE FLACCO, became the first rookie in NFL history to start all 16 games and lead his team to the playoffs. The 2008 first-round draft choice (No. 3 overall) won 11 games and passed for 3,440 yards, joining PEYTON MANNING (1998) as the only rookie quarterbacks to reach the 3,000-yard plateau.
CAROLINA:For a team-record sixth consecutive year, JAKE DELHOMME will start at quarterback on Kickoff Weekend. The 11-year veteran, who recorded his fourth career 3,000-yard passing season (3,288), led the club to a 12-4 record and the NFC South title last year. Delhomme ranks first in franchise history in attempts (2,348), completions (1,402), passing yards (17,243), touchdown passes (112) and 300-yard passing games (nine). His 79 career starts are the most ever for a Panthers quarterback.
CHICAGO:The Bears traded for Pro Bowl quarterback JAY CUTLER during the offseason and will be counting on him to lead them back to the playoffs. Last season with Denver, Cutler topped the AFC with a team-record 4,526 passing yards. He also set single-season club marks with 384 completions, 616 attempts and eight 300-yard passing games. In his career, the former first-round draft pick (2006, No. 11 overall) has started 37 games, completing 762 of 1,220 passes (62.5 percent) for 9,024 yards and 54 touchdowns.
DALLAS: Seven-year veteran TONY ROMO enters the 2009 season with a 27-12 (.692) record as the Cowboys' starter. Last year, Romo passed for 3,448 yards and 26 touchdowns, joining Pro Football Hall of Famer ROGER STAUBACH as the only Dallas quarterbacks to post consecutive seasons with at least 3,000 yards and 25 touchdowns. Romo holds team season records for touchdowns passes (36), passing yards (4,211), completions (335) and 300-yard games (7).
DETROIT:Rookie MATTHEW STAFFORD, the No. 1 overall selection in the 2009 NFL Draft, will get the starting nod for the Lions. Stafford posted a 27-7 (.794) record in 34 career starts at Georgia and ranks third in school history with 7,731 passing yards and 51 touchdowns. He led the Bulldogs to three bowl victories and was named the Capital One Bowl MVP last year. Stafford set a single-season school record in 2008 with 3,499 yards of total offense and his 3,459 passing yards ranked second all-time.
GREEN BAY:Entering his second season as the team's starter, AARON RODGERS looks to improve on an impressive 2008. Rodgers became only the second quarterback in NFL history to pass for 4,000 yards (4,038) in the first season that he started a game (KURT WARNER, 1999). The five-year veteran, who was selected in the first round of the 2005 NFL Draft (No. 24 overall), ranked fourth in the NFL in 2008 in both passing yards (4,038) and touchdowns (28), becoming only the fourth Packer with at least 4,000 yards and 25 touchdowns in a season.
MINNESOTA:When BRETT FAVRE makes his first career start for the Vikings on Sunday, it will be his 270th consecutive start, believed to be tied for the longest starting streak in NFL history with JIM MARSHALL (Marshall started 270 games in a row for Minnesota from 1961-79. He played 12 games with Cleveland in 1960, but official records of starters were not kept before 1961. However, the Browns' internal records indicate that Marshall did not start the final 11 games of that season). Last year, Favre, playing for the New York Jets, was chosen to his 10th Pro Bowl, tying Pro Football Hall of Famer JOHNNY UNITAS for the most selections at the position. The three-time MVP (1995-97) holds numerous NFL passing records, including attempts (9,280), completions (5,720) yards (65,127) and touchdowns (464).
NEW ORLEANS:Pro Bowl quarterback DREW BREES became the second player in NFL history to reach the 5,000-yard mark when he passed for a league-high 5,069 yards last year (DAN MARINO, 5,084). The nine-year veteran, who was named the 2008 AP NFL Offensive Player of the Year, also recorded 10 300-yard passing games, tying RICH GANNON (2002) for the most such games in a season. In his first three years with the Saints, Brees has posted the only three 4,000-yard seasons in franchise history and his 13,910 yards during that span are the most in the NFL.
NEW YORK GIANTS: After guiding the Giants to the NFC East title last season, quarterback ELI MANNINGwill look to lead the team back to the Super Bowl. The No. 1 overall pick in the 2004 NFL Draft passed for 3,238 yards and 21 touchdowns last year to earn his first career Pro Bowl berth. Manning, who was named the MVP of Super Bowl XLII, is the only Giants quarterback to pass for at least 3,000 yards and 20 touchdowns in four consecutive seasons. Entering his sixth season, Manning has started a team quarterback-record 78 consecutive games for the Giants, including the playoffs.
PHILADELPHIA: The 2008 season was a memorable one for Eagles quarterback DONOVAN MC NABB as he guided the team to a fifth NFC Championship appearance in his 10 years and set career franchise marks in attempts (4,303), passing yards (29,320) and touchdown passes (194). The five-time All-Star has posted an 82-45-1 (.645) record as a starter and his 82 victories and nine playoff wins are the most by a quarterback in club history. McNabb set single-season franchise records last year in attempts (571), completions (345) and yards (3,916).
ST. LOUIS:Nine-year veteran MARC BULGER will once again start for the Rams. Last year, Bulger passed for 2,720 yards and surpassed the 20,000-yard mark for his career. The two-time All-Star reached 20,000 yards in his 81st game, becoming the fifth-fastest quarterback in NFL history to accomplish the feat. Bulger ranks second all-time in team annals with a 62.6 completion percentage and 85.6 passer rating. He is third in club history with 21,345 passing yards and fourth with 117 touchdown passes.
SAN FRANCISCO: Veteran quarterback SHAUN HILL will make his 11th career start and first on Kickoff Weekend. Last year with the 49ers, Hill started eight games and posted career-highs in attempts (288), completions (181), passing yards (2,046) and touchdown passes (13). He led San Francisco to wins in five of his eight starts, including a 4-1 record over the final five games of the season. Hill has seen action in 12 games over the past two seasons with the 49ers and has posted a passer rating of at least 90.0 in eight of those contests.
SEATTLE:The Seahawks are counting on a healthy MATT HASSELBECK to return to Pro Bowl form as the team aims for its fifth division title in the past six years. After only playing seven games in 2008 due to injury, Hasselbeck is eager to get back on the field. Entering his ninth season with Seattle, the three-time All-Star is the highest-rated passer in club annals with an 86.2 passer rating and his 15 300-yard passing games are the most by a Seahawk. Hasselbeck set single-season team records in attempts (562), completions (352) and passing yards (3,966) in 2007.
TAMPA BAY:Entering his seventh NFL season and first with the Buccaneers, veteran quarterback BYRON LEFTWICH will look to bring with him some of the success he enjoyed last season as a member of the Super Bowl champion Pittsburgh Steelers. The former first-round draft pick (No. 7 overall) by Jacksonville in 2003 has won 24 games in his career as a starter and has three 2,000-yard passing seasons. Last year, Leftwich saw action in six games for Pittsburgh, including one postseason contest.
WASHINGTON: JASON CAMPBELL enters his fifth NFL season and is the team's starter on Kickoff Weekend for the third consecutive year. The club's first-round selection (No. 25) in 2005 had a career year last season, completing 315 of 506 passes (62.3 percent) for 3,245 yards with 13 touchdowns and six interceptions for an 84.3 passer rating. Campbell led the NFL with a 1.2 interception percentage (six interceptions in 506 attempts) and threw 271 consecutive passes without an interception over a two-year span (2007-08), the fifth-longest streak in NFL history.