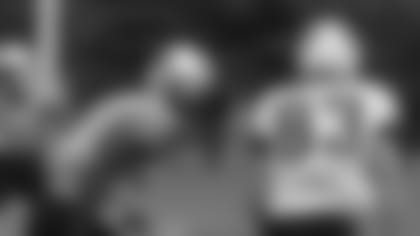 Marc Mariani made the Pro Bowl as a kick returner his rookie season. The second-year pro is expanding his game, getting plenty of reps at wide receiver during training camp.
NASHVILLE, Tenn. -- Marc Mariani wanted a do-over.
The Titans' second year receiver got up from the ground without the ball, clapped his hands once in frustration and hustled back to the huddle Tuesday night.
Mariani didn't dwell on the missed opportunity to catch the pass from new Titans quarterback Matt Hasselbeck. He, instead, capitalized on the next one that came moments later.
The 2010 seventh-round draft pick extended horizontally and clasped his hands around the spiraling football as rookie defensive back Tommie Campbell pressured him. Both men went to the lush grass of the Titans' playing surface, but Mariani kept his hands between the ball and the ground. The catch drew praise from a lively crowd at Baptist Sports Park as Tennessee continued its preseason training camp.
Mariani was largely unknown outside the state of Montana one year ago when he was competing for a spot on Tennessee's 53-man roster. This time, the 6-foot-1, 190-pound Mariani reported to camp with a Pro Bowl appearance as a return specialist, and as the franchise's record holder for total return yards (1,859) on punts and kickoffs.
"It's a funny feeling because you never feel very secure," Mariani said. "There's no job security in this business, but at the same time, I feel a lot more comfortable."
Despite the numerous personnel changes that occurred with the Titans coaches and players this offseason, Mariani said it's nice not feeling like the new kid on the block.
"Last year, you walked in and there were so many new faces, you didn't know anybody. You're just trying to really just hit the ground running, fit in a little bit and go out and work," he recalled. "Now, you've got a bunch of buddies — brothers, you know. The staff and everybody around here are phenomenal."
Mariani became the second player in franchise history to return a punt for a touchdown (87 yards against Washington) and a kickoff (98 yards against Denver) for touchdowns in the same regular season.  Billy Johnson accomplished the feat in 1975 and 1977.
While Mariani's returns ranked near the top of the AFC and NFL, he went his entire rookie season without a reception. He is trying to earn opportunities during this camp in which the Titans have 11 receivers. He said "drops haunt me at night" but said he is grateful for all the opportunities he receives.
"I felt like I owed Matt one, and he looked my way again and I was just trying to make a play out there," Mariani said of Tuesday's pass sequence.
Hasselbeck, a 13-year veteran who signed a three-year contract with the Titans after the NFL lockout ended, said he has caught up with the terminology in Tennessee's playbook and is focusing on improving the timing between his receivers. He said coaches and quarterbacks have a sincere appreciation for playmakers.
"When you make a play, you get more plays," Hasselbeck said. "When you make a play, (coaches) find more ways to get you the ball. I know quarterbacks do too."
The lockout prevented organized team activities (OTAs) and delayed the opportunity for quarterbacks and receivers to connect on pass routes and timing. 
"We're trying to cram so much work into these couple of weeks," Mariani said. "We've got new quarterbacks, a new offense, new everybody. A lot of it is timing and once a quarterback and receiver get on the same page and get comfortable, you'll find them connecting a little bit more. They know where each other is going to be. The more times you rep it, the more feel you have for it. That translates into plays and sometimes big plays."
LAST TIME UNDER THE LIGHTS:  The Titans completed their final night practice of training camp Tuesday. Night practices were popular with offensive and defensive players.
"I love practicing at night," defensive lineman Jason Jones said. "I love the weather, I love how the fans come out. Everybody's getting into it. The defense, we were running around out there and had full energy. It doesn't hurt that after practice we get to go home" instead of attending additional meetings.
New Titans coach Mike Munchak has allowed music to be played during the training camp, and the crowd at Baptist Sports Park was enthusiastic. The players were in full pads but did not tackle each other.
Hasselbeck, who is still getting settled in Nashville, was also a fan of the night practice atmosphere.
"It's a great night. The weather was awesome out here with the lights, the fans, the music. Our grass is awesome. It's like a golf course out here. It's exciting and a lot better than doing it in the middle of the day in the sun."
Munchak said the defense "had a really spirited practice" and covered multiple situations.
UPS AND DOWNS:Throughout training camp, Titans coaches have inserted mini contests that pit the offense against the defense in between sessions. The side that loses receives immediate punishment in the form of up-downs, where each player drops to the ground, gets back up as quickly as possible and repeats.
Munchak said he prefers the up-downs as opposed to running laps because it is quicker.
Hasselbeck said both sides take the drills seriously.
"The drills aren't always fair but you've just got to find a way to win," Hasselbeck said. "I think it adds a lot of energy to practice more than anything. It puts guys on the spot. It's one thing to make plays in practice; it's a whole other deal making it when you've got a lot on the line. You've got a whole lot on the line when the whole offense or defense is counting on you."
A reporter on Tuesday asked the 35-year-old Hasselbeck, "When's the last time you did an up-down?"
A reporter then asked, "And that was?"
"The year (Titans backup quarterback) Rusty Smith was born," Hasselbeck replied. "It was tough then, too."