**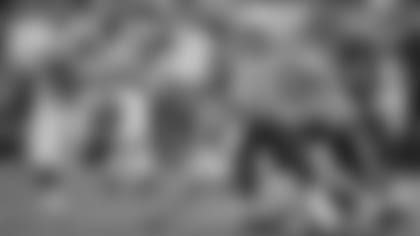 Kick returner Mark Jones is one of several players hoping to make the final 53-man roster.
NASHVILLE, Tenn. --** With their nationally-televised regular season opener at Pittsburgh only a week away, the Tennessee Titans successfully wrapped up their preseason schedule with a 27-13 victory over Green Bay Thursday night at LP Field.
The Titans seemed to take another step forward offensively, while holding Green Bay's potent starting offense in check. It was the final chance for many of the team's younger players to state their cases to Titans coaches prior to Saturday's roster cut-down from 75 to 53 players.
"I think we're happy with where we're at," veteran center Kevin Mawae said. "We had a couple good scoring drives out there and put points on the board. This was an important game, especially for the young guys. It's their last look before the regular season. Hopefully we can continue to play well leading up to the opener."
Mawae and offensive tackle David Stewart have been injured during parts of training camp, and Thursday was the first chance for the entire starting offensive line to play together this season. The group paved the way for Chris Johnson's 23 rushing yards that set up a Rob Bironas field goal on their first possession.
Defensively, the Titans held Green Bay's offense to three-and-out to start the game.
"I think our confidence is up where it needs to be," safety Chris Hope said. "There are still some things that we need to work on like tackling better, communication and conditioning. But for the most part, I think we're ready.
"With a veteran team, the most important part of preseason is to get in quality work and try to stay as healthy as possible. I think we have practiced well, and at this point we're looking forward to getting a game plan and preparing for Pittsburgh."
Thursday's game also served as the final evaluation of players on the roster bubble. Several Titans stepped up, including rookie receiver Dominique Edison, the team's sixth-round pick out of Stephen F. Austin, who led the Titans with five catches for 90 yards and two touchdowns.
With a toe-tapping catch on a fade route for a touchdown in the first half followed by a 31-yard diving, back shoulder touchdown grab in the second half, Edison likely gave Titans coaches all they needed to see.
"I knew I was going to have the opportunity to come out and make some plays and I just wanted to take advantage of every opportunity that I had," Edison said. "It's not up to me, all I can do is go out and control what I do. I feel like I went out tonight and made a hard decision for them."
Kick returner Mark Jones was another Titan who needed a strong performance after being injured for much of camp, then having a rough showing in Cleveland last week. The six-year veteran showed flashes with a 21-yard punt return and a 44-yard kickoff return.
"I thought I played pretty well tonight," Jones said. "I wasn't coming out here trying to make a statement. I was coming out here just to play and have fun and do what I've always been doing, which is returning the ball and giving the offense good field position."
With the team poised to make 22 cuts by Saturday, several players are facing the harsh reality that their tenure here may be in jeopardy. Even though he played well Thursday, cornerback Tanard Davis realizes he may have been auditioning for another team.
"I have the feeling that I'm on the bubble and I know that they have to make a decision tomorrow," Davis said. "We have seven corners, and I think that we normally keep five or six. It is what it is. I hope I made a statement out there. Overall, I think I played pretty consistent in the nickel this year."
Before the Titans can fully turn their attention to opening day, the coaching staff will spend countless hours over the next two days determining what will be best for the team as it heads into the 2009 season.
For some, Saturday will be a bitter day. For others, it will be the beginning of an opportunity of a lifetime.